Local Food in Pench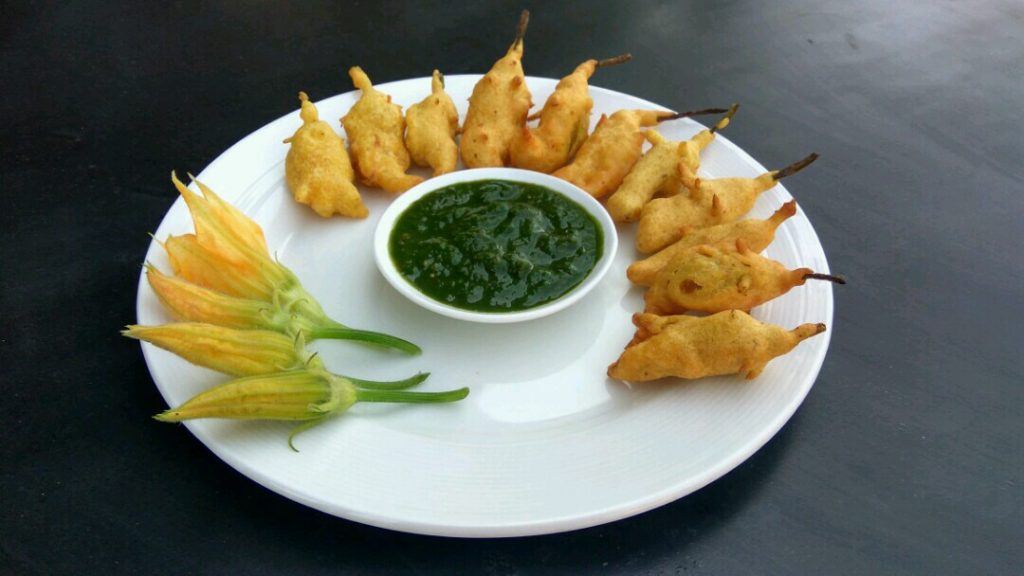 Edible flowers are part of many regional cuisines, one such flower is that of Pumpkin plant.
Pumpkin plant has separate male and female flowers which can easily be differentiated as female flowers have a tiny pumpkin at the base of it. Also male flowers are slightly bigger in comparison. We usually like to use some male flowers for cooking as female flowers can be left to grow into a pumpkin.
Pumpkin flower 'pakora'/ 'bhaja'/ fritters is popular in different parts of India including Central India. During our travels, we first tasted these fritters in a small shop of a tribal village with a cup of tea. It can be used as a snack for tea time or as a side dish in a home cooked Indian meal of rice and daal.
How to Make Pumpkin Flower Pakoras . Find the complete instructions
Pumpkin Flower Pakoras/ Fritters
Serves: 2
Preparation Time : 15 minutes
Cooking Time : 15-20 minutes
Ingredients:
Pumpkin Flowers: 8-10
Gram Flour (besan): 1/2 cup
Rice Flour: 1 tbsp
Ajwain: 1/4 tsp
Salt: as per taste
Red Chilli Powder : as per taste
Green Chillies : 1 green chilli chopped finely – optional
Water : 1/3 cup appx.
Oil for frying
Method:
Wash the pumpkin flower gently under running water and remove the sepal (the green part beneath the petals). Also remove the stamen and pistil of the flower gently.
In a mixing bowl, add besan, rice flour, ajwain, chilli powder and salt and mix well.
Add water little by little to make the batter. Ensure that the batter is thick and not too runny.
In a kadhai / pan, heat oil.
Dip the pumpkin flowers in the batter and start frying until the fritters / pakoras turn golden brown. You can easily fry 3-4 fritters simultaneously depending on the size of your pan.
Enjoy these piping hot fritters with green coriander chutney and a hot cup of tea.
Courtesy : Chef Pankaj Fulera