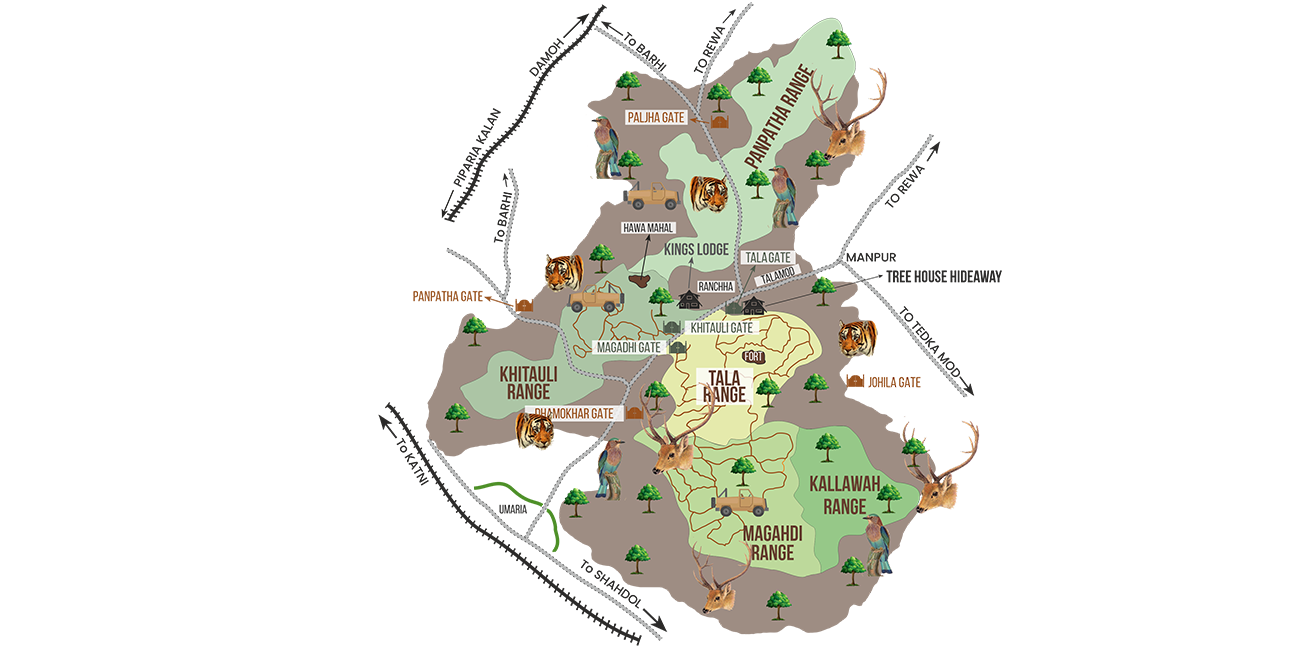 Click to enlarge
Map of Bandhavgarh National Park
Bandhavgarh National Park is the best place to spot a tiger in the wild.
Located in the Umaria district of Madhya Pradesh, Bandhavgarh National Park was a Shikargah or game preserve for the Maharajas of Rewa and their guests.
Bandhavgarh was declared a National Park in 1968 and a Tiger Reserve in 1972 under the Project Tiger and Wildlife Protection Act, and spreads over 1150 sq km.
Bandhavgarh National Park is famed for one of the highest densities of Bengal tigers in the world. Bandhavgarh National Park also became world-renowned for its population of rare white tigers, though not found in the wild anymore
Bandhavgarh National Park Information
Bandhavgarh National Park has one of the highest densities of tigers in the world. It is spread over thirty-two hills and expansive grasslands with flourishing vegetation.
Bandhavgarh celebrates a rich historical past and a diverse population of flora and fauna. Mythologically, Bandhav-garh translates to "the brother's fort" and was gifted by Lord Rama, to his devoted brother (bandhav) Laxmana, when they returned victorious from Lanka.
Bandhavgarh is surrounded by the Vindhya hills, in the Umaria district of Madhya Pradesh, in Central India. The Bandhavgarh National park has twelve natural waterholes, several historical monuments, and remains of ancient caves that are witness to the two-thousand years of history.
With the tiger at the apex of the food chain, Bandhavgarh supports thirty-seven species of mammals, more than two-hundred-fifty species of birds, about seventy species of butterflies, and a large number of reptiles.
Although Tigers always happen to be the prime wildlife attraction in all national parks, Bandhavgarh offers a wide array of fauna. Some of these include jackal, sloth bear, striped hyena, leopard, jungle cat, civets, palm squirrel, nilgai, sambar, spotted Deer; and many more. Bandhavgarh National Park is home to a number of migratory, as well as resident species of birds like Sarus crane, Indian Pond Heron, Lesser Adjutant Stork, Indian Roller, Racket Tailed Drongo, Asian Paradise Fly Catcher, White Breasted Kingfisher, Great Cormorant, Jungle Fowl, Crested Serpent Eagle and plenty of others.
Highlights of BANDHAVGARH NATIONAL PARK
Size
The size spread over a sprawling 437 Square Kilometer
Forest Type
Mix Decidious Forest with prominent Bamboo & Sal Vegetation
Mammal Focus
Tiger, Leopard, Sloth Bear, Jungle Cat
Birds
Asian Paradise Flycatcher, Black Naped Monarch, Common Rosefinch, Brown Fish Owl
Exclusive Park Activities
Click to read more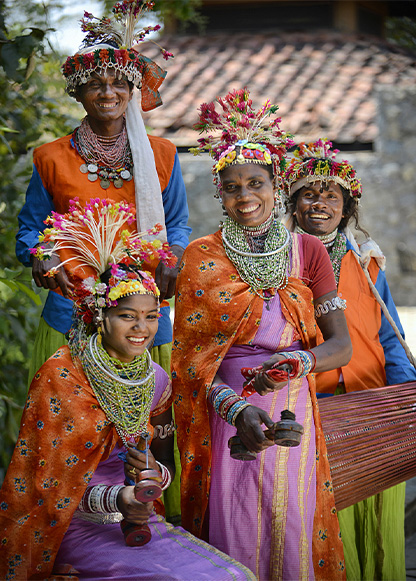 Baiga Culture
Explore wilderness in the periphery of the park & witness the local hamlets and villages, to carry back memories of the bountiful culture, tradition, and the lives of the indigenous tribes of the region. Interact with the locals, and if your inner desire propels you to volunteer for one of our community programs, go ahead, plunge in. This intimate experience lends a unique charm and throws open new vistas and lessons while you learn about the rich and diverse flora and fauna and biodiversity.
Baiga Culture
Click to read more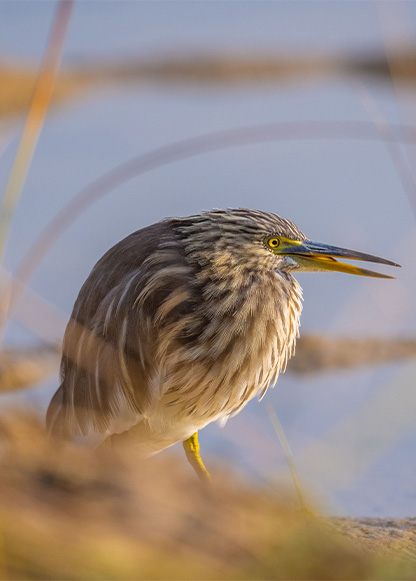 Day Visit to Bansagar or Ban Sagar Dam
Ban Sagar Dam is a multipurpose river valley Project, on Sone River situated in the Ganges Basin, 85 km from Bandhavgarh. It is equipped with both irrigation & hydroelectric power generation. The project came to be known as "Bansagar" after Bana Bhatt, the renowned Sanskrit scholar of the 7th century, who is believed to have hailed from this region. The dam is an hour & thirty minutes' drive from Bandhavgarh & is a good sightseeing option for travelers.
Visit to Bansagar Dam
Click to read more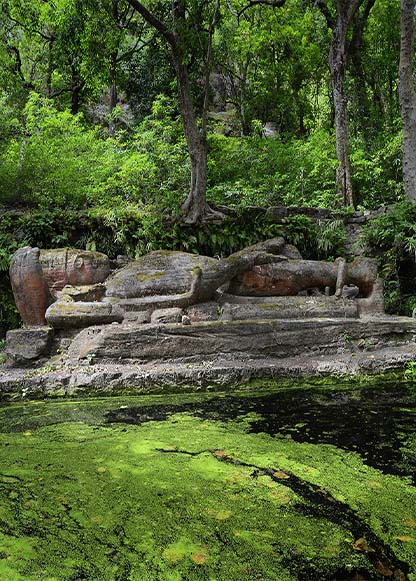 Mythological Shesh Shaiya
Constructed in the 10th century A.D., Shesh Shaiyais an 11 meter long Lord Vishnu's reclining posture, with a canopy of seven hooded serpents called Sheshnag. The statue is located at the source of the Charanganga, a perennial river that waters the beautiful meadows below and merges with the Sone River, a tributary of the holy Ganges, and is the lifeline of Bandhavgarh. Sheshaiya is open for guests to visit during Tala zone safari.
Mythological Shesh Shaiya
Where to stay in Bandhavgarh
Stay with us at Kings Lodge and Tree House Hideaway, Bandhavgarh both winner of Trip Advisors Hall of Fame for 5 years of excellence in a row and several other accolades. Take your pick of luxury cottages at Kings Lodge or choose to spend a few nights on top of a tree at Tree House Hideaway.
Kings Lodge is nestled between Sal forested hills of Bandhavgarh National Park in a large natural forested estate of 14 hectares in a small tribal village. The lodge is in the heart of the Tiger country and is only a ten minutes drive from the Tala gate of the national park. Our guests benefit from our incredible location, outstanding hospitality, an experienced naturalist team, and our commitment to conservation and local communities. The lodge has 10 cottage rooms and 8 stilt cottage rooms with en-suite modern bathrooms spread across a natural forest offering great ambiance and privacy. The Lodge enjoys unparalleled woodlands and wilderness amongst well-appointed surroundings. The Kings Lodge is in the heart of the wild country and 95% of our land is forested. It is strategically located to access all gates of the park swiftly yet far enough to ensure a great wilderness and a discerning experience.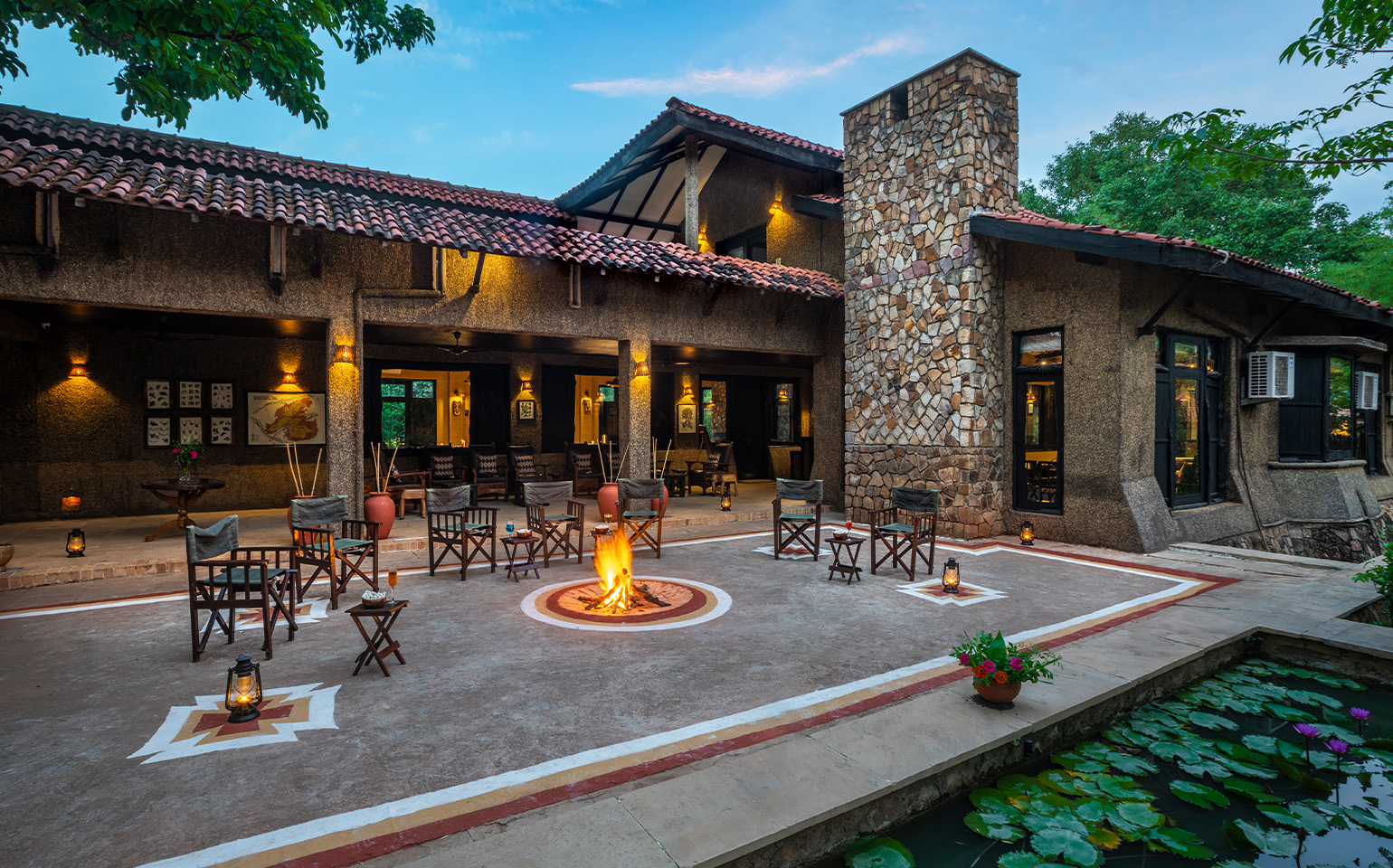 How to reach Bandhavgarh National Park
By Air
Jabalpur (190 kms) and Khajuraho (240 kms) are the best-suited airports for Bandhavgarh. There are many daily flights by national airlines and it's a 4-hour drive from Jabalpur and 5 1/2 hours' drive from Khajuraho. Taxis can be booked from the hotel you are staying in or from tour operators. There are not many options for taxi booking on arrival.
By Train
Umaria (35 kms), Katni (100 kms) and Jabalpur (190 kms) are well-suited stations for Bandhavgarh. There are several trains regularly connecting other parts of the country to these stations.
FAQs for Bandhavgarh National Park