KINGS LODGE - BANDHAVGARH
Kings Lodge is nestled between Sal forested hills of Bandhavgarh National Park in a large natural forested estate of 14 hectares in a small tribal village. The lodge is in the heart of the Tiger country and only a ten minutes' drive from the Tala gate of the national park. Our guests benefit from our incredible location, outstanding hospitality, an experienced naturalist team, our commitment towards conservation and local communities. The lodge has 10 cottage rooms and 8 stilt cottage rooms with en-suite modern bathrooms spread across a natural forest offering great ambiance and privacy.
Wildlife Resort in Bandhavgarh
At a 10 minutes drive from the Tala gate of the national park, the lodge is ensconced amidst 2 Sal forested hills of Bandhavgarh National Park. The Kings Lodge is an ecolodge nestled in a large natural forested estate of 14 hectares in Rancha village. The Lodge enjoys unparalleled woodlands and wilderness amongst well-appointed surroundings. The Kings Lodge is in the heart of wild country and 95% of our land is forested. No trees were felled during the construction of our lodge. It is strategically located to access all gates of the park swiftly yet far enough to ensure a great wilderness and a discerning experience.

FOOD AT Kings Lodge
Kings Lodge offers a range of both local & global cuisines. We also give our guests a true sense of enjoying the tribal life by offering Baiga Thali, a cuisine, which is a culinary heirloom of a tribe inhabiting the nearby villages. They are primarily dependent on the forest products, so is their food which primarily consist of coarse grains like Kodo & Kutki Millet. The lodge also grows a lot of its own produce including herbs like wild mint, basil, and dill along with vegetables including tomatoes, pumpkins, carrots, radish, cauliflower, zucchini, eggplant , and the latest addition being micro-greens for salads. Breakfast dishes of fresh papaya and fruit from the garden, to roasted and stuffed green heirloom tomatoes, pumpkin soup, or desserts using the vegetables and fruits grown in the garden have become a way of life in the Pugdundee kitchens.
Experiences We Love
We offer unique experiences to explore and soak in wilderness that surrounds the lodge. Hamlets and villages around the Tiger Reserve is a true reflection of "life in the country". Learn about their rich tradition, culture and the indigenous tribes of the region. Interact with the people living here, break bread and get involved in one of our volunteer programs for the community.
Click to read more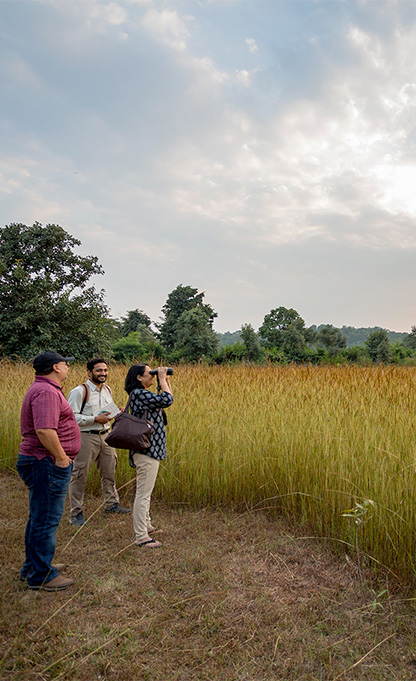 Foot Trails
Best wilderness experiences are experienced on foot.

Walking tours accompanied by naturalists to explore and soak in wilderness of Bandhavgarh. Enjoy and learn about Bandhavgarh's rich flora and fauna and be surprised and delighted by its rich biodiversity. Being on foot brings about the best connection with nature & may throw up surprises, of birds and unique sounds you never experienced before.
Foot Trails
Click to read more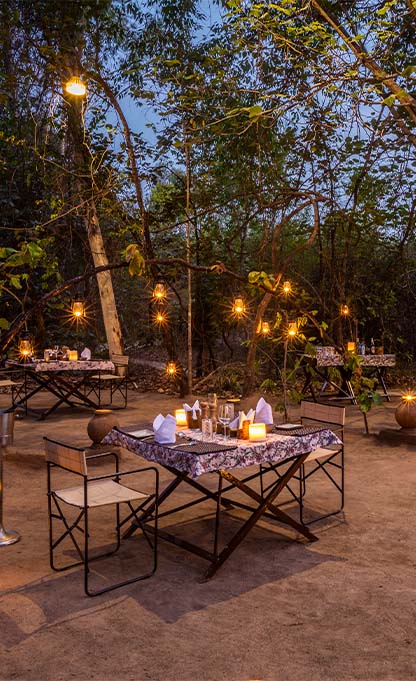 Forest Grill
Inimitable socializing under the star studded sky.

You must have been to a lot of socializing events but we bet this charming experience is something you would have never witnessed before. An interactive meal at the Forest Grill - our barbecue, is accompanied with local cultural interaction with the tribals. The evening is bound to leave you spell bound, when the tribal sound of the drums effortlessly merges with the mesmerizing hymns of the jungle.
Forest Grill
Click to read more
Full Day Safari
For those who don't like to keep up with a watch while on safari.

Full Day Safaris have become popular with photographers wanting to explore everything that a jungle has to offer, in a single day. Starting & ending 15 minutes earlier than regular safaris and no limit on routes & zones this is probably the best bet for getting all the action with the big cats. You literally have all day to prowl in the jungle to encounter the diversity of wildlife at your own pace.
Full Day Safari