Tadoba National Park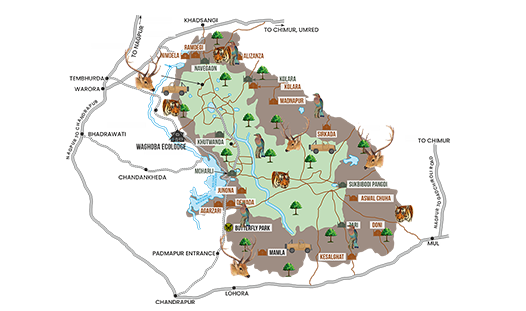 Tadoba National Park Map, Click to enlarge
Located in Maharashtra, Central India.
Tadoba Andhari Tiger Reserve or Tadoba National Park is one of the most preferred tiger destinations in India and the largest national park in the state.
In the last decade, Tadoba National Park has come up as amongst the best destination to see Tigers in the wild and is rated at the top for Tiger Safari in India.
Tadoba National Park information
Tadoba National Park has gained immense popularity in recent years as the top park for tiger sightings and is one of India's forty-seven project tiger reserves.
This pristine, wild habitat is located in the Chandrapur district of Maharashtra and is also referred to as the Vidarbha region. Connectivity to Tadoba National Park is excellent as it is just 2-1/2 hours from Nagpur International airport. A quaint, beautiful jungle with hilly terrain and undulating landscape, Tadoba National Park is the best place to see tigers and wildlife galore.
Spread across an expansive landscape of 1727 Sq.km, Tadoba Tiger Reserve includes the Tadoba National Park, created in the year 1955. The Andhari Wildlife Sanctuary was formed in the year 1986 and was integrated with the park in 1995 to establish the present Tadoba Andhari Tiger Reserve.
Tadoba National Park derives its name from God "Tadoba" or "Taru" worshipped by the local tribes. Taru was the brave village chieftain and was killed in a fierce encounter with a tiger. Therefore, a shrine was established in his name which still exists and can be seen on safari. The name Andhari originates from the Andhari River.
A dry deciduous forest with mostly teak and bamboo trees, Tadoba National Park has a mix of grasslands and dry forests. This type of vegetation allows better visibility throughout the forest and good sightings. The otherwise dry forest boasts of a few lakes and rivers ensuring abundant water sources for the park.
The perennial Irai lake is a major tourist attraction offering a residential territory for a wild array of birds and freshwater crocodiles. Tadoba lake also sustains a major part of the park's wildlife. The Tadoba National Park is rich in flora and fauna. The flora includes Teak, Ain, Bija, Dhauda, Hald, Salai, Semal, Tendu, Beheda, Hirda, Karaya gum, Mahua Madhuca, Arjun, Bamboo, Black Plum, and many others.
Highlights
Size
The size spread over a sprawling 1727 Square Kilometer
Forest Type
A Dry Decidious Forest with mostly Teak and Bamboo Trees
Mammal Focus
Tiger, Leopard, Wild Dogs & Indian Gaur
Birds
Crested hawk eagle, Crested serpent eagle, Indian peafowl
Exclusive Park Activities
Click to read more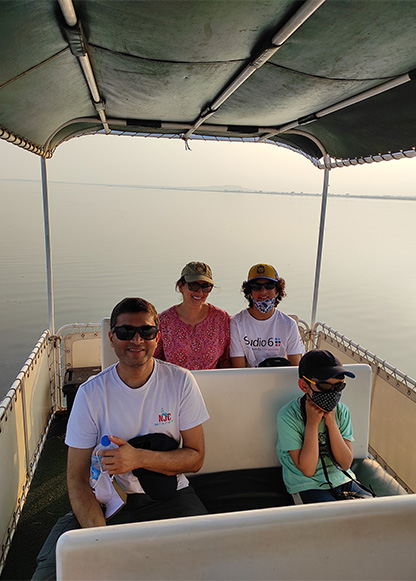 Boat Ride in Irai Lake
The forest department offers boating facility on the backwaters of Irai lake. The rivers and lakes of Tadoba are the hot spots for bird watching. This is an ideal activity for birders and photographers where they can spot a wide variety of birds including Crested Poachard, Grey Heron, Stork Billed Kingfisher, Cotton Goose, etc. Do not be surprised if you spot a crocodile or two, while the deer's gambol on the fringes of the river with langurs and wild dogs for company.
Boat Ride in Irai Lake
Click to read more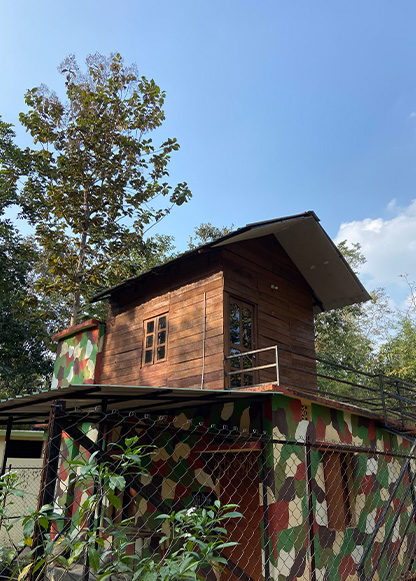 Log Hut Stay in Tadoba
Simple log huts have been made above forest guard check posts in the buffer zone and are a unique experience of spending a night deep inside tiger country. Filled with night calls of owls, nightjars, and occasional alarm calls to warn the forest residents of predator movements, this is a night to keep the adrenaline pumping. Accommodation is basic in these Log huts, which are located in several buffer gates including Junona Gate and Nevada Gate.
Log Hut Stay in Tadoba
Click to read more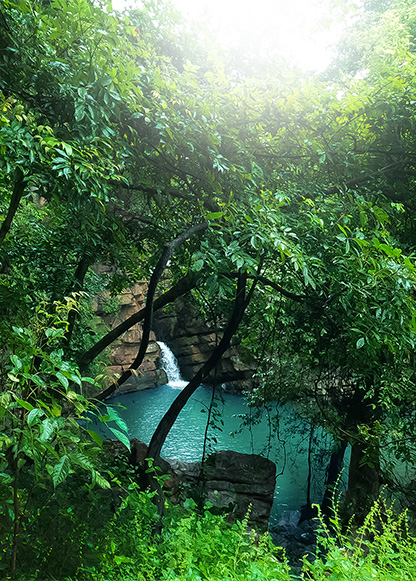 Visit to Ramdegi
Ramdegi is a charming rural setup in the Chimur Taluk of Chandrapur. An idyllic countryside drives through lush, verdant fields on either side, village's charming rural setup takes you back in time. A temple dedicated to Lord Rama stands serenely, near the Ramdegi forest. It is also believed to be one of the spots where Rama stayed during his 14 years of exile. Thereby making it a popular spot for tourists and pilgrims alike.
Visit to Ramdegi
Where to stay in Tadoba
Waghoba Eco Lodge offers 14 exclusive luxury cottages inspired by local tribal villages, a swimming pool, a nature library, a lounge, and a wildlife hide for photography. Handmade Adobe bricks, Guna vault roof tiles, stone, and broken ceramics lend it a rustic yet deluxe look. This also helps in bringing the ambient temperature lower in the harsh heat of Tadoba making for a comfortable stay. The swimming pool is large and nicely shaded for you to enjoy even in the peak of day heat and comes with a nice sun deck to enjoy the mild winters of Tadoba. A north-east-facing photography hide overlooking a small, all-season water body, with morning & evening light falling perfectly on the subjects, promises to delight the photographer in you. Nestled close to the bird hide, we have our nature library & lounge area with a hill view, which comes as a welcoming change from the otherwise flat terrain of the region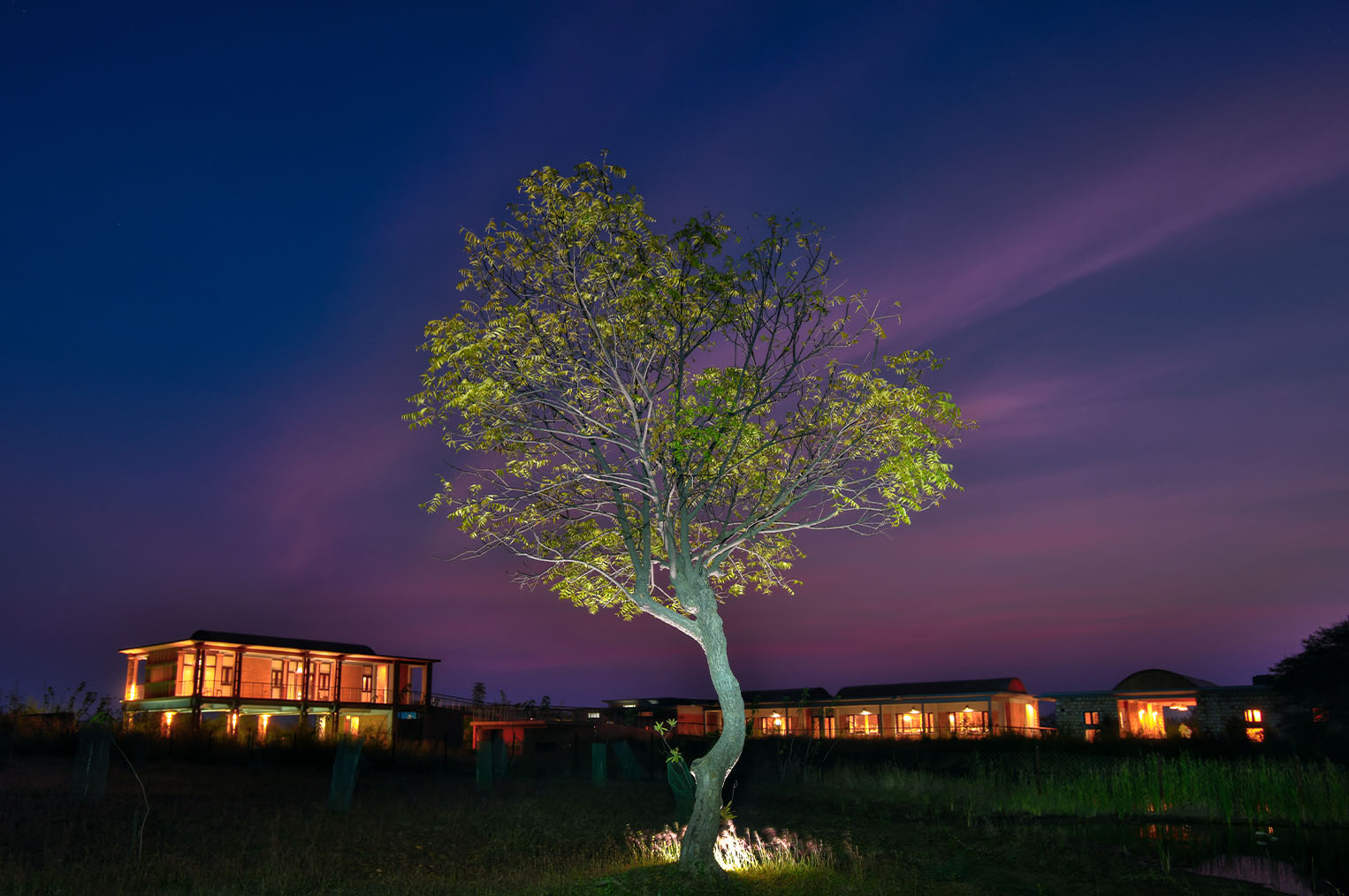 How to Reach Tadoba
By Road
Tadoba is among the best-connected Tiger reserves in the country. It is just a little over a 2-hour ride on the 8 lanes Nagpur – Hyderabad NH 44. Depending on the lodge and the gate you are staying at, you take a detour off the NH to get into the beautiful country sidelined with cotton farms leading you to Tadoba Tiger Reserve.
By Air
Nagpur International Airport, the nearest airport from Tadoba is 122 km away. Nagpur is well connected to all major cities in India including Delhi, Mumbai, Pune, Bangalore, Chennai, and Ahmedabad. Nagpur also has international flights from the middle east making it the easiest gateway to Tiger country for international travellers. Guests are suggested to pre-book road transfer via reputed operators or our reservation desk, as there are limited options available to get a reliable taxi at the airport.
By Train
Chandrapur is the closest railway station and about 1 hour whereas Nagpur railway station is about 3 hours from Waghoba Eco Lodge. Chandrapur has limited train service but Nagpur is well connected from across the country with fast and reliable trains.
FAQs for Tadoba National Park