Waghoba Eco Lodge
Waghoba Eco-Lodge is set in the heart of the unbridled wilderness of Tadoba, Maharashtra. "Waghoba" is a combination of two Marathi words: "wagh" that stands for tiger and "ba" is suffixed as a word of respect. Waghoba is an ancient Tiger or Leopard deity worshipped by many tribes. This is our seventh wildlife lodge and is situated in close vicinity of Tadoba National Park. The lodge has set new standards of eco-friendliness and conscious luxury. The cottages have been crafted by drawing inspiration from the very best of eco-construction and local aesthetics with sustainability ingrained in each aspect of its construction.
Wildlife Resort in Tadoba
The lodge offers 14 exclusive luxury cottages inspired by local tribal villages, a swimming pool, a nature library, a lounge and a wildlife hide for photography. Handmade Adobe bricks, Guna vault roof tiles, stone and broken ceramics lend it a rustic yet deluxe look. This also helps in bring the ambient temperature lower in the harsh heat of Tadoba making for a comfortable stay.
The swimming pool is large and nicely shaded for you to enjoy even in the peak of day heat and comes with a nice sun deck to enjoy the mild winters of Tadoba. A north-east-facing photography hide overlooking a small, all-season water body, with morning & evening light falling perfectly on the subjects, promises to delight the photographer in you. Nestled close to the bird hide, we have our nature library & lounge area with a hill view, which comes as a welcoming change from the otherwise flat terrain of the region.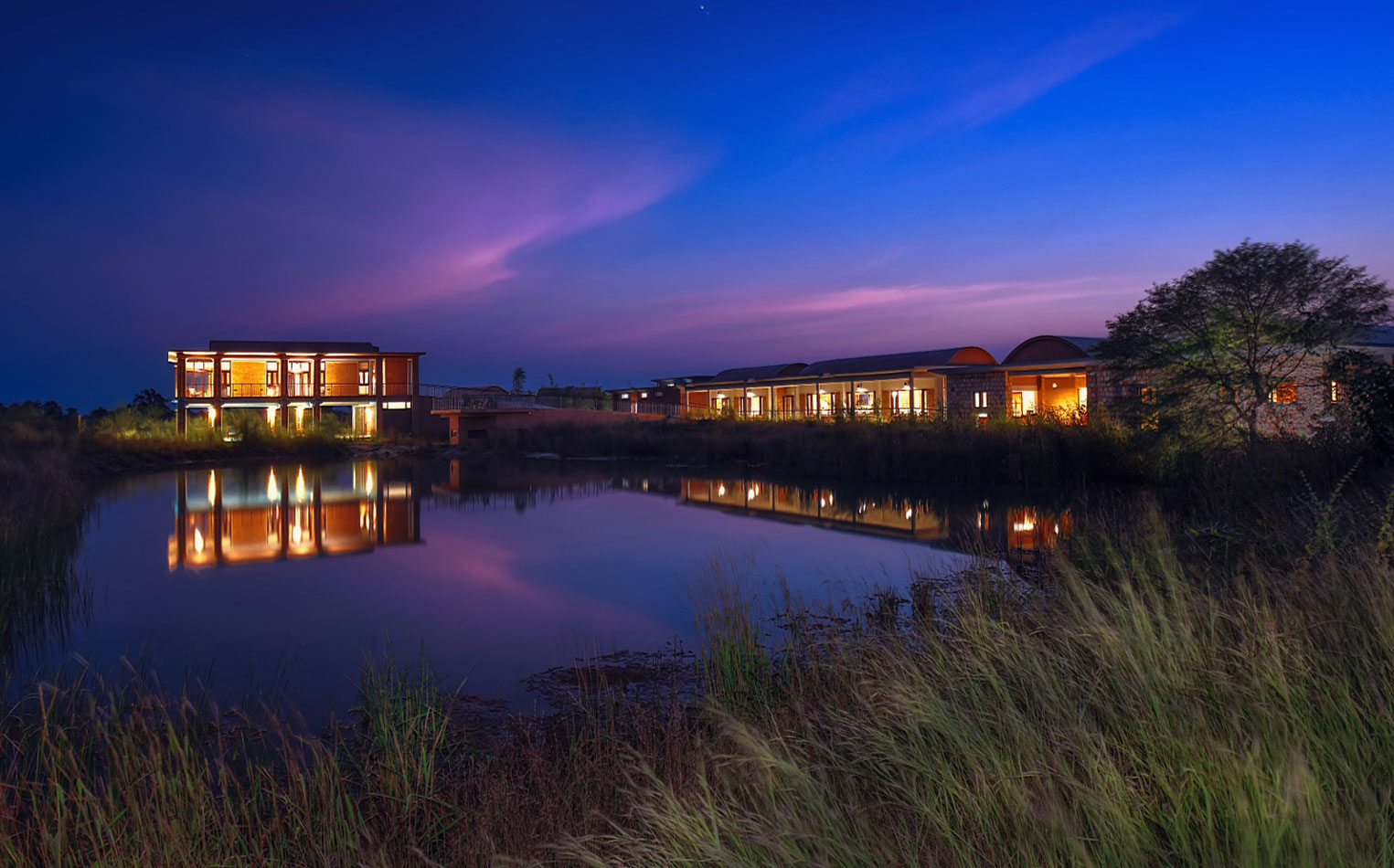 FOOD AT WAGHOBA ECO LODGE
Our Waghoba kitchen serves authentic thalis for lunch including the regional Varadhi thali from the Vidarbha region, consisting of the famous spicy Saoji curries, the very popular Maharashtrian Thali and Hyderabadi Thali inspired by our next-door neighbour. Dinners are more laid back and allow the guest an option to choose the mains from our à la carte menu offering options in Indian, Continental & Oriental. The lunch is served in traditional hand-made Kansa thalis with the beverage of the day while Dinner is served in hand-made pottery crafted exclusively for Waghoba. The menu is inspired by locally grown items including millets.
Experiences We Love IN TADOBA
A quaint, beautiful jungle with hilly terrain and undulating landscape, Tadoba is amongst the best place to see Tigers. The lodge offers Serene Nature Walks, Cycling Tours and Night Safari in addition to Log hut stay & Boat ride on the backwaters of Irai Lake
Click to read more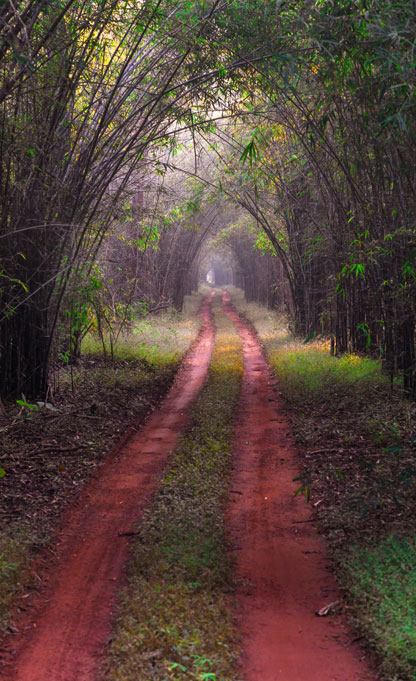 Nature Walk in Tadoba
Witness the wonders while spending a curative time with nature.

Waghoba Eco Lodge is located in a versatile habitat and offers many options for short and long walks in forest, farms, and around villages. In-house experienced naturalists are available for these walks and add much value to the experience by interpreting the jungle in ways you never knew existed. Jamunbudi Hill hike is situated close to the lodge and is highly recommended for its flora, fauna, and spectacular views.
Nature Walk in Tadoba
Click to read more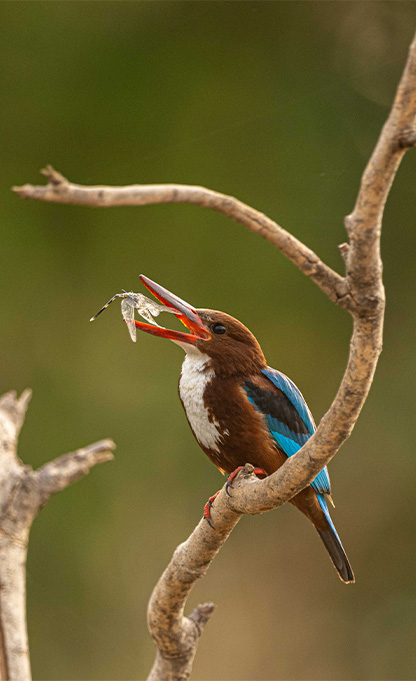 The Lake Photography Hide
Experience a new dimension in wildlife photography.

A north-east-facing lake hide overlooking a small, all-season water body, with morning & evening light falling perfectly on the subjects, promises to delight the photographers. The perches are carefully designed to accommodate birds with different morphologies, weights, and behaviors. The idea behind this hide was to create an environment conducive for both, the subjects to be photographed and for the photographer. Special windows with easy wooden counters are available to enable the shoot at an eye level.
The Lake Photography Hide
Click to read more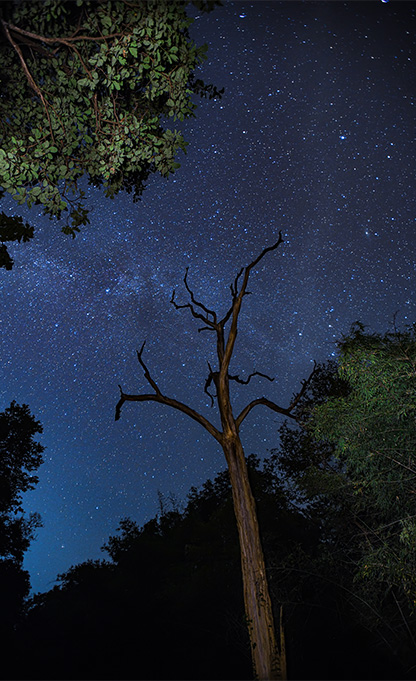 Night Safari in Tadoba
Unveil the secrets hidden under the cover of night.

Night Safari is the latest addition to an array of activities in Tadoba is a wonderful opportunity to explore the nightlife of forest. The complete experience is about 3-4 hours starting just after sunset. It's a great way to witness the nocturnal wildlife in Tadoba National Park and has become a popular activity for leopard & tiger sightings. It is also rewarding to witness the lesser mammals & birds such as civets, nightjars and owls.
Night Safari in Tadoba