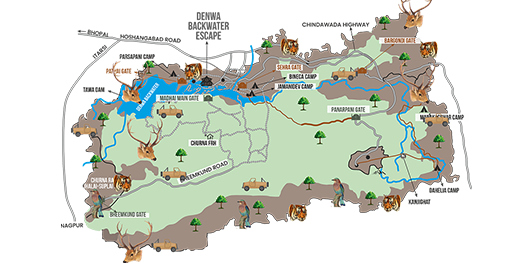 Click to enlarge
Situated in the nurturing lap of Central India.
Satpura National Park is a serene sanctuary nestled in the Mahadeo Hills of the Satpura range. Satpura translates to Seven Mountains (sat-seven, pura– mountain).
Park Information
Spread over a sprawling 1427 sq. km.; Satpura National Park was formed in 1981 with Satpura, Pachmarhi and Bori sanctuaries, and the altitude ranges. Madhai, the entrance of Satpura forests offers surreal views of wilderness and tranquility. This fascinating terrain with deep ravines, sandstone peaks, narrow gorges, rivulets, and cascading waterfalls; abounds in expansive teak, mahua, tendu, bamboo forests, and medicinal herbs. Satpura's charming landscape with its rich tapestry of flora and fauna is home to the Spotted Deer, Indian Bison (Gaur), Tigers, Wild boar, Wild dog (Dholes), Blackbuck, Porcupine, Sambhar, Four Horned antelopes (Chowsingha), Crocodile, Malabar squirrels, Langurs, and the famous Albino Gaurs. Sloth bear and Leopard sightings are the special attractions of Satpura.
The water bodies attract a host of local and migratory birds, making Satpura a bird watcher's paradise. Home to raptors like the Honey Buzzard, Black Eagle, Rufous-bellied Eagle, and many others, one can also delight in spotting Malabar Pied Hornbill, Paradise Fly Catcher, Migrant Waterfowl, Bar-headed Goose, Pintail, Garganey, Pochard, and Ruddy Shelduck. Rare species like the Indian Skimmer and other wading birds also visit this serene national park.
Highlights
Size
The size spread over a sprawling 1,427 Square Kilometer
Forest Type
Mix Decidious Forest with prominent Sal & Teak Vegetation
Mammal Focus
Sloth Bear, Leopard, Wild Dog, Giant Malabar Squirrel, Albino Gaur
Birds
Bar Headed Goose, Indian Skimmer, Malabar Pied Hornbill, Indian Eagle Owl
Exclusive Park Activities
Click to read more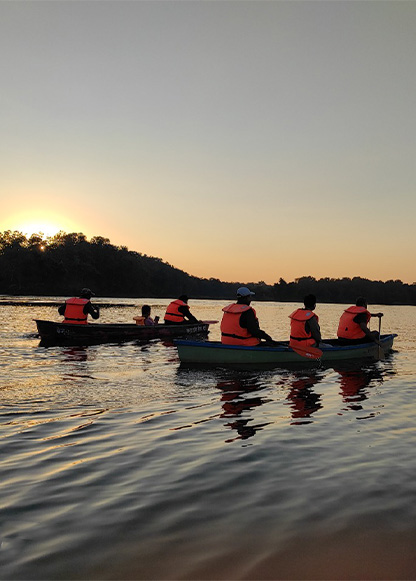 Canoe Ride
A canoe ride on the Denwa River can be a therapeutic experience. Become one with the serenity of the river and the stunning landscape that cradles it. The canoe ride promises special encounters with the varied water birds and witnessing somersaulting fish & other aquatic life. A trained guide from the forest reserve accompanies our guests and they are provided with life jackets. Can be arranged on a one pax or two pax basis.
Canoe Ride
Click to read more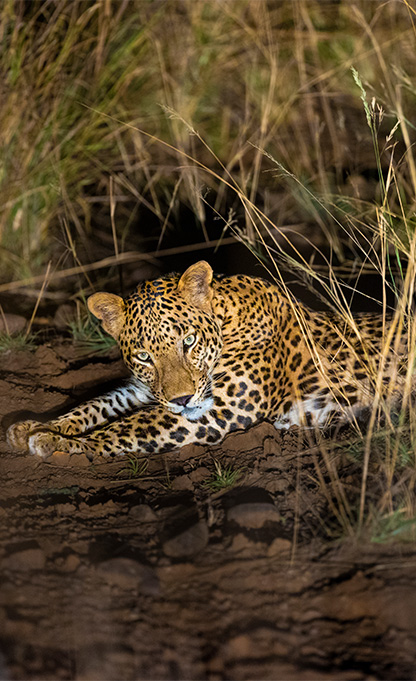 Night Safari
The concerted efforts of the forest department have restored Sehra and Parsapani buffer zones. They are excellent for night patrol; also known as evening safari, during the twilight hour.The twilight hour from 5:30 P.M. to 8 P.M. is an ideal time for sightings, as most wild animals and birds start returning to their roost or resting sites. The predators on the other hand start crawling out of their hideouts, and can be caught on the prowl.
Night Safari
Click to read more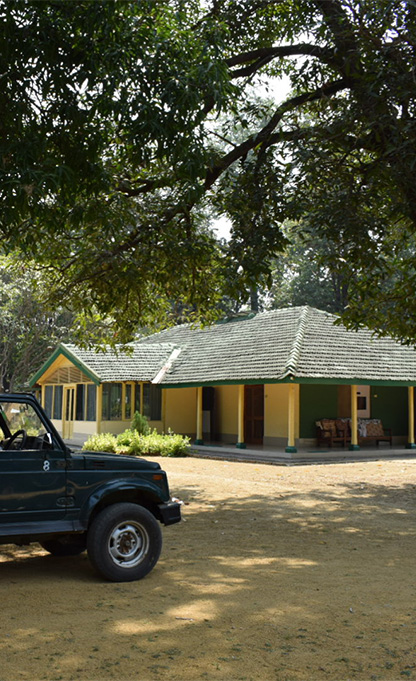 Overnighter at Churna F.R.H
One can spend a full day doing safaris with a pit stop for lunch at Churna Guest House or an overnight stay at the guesthouse; post the afternoon safari. This quaint guesthouse from the forest department, offers an unadulterated forest experience, amidst the wild. One can spend meditative moments in this peaceful sanctuary, watching the birdlife and other jungle visitors. A sound sleep is ensured, amidst the curious hooting of the owls and mysterious chirping of the crickets.
Churna Forest Guest House
Where to stay in Satpura
Denwa Backwater Escape is located overlooking the mesmerizing backwaters of a dam built on Denwa River in Satpura National Park, the area is popularly known as Madhai. It is built on 10 acres of forested land along the river and across the river lies the national park which is approached by a boat and then by jeeps to go deeper into the forest. The lodge offers stunning views of the Denwa River, grasslands across, and rolling Pachmari hills. The lodge has been mainly built using local materials like stone, and baked tiles but the design is contemporary safari style. The rooms are done up in style with unique leather safari furniture, crisp cotton upholstery, linen, and local crafts. The main building and the pool are done up with vintage iron furniture and hand-crafted wooden furniture, the wood for which is sourced from old furniture and sleeper wood. The lodge estate is gifted with a unique undulating landscape, water bodies, and indigenous forest with a variety of flora and fauna and stunning river views.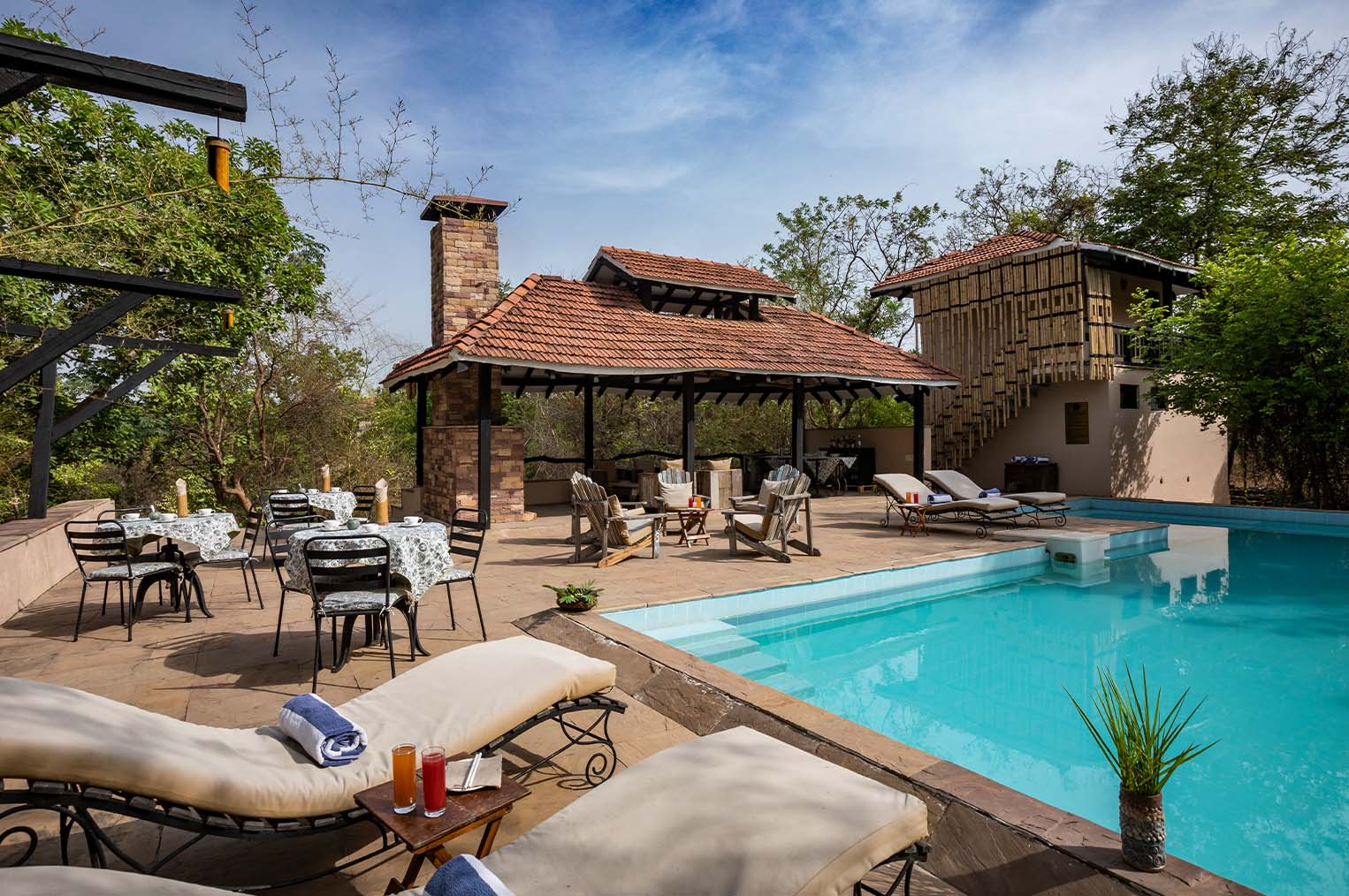 How to reach Satpura National Park
By Air
Bhopal (150 kms) and Nagpur (320 kms) are closest airport for Satpura. There are many daily flights by national airlines and it is a 4-hour drive from Bhopal and 6½-hour drive from Nagpur. Taxis can be booked from the hotel you are staying in or from tour operators. There are not many options for taxi booking on arrival.
By Train
Piparia (40 kms), Sohagpur (20 kms), Itarsi (70 kms), Hoshangabad (70 kms), Bhopal (140 kms) and Nagpur (320 kms) are well-suited stations for Satpura. There are several trains to these stations on a daily basis.