Our Story
Pugdundee Safaris is recognized as one of India's leading responsible safari companies. With seven intimate jungle lodges in Central India and many bespoke wilderness experiences it presents the very best of the Indian subcontinent wildlife & hospitality. Between 2009 and 2022, we have been awarded for our excellence in wildlife safaris, our commitment to sustainability, our experienced naturalists and our pioneering mobile safari initiative.
Pugdundee is a Hindi word meaning a foot trail commonly used by humans and animals, this word is popularly used for such beaten paths in the Indian jungles. We continuously strive to deliver the best possible guest experience, while still integrating the conservation of jungles and the people living around. We are motivated by the hope of reaching out to people in the remotest areas of our country, as we believe that they are the front-runners of wildlife conservation. However, maybe just a drop in the ocean we consider that we are making a significant contribution to wildlife conservation and rural economy wherever our lodges are.
Driven by the love of Indian jungles we made an unplanned humble beginning in 1986, with a small-tented camp at Panna. Between 2007 -2010, two more lodges were setup and it was not until the year 2011 that they were all put together under a common umbrella. Today, Pugdundee Safaris is run by a passionate team of wildlifers and hospitality professionals with a team of over 300 people committed in providing an incredible wildlife experience. The team includes naturalists, nature guides, boatmen, trackers and a marketing team based in Delhi.
Besides its mainstay of running wildlife lodges, Pugdundee Safaris has been keenly engaged in conservation and community development activities. At Pugdundee we believe local people hold the future of the forests in their hands and can either help protect or destroy them. If we wish to conserve our forests, we must look after the needs of local people by helping to improve their ability to earn livelihoods. Our lodges set mostly in remote locations away from regular tourism hubs help ensure that the benefit of eco-tourism is distributed far and beyond.
Our Eco Wildlife Lodges
Our lodges are nestled in the large forested estates in the most pristine locations away from regular tourism hubs, yet close enough to offer easy access to the national parks. Offering an unparalleled Indian Safari experience, they are the epitome of luxury, comfort & unimagined indulgence.
Experience Tiger Country with Pugdundee Safaris
Central India has a stronghold of wild tigers and is the best place to see big cats in the world. Besides Tigers, the Jungles of Central India are brimming with other wildlife including Leopard, Sloth Bear, Elephants, and Indian Gaur. The team at Pugdundee will be happy to curate a bespoke safari experience as per your best-suited requirement from active safaris to birding or just a trip focusing only on big cats. Find some inspirations below:
KNOW US BETTER
The magical encounters often begin just outside of your comfort zone. We offer the right mix of both relaxation & exploration to elevate the bar of how wildlife holidays are done in India. Most of our team members grew up in the wildest parts of the country and never cease to let go of a chance to share its captivating tales with you.
Exclusive Wildlife Experiences
Pugdundee has pioneered many exclusive wildlife experiences, whether it is a Walking Safari and Camping in Satpura Tiger Reserve, an Expedition on bicycle from Pench to Kanha through a tiger corridor, or offering exquisite wildlife photographing experience from the professionally built photography hides in Pench & Tadoba.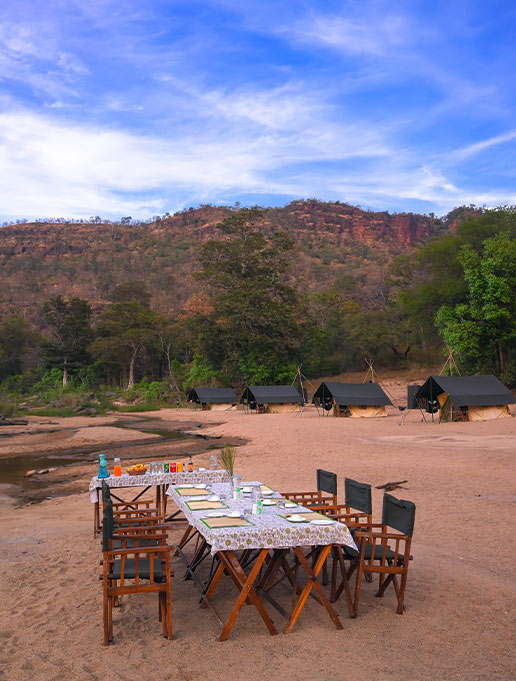 Walking Safari & Mobile Camping
More than two centuries after the first safari expedition brought the Europeans in direct contacts with the wilds; the lure of the experience endures. Out of the hardship of travel across difficult terrain in colonial Africa and India, came an experience of great luxury and sensuality. Inspired by their attempt, we bring to you a novel experience of being on foot in the Central Indian Jungle& overnight stay in a mobile camp set in Satpura Tiger Reserve.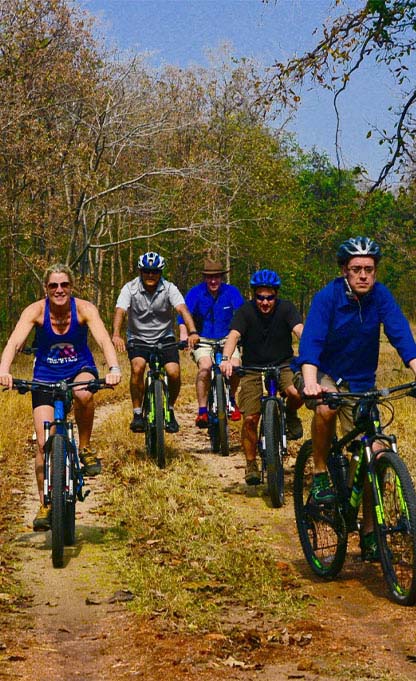 Cycling Safari & Camping
A Jungle Book Cycling Experience that takes you to central India's famous - Pench & Kanha Tiger Reserves. The trip covers exciting Kanha-Pench forest corridor with mobile-tented camping experience, in the forest, with a small tour to Rukhad Sanctuary. Wildlife, landscape and tribal communities make it a fascinating region to cycle through the forested corridor that serves as a refuge to dispersing wildlife across the parks.
Photographers Special
Our team is well equipped to put together an end-to-end bespoke photography focused trip, whether it is for a learner or a professional. With over 30-trained guides & a fleet of vehicles we are well versed to handle the special arrangements required by a photographer, be it modified jeeps, experienced guides or excess luggage. Depending on the interest, we suggest a combination of various parks & travel periods as per species focus.
Learn With Pugdundee
Learn with Pugdundee is our educational initiative to create a unique platform for all the wildlife enthusiasts to come together & contribute to the growing fraternity. An inclusive approach is the very foundation of an eco-venture such as ours, where capacity building & co-learning lead our operations at the forefront.
PRONAT
India's first-of-its-kind Professional Naturalist Training Program is conducted at Satpura's, Denwa Backwater Escape, in association with (WFS). This twenty-one night's program conducted by experts in the field of wildlife and conservation focuses to elevate passionate wildlife enthusiasts into professional naturalist. Additional 3 night's extension available for guiding techniques. The participants will be equipped to be inducted as trainee or lodge naturalists in wildlife based tourism sector, start-leading nature based tours, or simply learn how to appreciate nature from a wider lens.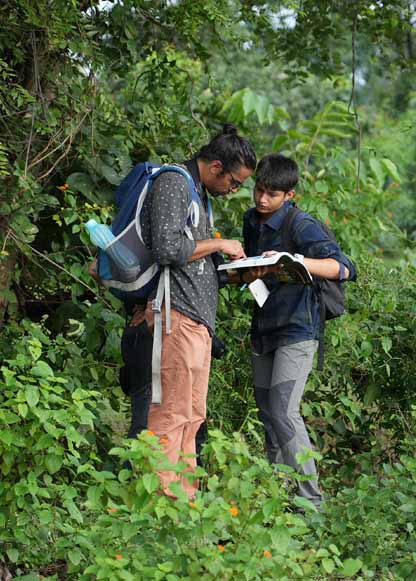 ANAT
Amateur Naturalist Course, has been curated due to interest among a lot of people to know more about wildlife or explore a future potential as a naturalist, regardless of their educational background. For such candidates who deeply desire to learn about nature, Wildlife and Forestry Services in association with Pugdundee Safaris presents A-NAT. As experienced lodge operators & wildlife professionals, we realize that the forest is an observatory of passionate nature lovers, and this course serves as an opportunity to be more informed about various sides of nature.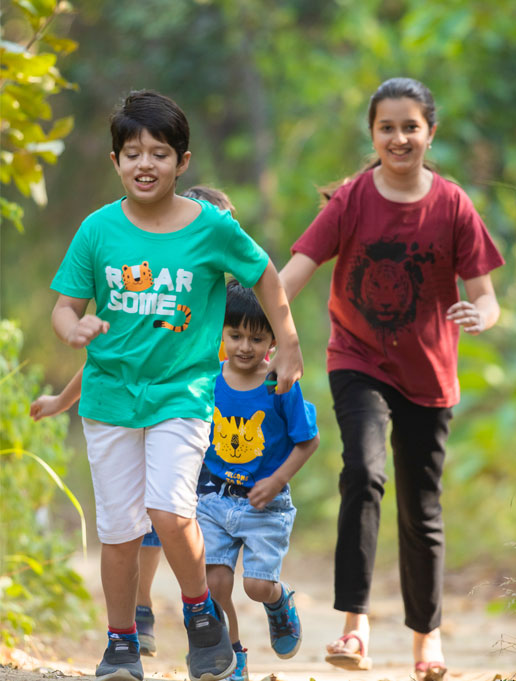 YNAT
Young Naturalist Training Course is an initiative of Learn with Pugdundee to introduce children to nature and build a foundation for further learning and life-long appreciation. This program is offered complimentary to children between 9 – 16 years* and is conducted year around while the parents are on a wildlife holiday with us. This is currently available at Bandhavgarh, Satpura, Pench, Kanha and Tadoba.
FIND OUR PUGMARKS
Pugdundee today is present in all the premium tiger reserves in the country, offering bespoke safari expeditions across an extensive part of Central India covering Madhya Pradesh & Maharashtra.