PENCH TREE LODGE
The famous Jungle Book character Mowgli was a wolf-befriending boy from the tribal village of Pench. If Mowgli could enliven his escapades, Pench tree lodge would be his time warped home in 21st century. Pench Tree Lodge is the refuge of the au courant, adventurous and eco sensitive 'Mowgli'. Our well-appointed tree houses and luxury cottages are nestled in the undisturbed 16 hectares of forested area in the small 'Sarrahiri' village of Pench Tiger Reserve in the Karmajhiri area. This is the first lodge to be set up in this underdeveloped zone and supports our conservation policy of not overcrowding areas and making them unsustainable with over exposure to tourism.
Wildlife Resort in Pench
Snuggled in forty acres of wilderness, in a small tribal hamlet of Sarahiri the accommodations are embellished with unique safari style furniture and exquisite local crafts. We keep our carbon foot print to the bare minimum, offering the discerning traveller an intimate experience with fourteen elegant tree houses and cottages.
Pench National Park can be accessed by the Karamajhiri gate which is just about 20 minutes from our serene setting. Choose from a host of adventures and activities - cycling, night trails, village walks and more. Cool your heels in our pool. Savour our lip-smacking local cuisine; ingredients of which are also sourced from our very own organic garden.
Curl up with a book in bed, or watch the unhindered views unfold in our sprawling verandahs.

FOOD AT PENCH TREE LODGE
At Pench Tree Lodge, we offer our guests authentic regional flavours of Madhya Pradesh. We serve a fixed menu for lunch, which includes giving our guests the taste of what is grown locally in our organic garden. For dinner, the chef is happy to take requests and personalize meals including popular items from global cuisine. Breakfast is served on safari inside the park along with fresh coffee and an assortment of teas, freshly baked bread, croissants and cookies. In case you decide to stay back for a leisurely breakfast the same is served at poolside to give a great start to your day.
Experiences We Love IN PENCH
The lodge encourages various non-vehicular, low impact, greener & sustainable experiences such as buffer excursion at Rukhad, Nature Walks & Wildlife photography at The Kipling Hide the first of its kind, luxury underground wildlife photography hide in India.
As a special experience, guests can book a popular 'Farm Dinner Meal', under the star-studded night sky, set in a village-like set up next to the sprawling organic garden. The mini-village concept highlights the menu, which is primarily local, cooked using earthenware black clay pots in a tandoor and an open hearth with firebricks to create a chulha over it.
Click to read more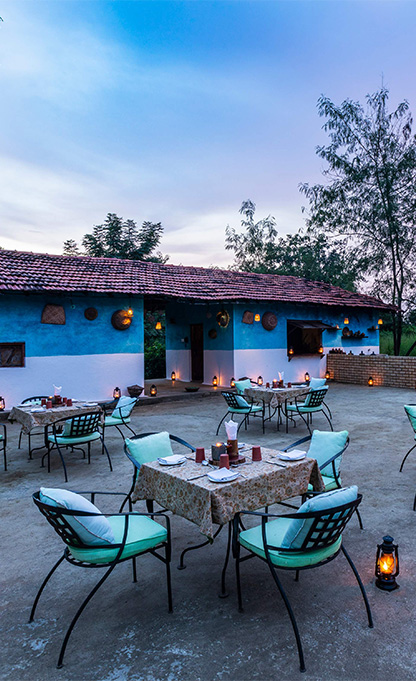 Farm Dinner
Reciting a local tale to connect you back to the soil.

The Farm dinner experience is under the star-studded night sky of Kipling country, next to a sprawling organic garden. The chef lights up a clay oven and roasts potatoes, cottage cheese and kebabs. Dinner comprises of authentic local flavours of Madhya Pradesh. Be it Desi aloo (local potatoes), Daal Barbati (Yard Long Bean in lentil form) or Dobri Mahua Kheer.
Farm Dinner
Click to read more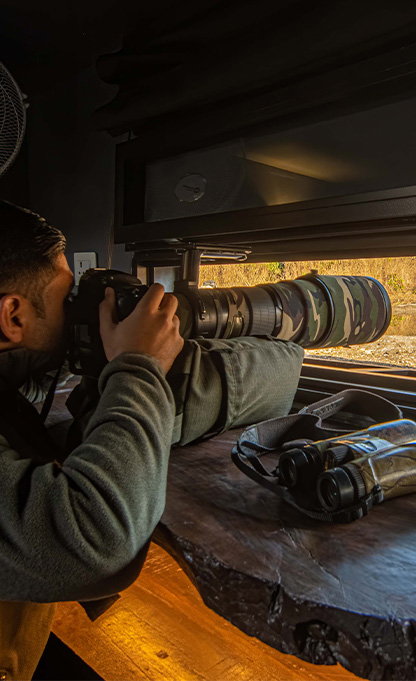 Kipling Photography Hide
Experience wildlife photography at an eye level.

The Kipling Photography Hide is the first of its kind, professionally designed, luxury underground wildlife photography hide in India. It gives photographers & wildlife lovers the freedom to get close to wildlife safely & discreetly, without disturbing or impacting the animals. And while it allows wildlife to behave and interact with each other with complete freedom, photographers gain a unique eye-level perspective from up close.
Kipling Photography Hide
Click to read more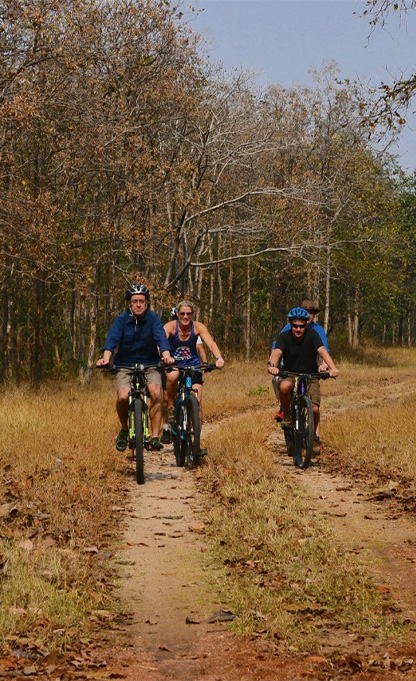 Cycling Excursions
Pedal through the forest corridor at your own pace

This cycling excursion from Rukhad sanctuary that is situated in the buffer zone of Pench National reserve. It is a wonderful expedition of spotting wildlife amidst the scenic beauty of the reserve, which often astounds the onlooker. Rukhad is an integral part of the famous Kanha-Pench Tiger Corridor and this experience is a must do, on the bucket list of wilderness adventurers.
Cycling Excursions