TREE HOUSE HIDEAWAY - BANDHAVGARH
Tree House Hideaway - On and among the trees in our five tree houses there is a route to hide away of fantasies. In the 21 acres area of forest rests an option of experiencing the snug life inside the rooms or venture out in the tiger-infested wild. The property has its resident species of birds, reptiles and animals residing around the forest trees and over time the area has now become a small secure park for them. You can spend your time unseen and undisturbed in the intimacy of your room or choose to go looking for wild animals & birds in Bandhavgarh Tiger Reserve.
Wildlife Resort in Bandhavgarh
In the wild world of Bandhavgarh Tiger Reserve, the outlook of tree houses is grunge and sturdy looking but the door opens to acceptable elegance complementing the outside world. The designs are a fusion of contemporary and traditional jungle living with earthy and eco essentials. Property houses 5 very well-spaced Tree houses. These Tree houses have been made by local carpenters using regularized wood. Local craft knowledge and traditional expertise have been put to use to ensure that the Tree Houses blend harmoniously with nature. The Lodge also has a Machaan overlooking a water hole frequented by wild animals, bar cum lounge, alfresco dining options and an organic garden.

FOOD AT TREE HOUSE HIDEAWAY
Dining hall is built around a century old Mahua tree, in two levels; The ground level serves as a cozy dining hall and the upper floor as a bar cum lounge known as 'The Watering Hole'. We serve Table d'hôte menu but are more than happy to take requests & craftily design meals by making use of the locally sourced ingredients.
Served on request, our very popular Baiga Thali, cooked over Chulhas by local village women is a celebration of the local cuisine.
Experiences We Love IN BANDHAVGARH
Spread across 21 acres of dense jungle, the Tree House Hideaway is a perfect jungle retreat equipped with the essential amenities to ensure that guests enjoy their commune with nature. While staying at the lodge, one can indulge in various activities to accentuate the ongoing adventure.
In addition to the very popular game drives, we also offer nature walks, cycling, village visits & bush dinner under our special lodge experiences.
Click to read more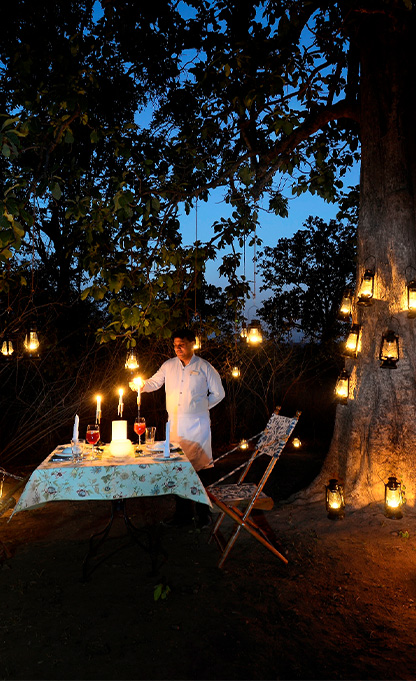 Bush Dinner
Whoever said Fairy tales are only found in books.

Bush Dinner set in a natural forest under the canopy of a star-studded sky is a bewitching experience. Savour the four-course meal by the cackling campfire. You enjoy a seating with hanging lanterns, under a moonlit night sky with a sea of stars to gaze at while our staff dazzle you with the extensive menu spread. Relax and soak up the final minutes of what would have been yet another day of wondrous memories.
Bush Dinner
Click to read more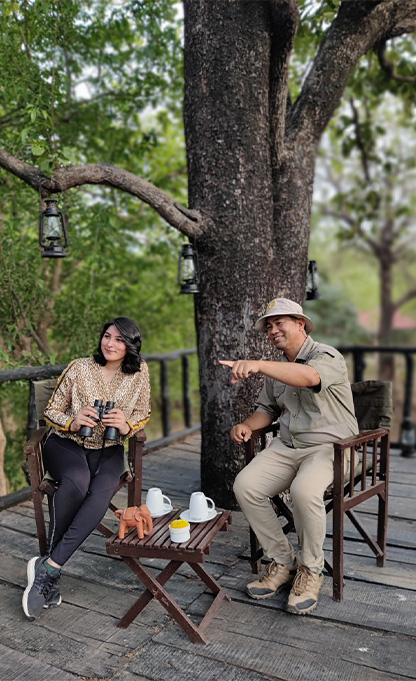 Sundowner on Machaan
Experience the majestic view of a crimson sky bidding adieu to the sun.

To move the needle and offer our guests the unexpected splendors, we build activities, which take the overall experience a notch higher. One such experience is time spent on our in-house machaan. A small Machaan or look out perched on a small lake adjoining the best tiger reserve in the country is bound to create a life-long memory. See the sun going down while watching the Bandhavgarh forest getting ready for its nightlife.
Sundowner on Machaan
Click to read more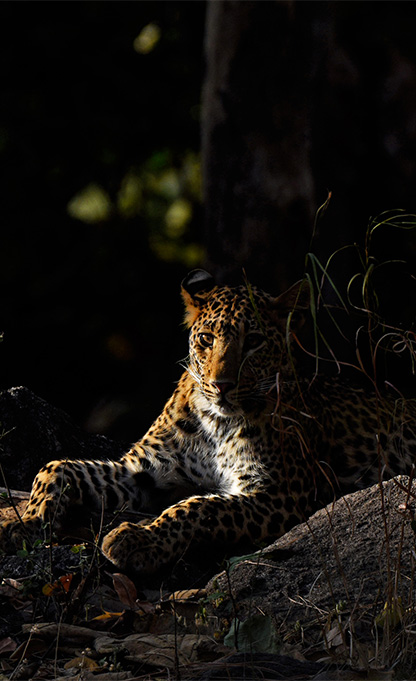 Night Safaris
Witness the happening night life, wrapped in sheer wilderness.

Night Safari is a newer addition to an array of activities in Bandhvgarh. The complete experience is about 3-4 hours starting just after sunset. Prowling deep forests in the dead of night is a once-in-a-lifetime experience. It is interesting to listen to insects, hear Nightjars calling from afar, see owls silently perch on a tree, and observe the silhouettes of the untamed terrain. Wild creatures' evening habits are fascinating to watch. The odds of spotting a predator are significantly higher in the dead of night.
Night Safaris