Tigers of Bandhavgarh National Park- Madhya Pradesh, India
One of the golden moments in wildlife is being part of sightings which seldom happen. My personal best was watching a pair of flying squirrels airborne in BR hills, Karnataka. It was something that I can never forget… Simply amazing!! In fact I can say we all are every time blessed when we enter their wild domain. We may never know what lies ahead. There are many such blissful moments for me and my guests in the wild.
13th May 2016
Our morning game drive in Magadhi Zone rendered 7 tiger sightings including Rajbehra Female with four cubs and a mating pair of tigers. On our evening drive we were in Khitauli Zone. We got the news from park guides that Nigha Nullah Female and her 4 cubs were sighted this morning. Sighting happened near Nigha Nullah and chances of seeing the cubs again were high in the evening.
Tigers shorten their movements within its territory during summers and abode largely near water bodies. They patrol in the night till dawn and start to settle down near streams, caves or shady areas which are near to the water. They move quite less during the daytime in summers and also sleep for long hours, preserving their energy for hunt and patrol.
We were hopeful to find them again near the same spot of morning close to the watering hole. We entered the park by 4 pm and reached that area after a while. Already few vehicles were parked there waiting to have a glimpse of this family. After some time someone from the crowd screamed…Tiger…Tiger!! I peeped to the dry stream which lead to the nullah and found Bheem (the dominant male tiger of Khitauli) coming towards the watering hole. Behind him marched two cubs in sync.
It was a moment to cherish!! A father taking his cubs to the watering hole…We were all blessed to see this natural history moment when the trio came and drank water and donned delightful spectators. The cubs are almost a year old and there are four of them. The cubs are bold as compared to their shy mother who charges vehicle sometime.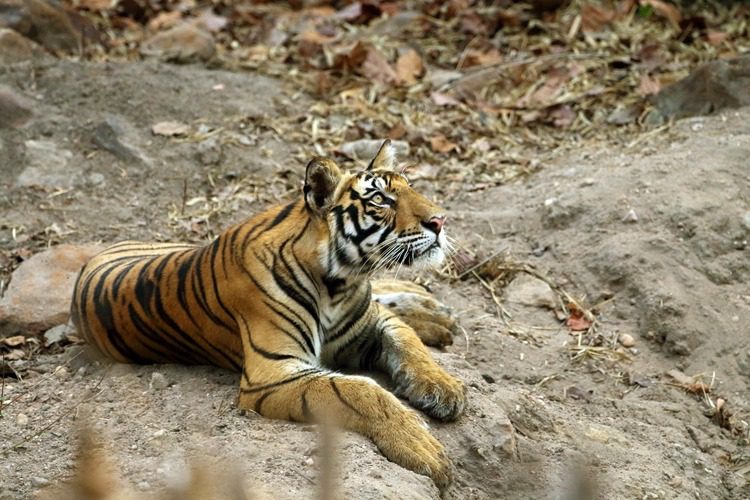 Good news for tourists who visit Bandhavgarh National Park is that, if Bheem restrains the territory which covers large part of this zone, the chances of seeing these cubs on the upcoming season will be high. Male tigers generally protect their cubs from intruders and we suppose Bheem will do the needful.
Courtesy : Ashish Tirkey