Bandhavgarh National Park: A Wildlife Enthusiast's Gateway to Heaven
Bandhavgarh is a unique paradise in Central India; where history and wildlife come together in a perfect communion of sorts. Known as one of the best places to spot wild life in India, especially tigers, Bandhavgarh lies nestled against the Vindhya hills, in Umaria district of Madhya Pradesh.
1. History of Bandhavgarh: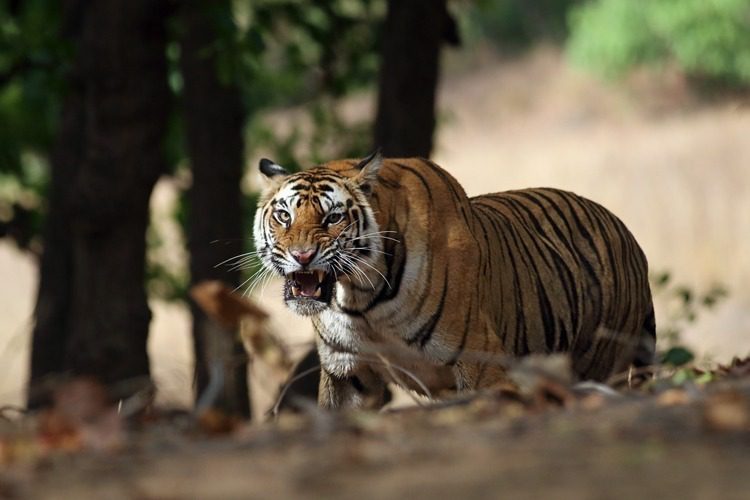 Declared a National Park in 1968 and a Tiger Reserve in 1972 under the Project Tiger and Wildlife Protection Act, Bandhavagrh National park was a Shikargah, or game preserve for the Maharajas of Rewa and their guests. Spread across an area of 1150 sq.kms., Bandhvagarh has one of the highest density of tigers in the world. Bandhavgarh is the original home to Mohan, the father of all white tigers in captivity today.
The name "bandhav-garh" translates to "the brother's fort" and believed to be gifted by Hindu God Rama to his devoted 'bandhav' (brother) Laxmana, when they returned victorious over Lanka (Ceylon).
Inside the park there are twelve natural waterholes, several other historical monuments and remains of ancient caves that exhibit a 2000 year old rich historical past.
2. How To Get to Bandhavgarh:
By Road: Located in the heart of Central India and is well connected and easily accessible from major towns like Jabalpur, Satna, Khajuraho and Rewa.
Distances from important towns to Bandhavgarh.
| | |
| --- | --- |
| From | Kms |
| Delhi | 880 Kms (approx.21 hours) |
| Khajurao | 280 Kms (approx.6 hours)) |
| Satna | 112 Kms (approx.3 hours) |
| Katni | 95 Kms (approx.2 hours) |
| Kanha National Park | 240 Kms (approx.5 hours) |
| Jabalpur | 220 Kms (approx.4 hours) |
| Varanasi | 475 Kms (approx.9 hours) |
| Allahabad | 345 Kms (approx. 7 hours) |
| Rewa | 160 Kms (approx. 2 hours) |
| Umaria | 34 Kms (approx. 1 hour) |
By Air:
Delhi to Khajuraho (daily flights) by Jet Airways and Indian Airlines. (5-6 hours road journey from Khajuraho)
Delhi and Mumbai to Jabalpur by Spice Jet and Indian Airlines.
(4 hour drive from Jabalpur)
By Railways:
Bandhavgarh is well connected by train. Umaria, Katni, Satna and Jabalpur are convenient rail heads and there are many other trains that connect there from different parts of the country. Complete information and bookings can be done on www.indianrail.gov.in and www.irctc.co.in
Pugdundee Safaris is always happy to assist you with transfer from the railway station or airport.
3. Best Time to Visit Bandhavgarh:
Bandhavgarh National Park opens out to visitors from 1st October to 30th June.
But every season has it's unique charm. Post monsoons the forests starts buzzing with activity and life, and the entire landscape is transformed to a glorious lush landscape.
The winter months from November to March, are the most inviting months to witness the gleaming, winter coats of all the flora and fauna; in this enchanting deciduous landscape.
January to March are perfect for sightings, especially the adrenaline pumping experience of spotting the tiger. These months are ideal for bird watching too.
April to June though hot offers one of the best opportunities to see wildlife specially Tigers.
4. Inhabitants of Bandhavgarh National Park
Well-known for it's outstanding biodiversity, Bandhavgarh national park is every wild life enthusiasts dream come true. Bustling with flora and fauna the park is spread across a modest area of 446 Sq km, yet boasts of the highest density of tiger in the world.
Flora and Landscape: Surrounded by thirty-two undulating hills and plateaus, rolling meadows and expansive cliffs; which along with the water bodies, offer a scenic spectacle and one of the most spectacular wild life experiences.
The grasslands are flanked by Sal forests in the valleys and lower slopes, that gradually merge to mixed deciduous forests in the hills. The forests also comprise Dhobim, Saja and Salai, and Bamboo thickets.
Fauna: With the tiger at the apex of the food chain and world's largest tiger population in the wild, Bandhavgarh is gifted with thirty-seven species of mammals, more than two-hundred fifty species of birds, about seventy-five species of butterflies and a large number of reptiles.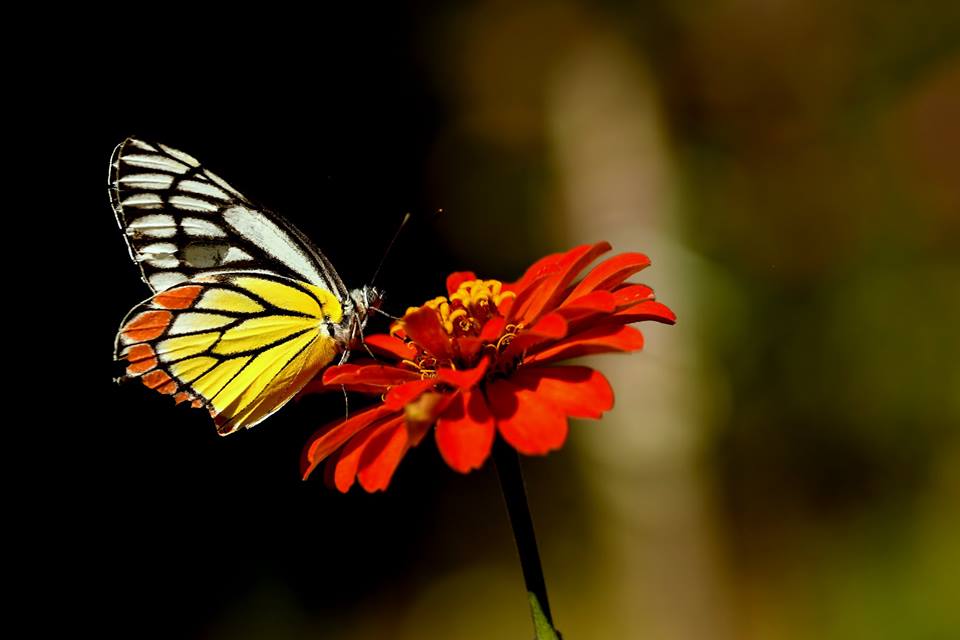 Although Tigers always happen to be the prime wildlife attraction in all national parks, Bandhavgarh offers a wide array of fauna. Some of these include jackal, sloth bear, striped hyena, leopard, jungle cat, civets, palm squirrel, nilgai, sambar, spotted Deer; and many more
The reptile population is also varied with cobra, viper, python, turtle, monitor lizard etc.
Bird Watchers Paradise – Bandhavgarh is home to a number of migratory, as well as resident species of birds like Sarus crane, Indian Pond Heron, Lesser Adjutant Stork, Indian Roller, Racket Tailed Drongo, Asian Paradise Fly Catcher, White Breasted Kingfisher, Great Cormorant, Jungle Fowl, Crested Serpent Eagle and plenty of others.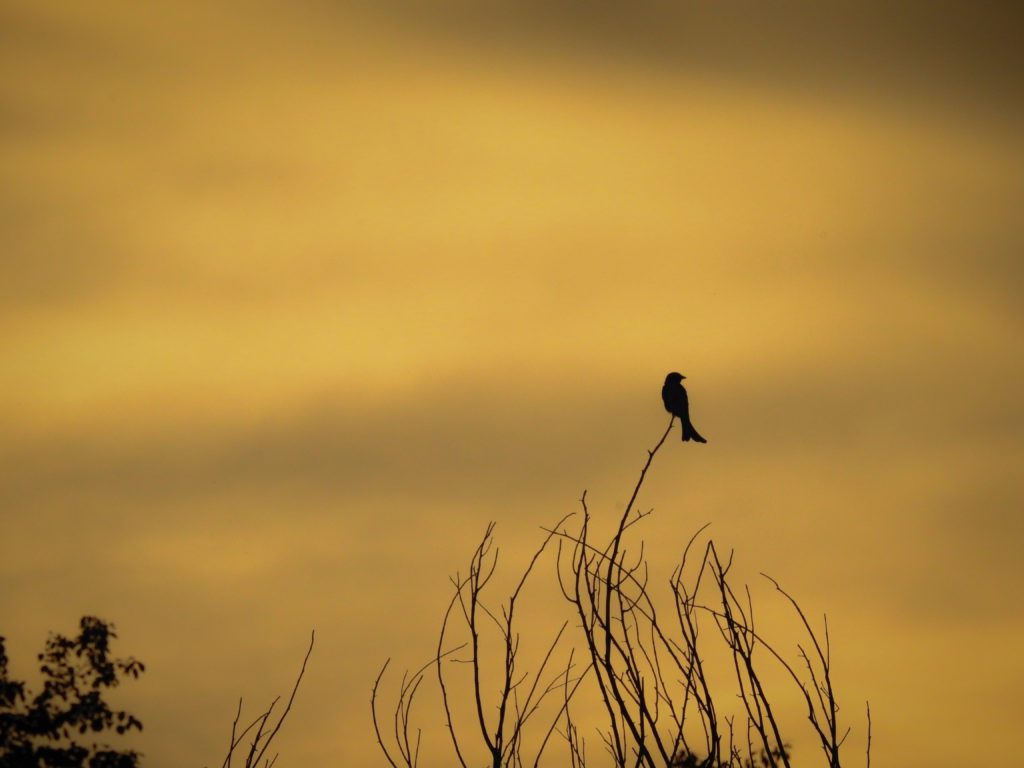 5. Bandhavgarh National Park Zones:
The Main Zones: Khitauli, Magdhi, and Tala
Buffer Zones: Dhamokar, Panpatha (Pachpedi) and Johila (Kalwa)
6. Safari bookings in Bandhavgarh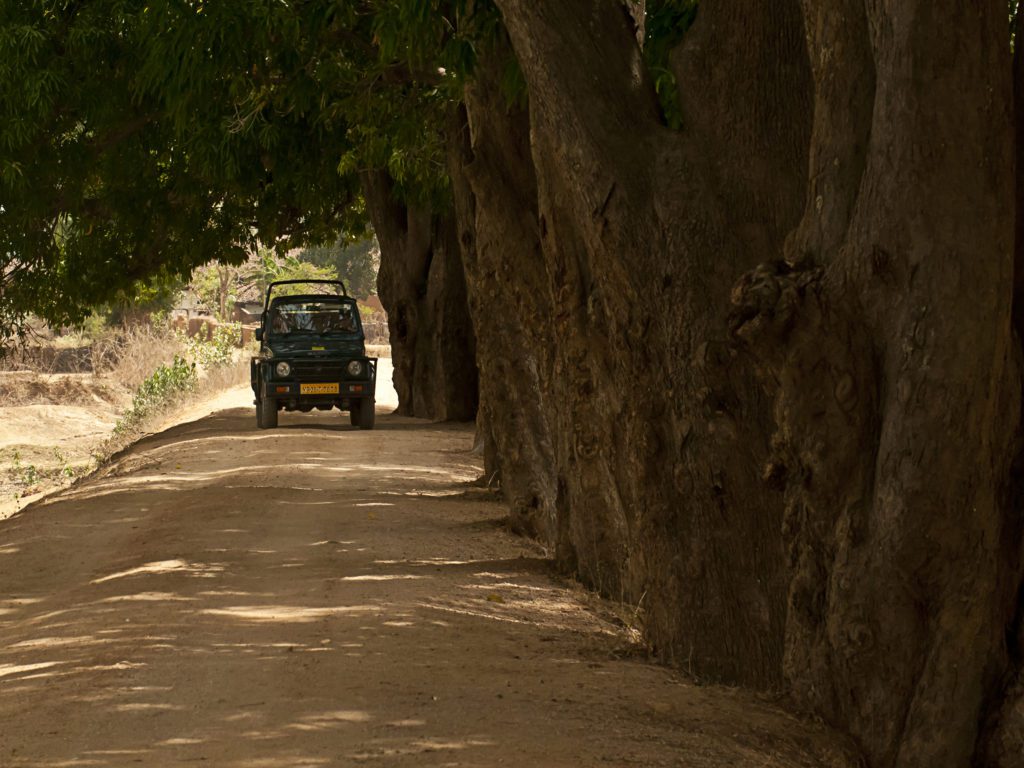 * Safari ticket bookings can be done through the government site www.mponline.gov.in or from the lodge you are staying at.
Bookings open 120 days in advance, since the park tickets are limited they get sold out almost immediately for weekends, long holidays and for peak season
Safari ticket booking is for jeeps and the tickets are per jeep basis
A limited number of tickets are also available on per seat basis.
A limited canter seats are also available at the park gate on current basis.
It is mandatory to carry the same ID cards used at the time of booking
7. Hotels & Resorts in Bandhavgarh
Bandhavgarh offers a variety of accommodation options, from budget to luxury, to high end. Pugdundee Safaris offers travellers two exclusively distinct luxury get-aways: King's Lodge and Tree House Hideaway
King's Lodge: Is a gorgeous estate that lies nestled between the Sal forested hills of Bandhavgarh, and a small tribal village. This Eco-lodge lies in the midst of tiger country and is just a ten minutes drive from the Tala gate. This stunning getaway works closely with conservation and sustainability, and offers it's guests an ultimate experience in luxury.
Eighteen modern Cottages including eight stilt cottages, Alfresco bush dinner venues, Ayurvedic spa-treatments, tailor made bird watching and photography tours, organic kitchen; are just a few of the exclusive attractions of King's Lodge.
Tree House Hideaway:
Tree House Hideaway provides an off beat holiday in the lap of nature with elegant trees like Palash, Mahua, Banyan, Tendu, Peepal, and a lush expanse of natural landscape to unwind in. Made by the local staff from recycled wood, these luxurious tree houses, have resident species of flora and abundant fauna homing alongside.
The Tree house offers it's guests the very best of dining and outdoor experiences, including an interface with the local communities; while staying true to its promise of being eco-friendly.
8. Activities in Bandhavgarh
Kings Lodge and The Tree House Hideaway offer it's guests memorable experiences like Cycling, Jeep Safari, Birding Walk, Tribal Village Visits, Crafts Workshop, Nature Walks. They also organizes special Alfresco Bush Dinners where the guests can enjoy tribal or local meals in exclusive outdoor forest settings, under the star spangled sky. Local tribal dances are organized on special occasions.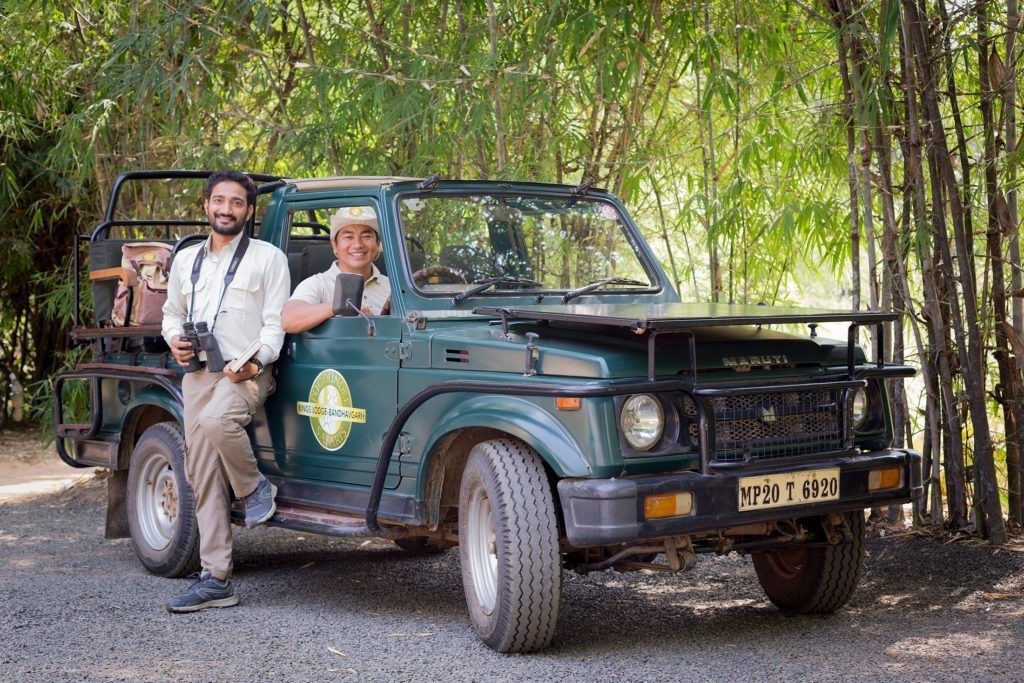 Jungle Safaris: One of the most enthralling experiences is an open jeep jungle safari, to spot various wild life in their natural habitat. This one-of-its kind bewitching, heart-thumping experience, takes a whole new meaning when it comes to spotting tigers and other elusive beings of the jungle, like leopards. But having said that, it is no less exciting to chance upon herds of spotted deers, sambhar, or the lone jackal or fox. Catching a sight of the various exotic species of birds also lends a charm to the ride on the wheels, with a naturalist explaining the various nuances of the wild.
Full day safaris in Bandhavgarh – This permit allows the interested traveler to go to any zone and any route for a full day. Though one may have to pay much more, this is an excellent option for wildlife photographers. This also allows access 15 minutes before regular time and also exit 15 minutes later.
For further details you can write to Pugdundee Safaris – enquiry@pugdundeesafaris.com
Bird Watching at Bandhavgarh: Bandhavgarh is every bird watchers paradise. The biodiversity of the park supports various migratory as well as residents birds. Bandhavgarh fort is also a great place to spot various avians. Kings lodge offers some wonderful bird watching experiences.
9. Other Attractions in Bandhavgarh
Bandhavgarh Fort: The historical monument stands magnificently on a hillock inside the reserve, and is part of the Vindhya ranges in Umaria region. Though the fort is closed to tourists. The Fort is a mute witness from the era of "Treta Yoga" and is a doorway to explore manmade caves with inscriptions and rock paintings of that period.
Places of interest around the fort include:
Treasury, Seth Dhani ka Temple, the Bandhavdheesh Temple (temple dedicated to Rama).
Varah or the statue of wild boar is believed to be one of the nine reincarnation of Lord Vishnu.
Narsimha (body of man with head of lion)
Matsya, the fish statue
Kachchap the turtle statue is the largest in India.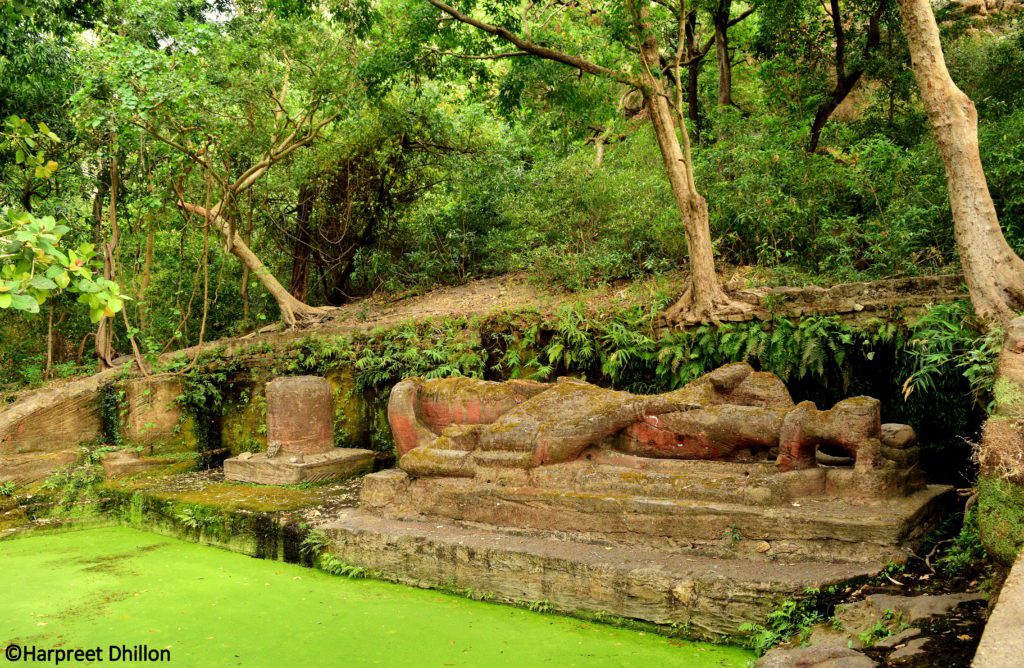 Sheshshaya is Lord Vishnu's reclining posture, with a canopy of seven hooded serpent called Sheshnag. Sheshshaiya is open for guests to visit during Tala zone safari.
Though most of this area is off bounds currently, its open for on Janmashtami.Bari Gufa
Bari Gufa stands for "The Giant Cave". Dating back to the 10th century, this man-made cave is not only majestic in its architecture, but is a display of impeccability.
So, lace up your wilderness and travel shoes this season, and immerse yourself to one of India's most surreal safari experiences of all times, at Bandhavgarh National Park.
---