Known as the land of tigers, Bandhavgarh is the ideal tiger country that offers some of the best sightings in the country.
Most tourists visiting Bandhavgarh go for jungle safaris. The forests are divided into two major zones:
Core Zone and Buffer Zone.
Core zone is the central part of the tiger reserve and it shares its boundary with the buffer zone.
Core zone is basically an important area where the conservation of wildlife and natural resources is strictly protected by the forest department.
Buffer Zone is the area that surrounds or adjoins the core areas where nature is conserved alongside compatible human uses of the land or water.
The Core Zones of Bandhavgarh are: Khitauli, Magdhi, and Tala
Buffer Zones of Bandhavgarh are: Dhamokar, Panpatha (Pachpedi) and Johila (Kalwa)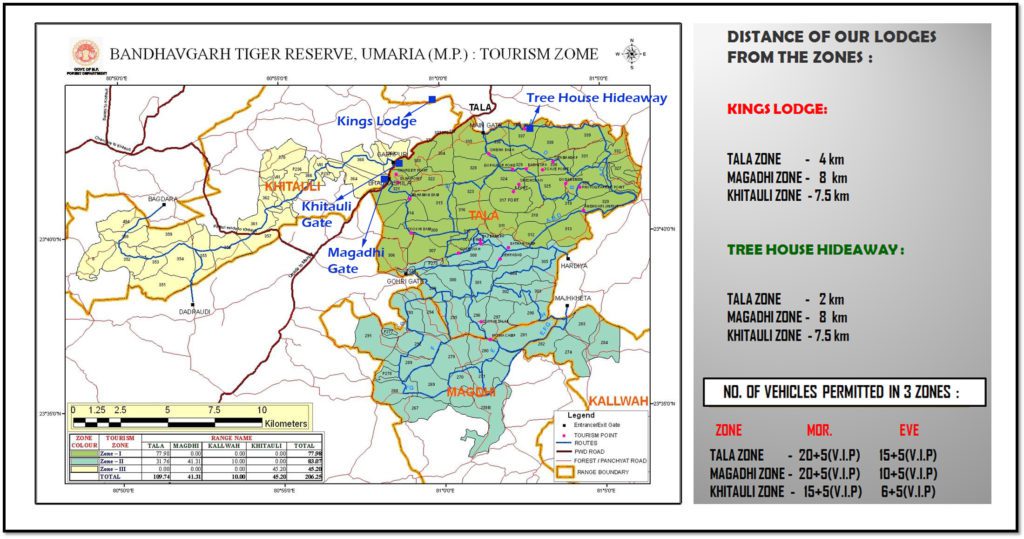 The three core zones:
Tala is the park's oldest zone, where Bandhavgarh fort is situated. There is a 10th century statue of Vishnu, Shesh Shaiya which is highly revered and is a major tourist attraction. Shesh Shiya is the point of origin of Charanganga river, which is the life line of the park and many large meadows. Tala also has many hillocks.
Bari Gufa are caves from the 10th century located here.
Tala has a nice view of a temple on the hillock.
Tala zone includes the famous Chakradhara meadows and Rajbhera meadows that offer scenic views and exceptional sightings. Many famous documentaries have been filmed in these meadows including The Hunt, Dynasties etc.
Tala zone is characterised by towering Sal forests and grasslands.
Magdhi is the zone charatcterised with grassland and a dense forest cover. A number of natural and man made water holes like Sukhi Patiha, Dabhadhole, Charkpwaha, Murdhawa which are frequented and dominated by various breeding females. In the recent years Magdhi has come up as the top hot spot for tiger sightings. Sehra, in Magdhi has a view of the fort.
Bandhavgarh is synonymous with its original and the most famous inhabitant. "Charger" also featured on the cover of National Geographic. Charger died in 2000 and his body lies buried at Charger Point, a famous tourist spot.
Khitauli is a dry-deciduous forest, though less-visited although sightings are good. The vegetation here is dry deciduous. About a year back a herd of migrant wild elephants moved here and have established Khitauli as their home. They have ample food in the form of bamboo cover. Neelgai, four horned antelope and Chinkara sightings are specially good.