Things to Do in Satpura: A Travel Guide to Satpura National Park
Satpura National Park, situated in the lap of Central India is a fine example of elegance and admirable natural beauty. Established in 1981, this park is located in the Hoshangabad district of Madhya Pradesh and is spread over Satpura hills on highlands of Central India. The park adjoins the pristine hill station of Pachmarhi and forms an area of 1427 sq.km. after enclosing Pachmarhi and Bori Wildlife Sanctuary. The blissful landscape of Satpura National Park speaks of a thousand views. As one of the greatest English poets John Keats had said, "A thing of beauty is a joy forever," the words are congruous with the awe-inspiring beauty of the park that consists of dense forests, tickling rivulets, ravines and wetlands, mountain terrain and is sumptuous in its flora and fauna.
How to Reach Satpura National Park

Journey via Road: Satpura is approximately at a distance of 180 kms from the city of Bhopal and 250 kms from Jabalpur city and hence can be reached via these two cities by road. The park has three entrance gates out of which the most popular one is the Madhai entrance gate which is about 100 kms from Pachmarhi. There are two other gates out of which one is closer to Pachmarhi hill station and the other one is closer to Hoshangabad district. Currently the gate closer to Pachmari is not allowing access by jeeps.
Journey via Train: Satpura Tiger Reserve has well connected railway system. The nearest railway stations to Satpura are Itarsi, Sohagpur, Pipariya and Hoshangabad where Itarsi is the largest railway junction and is well connected from all parts of the country. There are daily trains from Delhi, Kolkata, Mumbai, Chennai and Bangalore. Details can be checked and trains can be booked online through www.irctc.co.in and www.indianrail.gov.in.
Journey via Air: Airport of Bhopal city is the nearest to the park and is well connected by multiple flights from New Delhi, Mumbai and other parts of the country. Other options to reach via air are Jabalpur airport (250 kms), Indore airport (320 kms) and Nagpur airport (340 kms).
Best Time to Visit Satpura

Satpura National park remains accessible for tourists from 1st of October to 30th of June and remains closed during the monsoon period. The park has so much to offer and therefore is suitable to visit in all the seasons. For nature and wildlife enthusiasts post-monsoon and peak summer time is great for spotting wildlife and variety of birds. Once the monsoon is over and the park reopens the post- rain reserve gives a pristine eye-view. Satpura is a perfect place for the people who admire flora and fauna and want to experience nature closely irrespective of any season. Those looking for spending some quiet time in the lap of nature away from the hustle and bustle of the cities, Denwa Backwater Escape is an amazing lodge to do so where you can relax and enjoy nature.
Things to Do in Satpura

Jungle Safari has its own joy and thrill. The safari tickets can be booked online through the website mponline.gov.in. Another way to book the safari is through the resort in which you have decided to stay.
Morning jeep safari starts at sunrise and ends at 11.00 hrs whereas evening safari begins at 2.30 hrs and ends at sunset and the timings may vary as per season. To access the Madhai entry gate, a boat is used to cross the Denwa River where the jeep waits for the tourists and takes them further into the jungle.
There are three routes in which the jeep safari can be done, Keria Route, Lagda Route and Churna Route. Churna route is the longest spread over 30 kms. It is a full day trip and includes some parts of Keria route and trespassing different routes is not allowed. Booking charges, park rates and other details all are available on the website mponline.gov.in.
There is also a full day safari which starts at 6:30 hrs and ends at 17:00 hrs that again can booked online. Like other parks of Madhya Pradesh in Satpura also total eight people are allowed in one jeep out of which six are tourists and the other two are the guide and the driver who are compulsory.
Boat Safari and Canoeing: To become harmonious with the Denwa River and to feel the composed nature, one hour boat safari is an excellent way to do so. A forest guide is mandatory in boat safari as well. And those who want to dabble themselves into the thrill of water, canoeing is the way to seek that adventure.
Exploring nature on foot: Experiencing the forest on foot has its own perks. Satpura National Park offers walking safari in which tourists explore the forest accompanied by a trained naturalist and gets a chance to connect with nature and wildlife while walking in the dense forests.
Elephant Safari: A special safari organized by the park management, this safari has its own charm. The tourists are led by a Mahout and they get to view the jungle by sitting on an elephant's back.
Special Offbeat Experience : Walking Safari & Mobile Camping: This experience allows you to explore the jungles of Satpura on foot at a greater detail. This safari offers high adventure, opportunity to view animals of the Indian jungle, drive through rugged hills, beautiful streams and rivers, tribal villages, ancient temples and forts.
There is no electricity at campsites and accommodation is basic in tents with cots. Care is taken to provide personalized service and comforts. Camp cooks turn out delicious fresh meals to be enjoyed in exhilarating surroundings.
Read the coverage of this experience in National Geographic Traveller. 
Attractions
Satpura is blessed with beautiful flora and fauna. Besides various attractions such as walking safari, boat safari, Denwa River, Satpura has got other treasures too. The park is enriched with the dense forests of Sal, Teak, Ebony, Mahua, Bel, Bamboos and has got variety of bushes, herbs and flowers. There are a large number of butterflies that can be spotted in the reserve.
Satpura is home to myriads of birds both resident as well as migratory. It is a great space for bird watching and is adorned with the beauty of birds such as Indian Pitta, Pied Kingfishers, Orange-headed Thrush, Indian Roller, Nightjars, Brahminy Starling, Tickle's Blue, Shelducks, and Great Cormorants etc. Satpura serves as an attractive home to the endangered Indian skimmers which are a bit uncommon to spot. Beside that beautiful River Terns, Black Eagle, Crested Serpent Eagle also form part of the Satpura jungle family.
Although Tiger is the prime wildlife attraction of Satpura, the park has got a lot more to offer in terms of fauna. The fauna of the reserve comprises of Leopards, Black Buck, Wild Dogs, Golden Jackals, Indian Bison (Gaur), and Porcupine, Chowsingha, Sloth Bear, Spotted Dear, Giant Malabar Squirrel and a lot more.
Accommodation
Satpura offers both budget and luxury hotels. Madhai resort serves as a good budget hotel whereas Denwa Backwater Escape is a true blend of luxury and nature to give an everlasting experience to the tourists. For tourists seeking leisure, luxury as well as adventure, the overnight camping thrill and tree house lodges of Denwa Backwater Escape would be a tremendous experience.
Satpura is less crowded as compared to the other National Parks but it has got serenity that is elusive which makes it a place that is a must visit.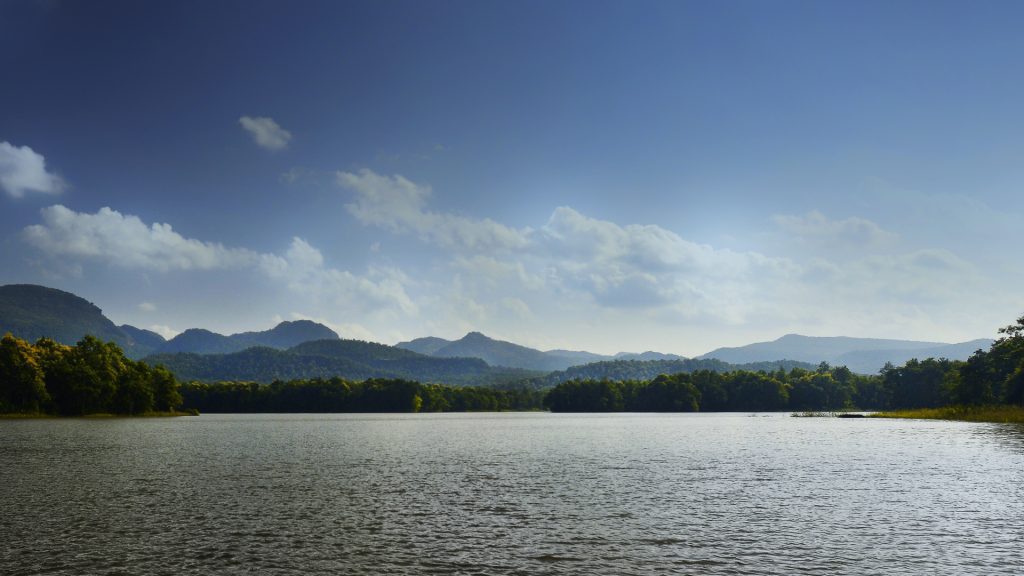 Some Travel Tips

Bookings should be done 120 days in advance since the park tickets are limited.

It is mandatory to carry ID cards.

Elephant safari is subject to availability and can be confirmed once you have reached the park.

To check information regarding bus schedules visit mptransport.org

While visiting Satpura you can enhance your travelling experience by adding other destinations such as Pachmarhi, Pench National park or Kanha National Park in your tour itinerary by availing the combo packages of these destinations arranged by Pugdundee Safaris.
Courtesy  : Malvika Verma
Related Article : Finding Leopards in the Tiger Country