Farm-to-Table Dinner Experience
I have always been fascinated by the tales of Mowgli and enjoyed listening to the adventures of his life . I finally got a chance to visit his land when I visited Pench Tree Lodge.
Picture Courtesy: Pugdundee Safaris
While walking down the trails around the Lodge in the evening, I saw a sign board that said, 'Organic Farm'. Little did I know that an enchanting view and setup awaited me.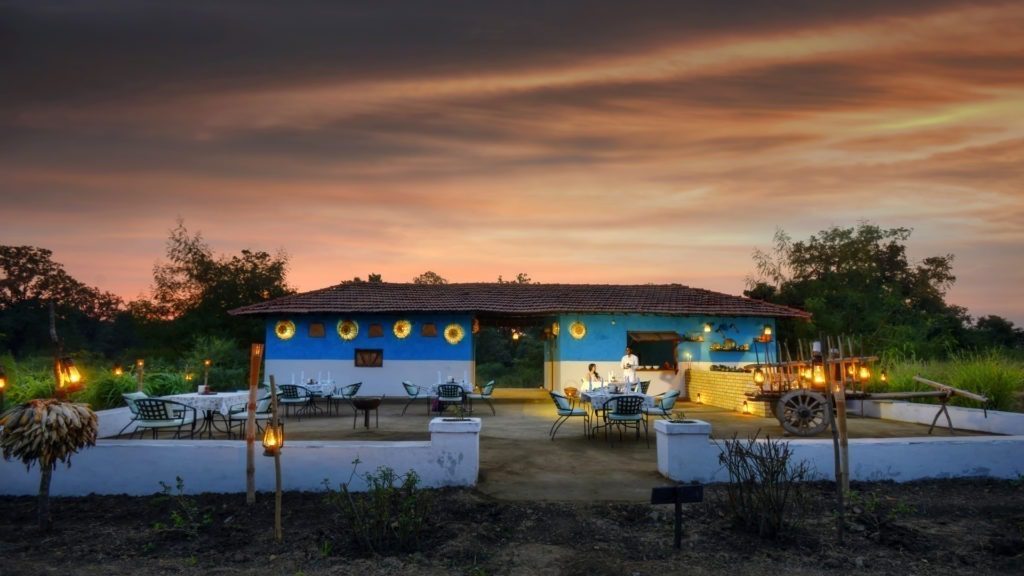 Picture Courtesy: Pugdundee Safaris
Unaware of the fact that I was going to have one of the most memorable dinner experiences at the same place, I went in there to explore the area. I spotted a hut and as I entered, it led to an open space where a beautiful dinner setup was organised.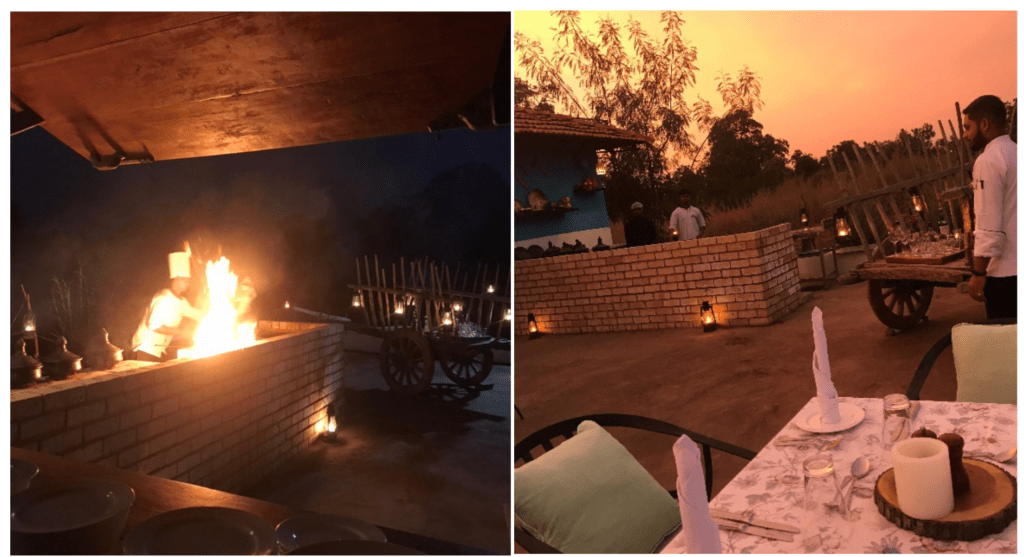 Picture Courtesy: Pugdundee Safaris
As I looked around, I saw Chef Pankaj Fulera lighting the tandoor and some black clay pottery utensils kept on the steady flame. Impressed by the set up, I was looking forward to the dinner.
Picture Courtesy : Pugdundee Safaris
Dinner started with appetizing AngariAloo, Ajwaini Paneer Tikka and Barbeque Chicken Tikka. While everything was delicious, there was something unique about the smokey and aromatic appetizer Angari Aloo. Out of curiosity, I enquired the server about it. He told me that it is made of unpeeled potatoes cooked on coal with the local spices giving it a beautiful texture and authentic flavour.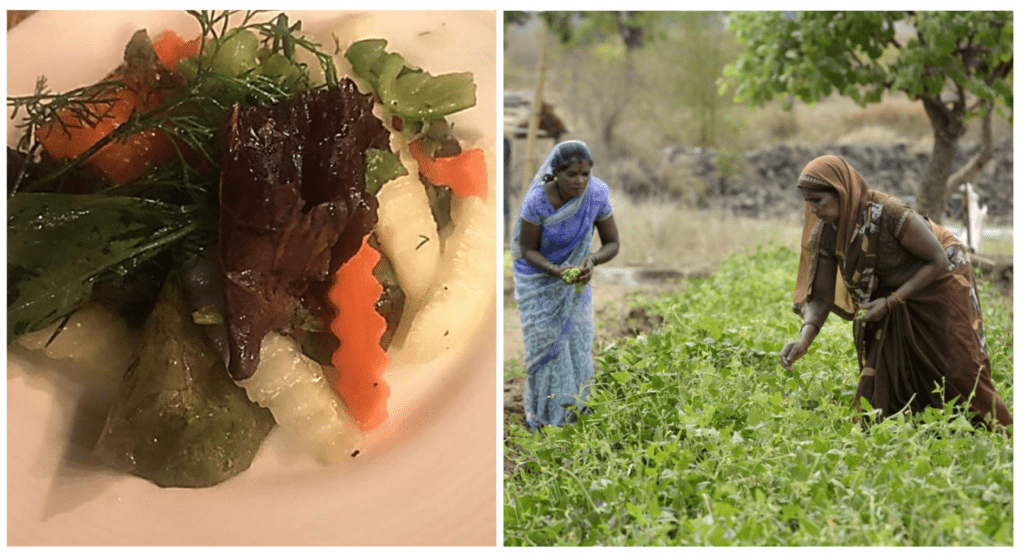 Picture Courtesy: Pugdundee Safaris
Then came a fresh honey-based Garden Salad made of vegetables right from the organic farm. It looked garden fresh and mouth-watering enough to make me gobble up that within a minute. It is a must try for salad lovers.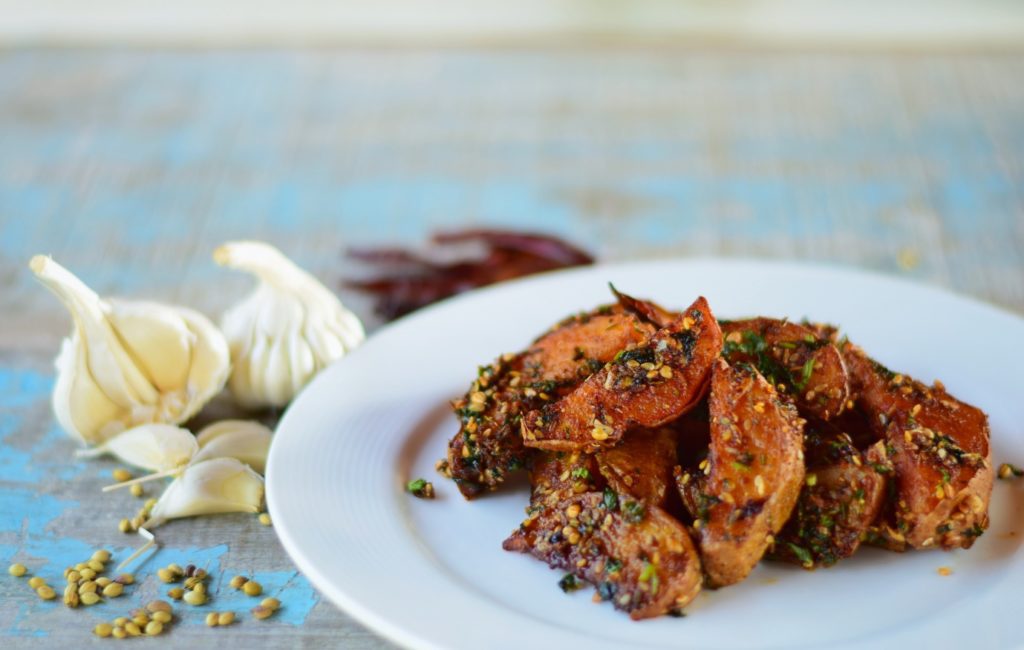 Picture Courtesy: Pugdundee Safaris
Finally came the main course, for which I was waiting with bated breath. "Ma'am, some Desi Aloo?", the server said. "Is it the local potato?", I asked out of curiosity. He told me Desi Aloo is a local tribal food cooked in earthen pot to keep the potatoes intact along with raw Indian spices. The main course further had KurkuriBhindi, Dal Barbati, Desi Chicken, Local Beans, Garlic Naan and Butter Naan.
Picture Courtesy: Pugdundee Safaris
I am a person who is not fond of pulses but after having Dal Barbati I changed my mind. In Central India, Barbati (long beans)is very popular and is used to make stir fries, curry and dal. It is best used when tender and fresh. The seeds from the dried pods are used in curry or dal. It can be served with plain roti, naan, paratha, rice or simply plain.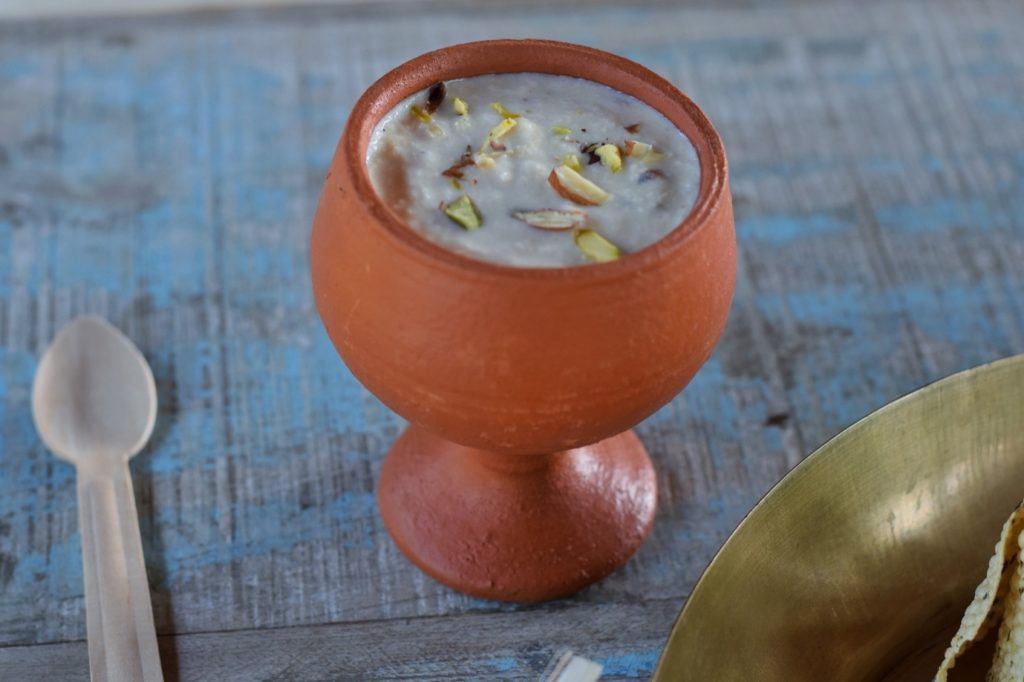 Picture Courtesy: Pugdundee Safaris
Dobri Mahua Kheer, I can bet that anyone and everyone will like this tempting dessert. What made it look more inviting and authentic was the fact that it was served in Kulhad. What makes this dessert special is the key ingredient Mahua flowers. Mahua is one of the most important trees in Central India and that's so because of its delicious and nutritive flowers. Mahua is a significant source of food for the local tribes. It's sweet flowers are eaten unprocessed or cooked.
I entered Pench Tree Lodge as a traveller, came out as a storyteller. During my stay at Pench, I not only captured moments in my camera but also created memories for lifetime.
The mesmerising sunrise and subtle eventide,
All the saccharine tweets and chirps of parakeets.
Along with Chef's meals in the farm and poolside,
And the morning greets loaded with pleasant breeze
Shall stay in my wit's travel journal and be alive