Our farm to table endeavour is a run-away success in all our lodges. And one of the unique recipes that we like to rustle up for our treasured guests is Tikkad Roti. A New Year is an opportune time to learn and imbibe the new, including new recipes. Here's one that you will treasure and appreciate. And one that comes with exclusive tribal flavours of Madhya Pradesh.
Tikkad Roti is a local bread made in tribal homes around Kanha National Park and many parts of Central India. Our chefs have learned this recipe from the tribals and mastered it over time.
Tikkad roti tickles the taste buds with a burst of warm flavours, especially on cold winter evenings when the smell of the fire wood, accompanies the comforting warmth of the freshly made rotis. The camel foot leaves/kachnar (Bauhinia variegata) leaves are used to for making the rotis. This tree is a good example of interdependence of man and nature, as the tribals make use of whatever the forest offers them.
Kachnar/Camel Foot trees are easily available in our urban settings, and distinctively visible because of their orchid like, coloured flowers, streaked with pretty, variegated lines.
Preparation Time : 40 minutes
Cooking Time : 20 minutes
Serves : 4
Taste : Mild
1 heaped cup whole wheat flour
A pinch of salt
4 tablespoons clarified butter (ghee)
1/3 cup water or as required
6 – 8 camel foot/kachnar leaves

Miscellaneous:
Dried cow dung cakes or coal
To serve
Ghee/Clarified butter
Grated jaggery
1 ) Sift the flour with salt into a bowl.

2 ) Add ghee and crumble into the flour. Gradually add water and mix
to form soft dough.

3 ) Knead dough for 5 to 7 minutes, then cover with damp kitchen
towel and set aside to rest. Rest the dough for 30 to 45 minutes.

4 ) To shape tikkad rotis, divide dough into large lemon-sized balls.

5 ) Place one ball on one half of a camel foot leaf and press to spread.
Spread the dough onto the leaf in an even layer. Fold the other half
of the leaf.

6 ) Heat dung cakes or coal and roast tikkad rotis over them
(this can also be done on a griddle pan or frying pan in your own
kitchen. Just remember to use a medium low flame).

7 ) Roast the rotis till leaf dries out and begins to fall off.

8 ) To serve tikkad roti, remove and discard burnt leaf and place on a
plate.

9 ) Prick all over with a fork and drizzle with dollops of ghee.

10) Serve piping hot with grated jaggery, vegetarian and
non-vegetarian curries.

11) Dig into the delicious, smoky flavours and have a cherished meal.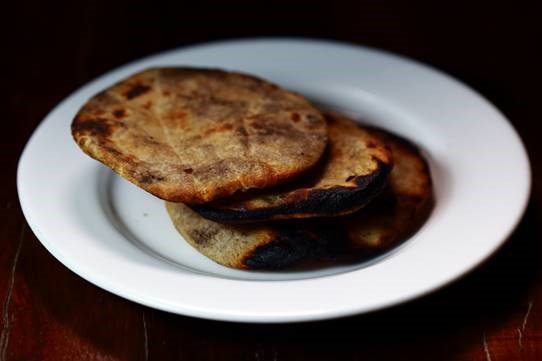 Thank you Mugdha of our Chef Michael Swamy's team, for sharing this sumptuous recipe.