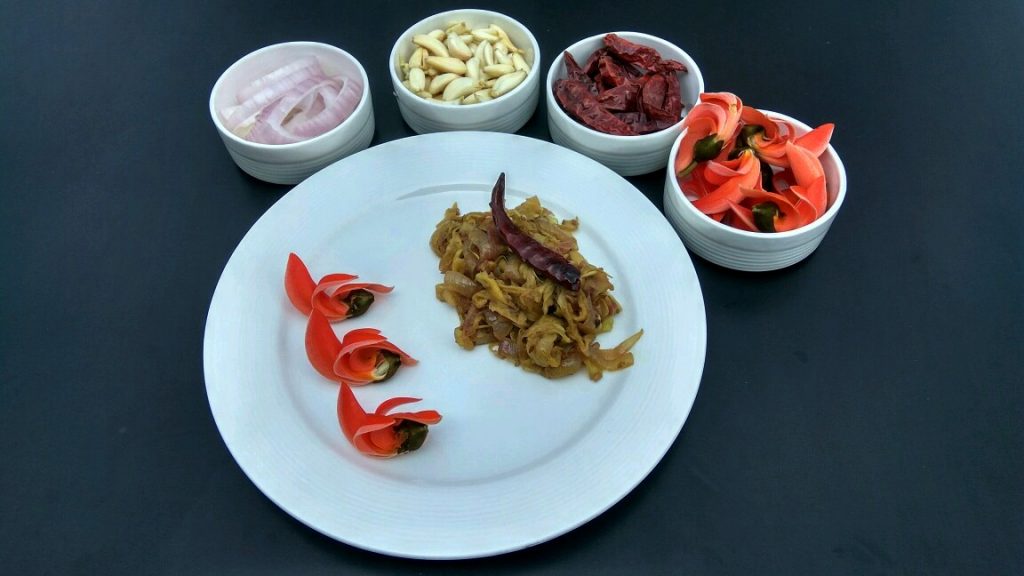 Local Food in Satpura- Tesu Ke Phool – Edible Flowers
Edible flowers are an integral part of many regional cuisines. From the kitchens of Pugdundee, we bring you a dish that can be made from the flowers of Palash, also known as Tesu / Flame of Forests due to the striking colour of their flowers. These trees are commonly found across the jungles of Central India. Interestingly, the gum obtained from the tree known as 'kamarkas' is also used for many traditional medicinal recipes.
Tesu Ke Phool – Edible Flowers Recipe
Serves : 4-6
Preparation Time: 45 minutes
Ingredients:
Fresh Flowers of Palash: 250gms
Ghee: 200gms
Onions – chopped: 200gms
Garlic – chopped finely: 50 gms
Bay leaf: 2 number
Cinnamon stick : 1
Black cardamom: 2
Cumin seed whole: 3 gms
Red chilly dry: 3-4
Hing ( Asafoetida ) : 5 gms
Dried green mango powder : 5 gms
Fresh lemon juice: 15 gms
Salt to taste
Method
Boil petals in water.
Add bay leaf, cinnamon stick, black cardamom, and lemon juice.
Boil them together for 10-15 minutes. Then remove the same.
Separate the petals from the spices and squeeze them gently to drain the excess water.
Heat ghee in a pan and add chopped garlic. Fry it to golden brown.
Add onion slices and cook them till tender.
Add cumin seeds, dry red chilies and stir.
Add a dash of hing then petals, salt, dry mango powder and stir gently.
Cover the pan on a low heat for 5-10 minutes.
Open the lid, stir well and serve hot with chapattis / paranthas.
Courtesy : Chef Pankaj Fulera