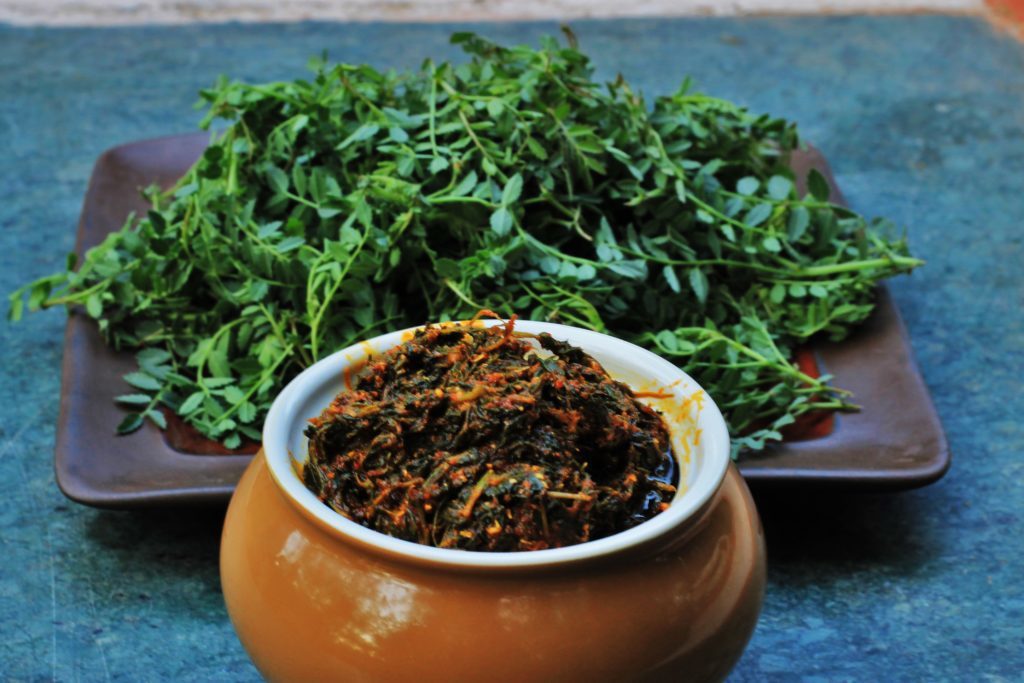 Pickles are known to have their origin in India, dating back to 2030 BC. Queen Cleopatra of Egypt is known to have eaten pickles to stay beautiful. Pickles are packed with a dose of goodness, nutrition and value, in every small flavourful bite.
The moment we think of the word Achar our taste buds conjure a burst of tangy flavours, oozing with the right blend of spices and oil. In India, families are known to have their own unique Achar recipes that are handed-down from the generations. In India, Ma ka haath ka khana (meals prepared by one's mother) is incomplete without the omnipresent achar. Those unique flavours are capable of eliciting a medley of treasured memories.
Chana Bhaji Achar or Leafy Chick Pea Pickle is a one-of-its kind recipe and a simple relish prepared in the Central Highlands. What works well is that the chana saag/bhaji (chick pea leafy greens) is readily available in most parts of India, through the seasons.
Without any more ado, here's how you can rustle this up at home, and benefit from its high nutrition value, while savouring it with you dear ones.
Preparation Time : 10-20 minutes
Cooking Time : 10-15 minutes
Serves : 4
Taste : Mild
Ingredients:

250 gms Chana Bhaji/ Leafy Chick Pea Greens
100 ml Mustard Oil
20 gms Chilli powder
50 gms Corriander powder
50 gms Cumin powder
20 gms Amchur (Mango) powder
10 gms Turmeric powder
10 gms Heeng (Asofoetida) powder
Method:
Pluck and trim the leafy chick pea greens, till the tender stems and the leafy parts remain.
Thoroughly wash them under cold running water.
Thereafter steam the chana bhaji for about ten minutes.
Allow it to cool for approximately an hour.
In a vessel, blend all the spices together with the steamed chana bhaji.
Transfer it into a glass jar and sun it well, for two days.
Your ideal accompaniment with daal-chawal (pulses and rice) or, rotis and parathas is ready to dig in.