Located in the Central Highlands, in the Maikal range of Satpuras, Kanha National Park is one of the largest parks in Madhya Pradesh. Reclining across a sprawling area of 1,949 sq. km, with 940 sq. km of core area and 1,009 sq. km of buffer zone; in the Madala and Kalaghat districts, Kanha National Park makes for an ideal tiger country.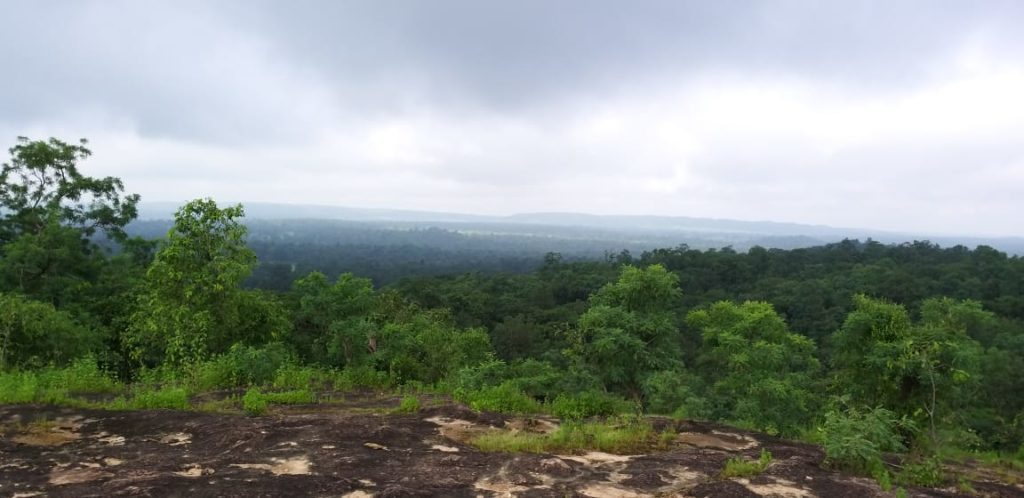 The lush Sal and Bamboo forests of both Kanha and Pench are believed to have provided inspiration to Sir Rudyard Kipling for his famous narrative, "The Jungle Book". Yet, Kanha's greatest achievement, has been the preservation of Hard Ground Swamp Deer or Barasingha, from near extinction. They numbered just sixty-six in 1970. Today, there are numbers have multiplied manifold, so much so that two years back some Barasinghas were relocated to Satpura, where their population is growing gradually.
Kanha's undulating landscape is dotted with dense groves of vegetation, hillocks and open meadows. Of all these habitats, it is Kanha's meadows that are its lifeline, as they sustain large numbers of Chital, Sambar, Barasingha and Gaur, which in turn support populations of predators and co-predators like Tigers, Leopards, Wild Dogs, Jungle Cats and Foxes.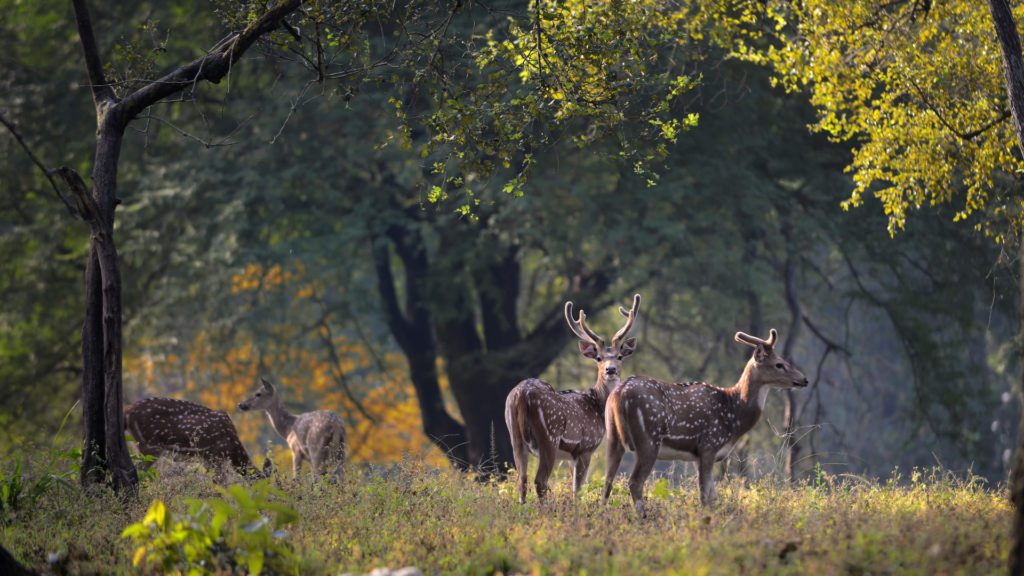 The park is primarily a moist Sal and moist mixed deciduous forest where Bamboo, Tendu, Sal, Jamun, Arjun and Lendia, Sindoor Tree or Vermillion Tree flourish. Home to over 1,000 species of flowering plants and about 300 species of birds, Kanha's flourishing habitat and natural beauty makes it one of the prime wildlife destinations in the world.
Kanha Earth Lodge, by Pugdundee Safaris is tucked in a quaint hamlet, spread across 16 acres of natural forest, bordering Kanha's buffer zone. This idyllic, eco-friendly lodge is located in close proximity to the Kanha Tiger Reserve, thereby offering a pristine wilderness experience.

Our guests can enjoy a host of enthralling activities in the lap of the luxuriant Kanha forests.
Here's a List of Top 6 Things to Do in Kanha, Beyond Safari:
Mystical Nature Trails and Serene Cycling Trails
Witness the exquisite flora and fauna of Kanha bewitch you on exclusive nature and birding trails, and cycling expeditions.
Nature Walks: Nature trails can enhance your five senses and rev up your inner well-being. A truly therapeutic experience, a serene jungle walk is for those who wish to explore nature and wildlife from close quarters, while being on foot.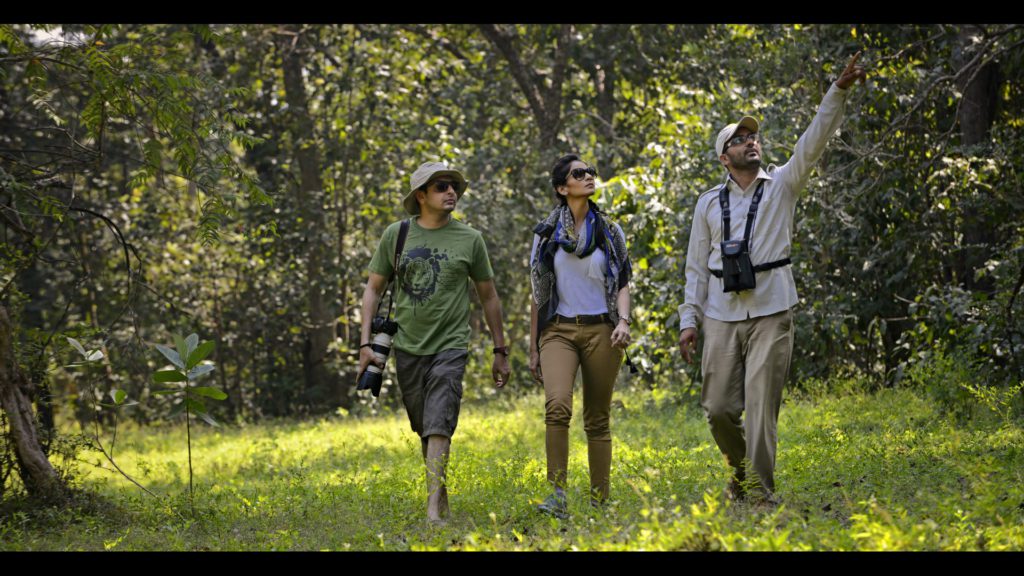 A guided walk through the lush landscape may throw up unique surprises, of birds and bird sounds you never knew of, or sighting the most incredible beings that home in the tranquil wild.
Cycling Trails: Exploring the forests and stumbling upon wildlife on a bicycle ride can be exhilarating. Become one with yourself and the mysterious forests, while on a cycling expedition, through the meadows and uneven terrain.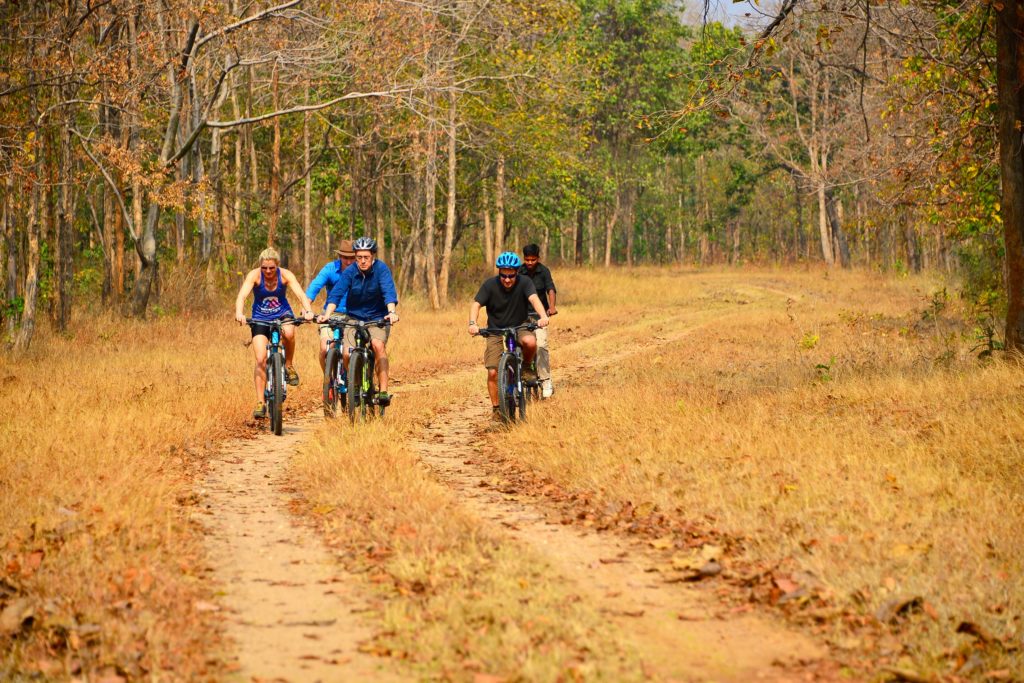 The nature trails, birding walks, and cycling expeditions are conducted in the forests adjoining the Kanha Earth Lodge, with one of our experienced naturalist's for company. During these excursions, you can also spend some unique moments exploring a few small lakes nearby, or immerse in moments of solitude by the Banjaar River, with a picnic basket for company.
These unique experiences will reinvent and redefine your bond with mother nature, in ways you didn't know existed.
Khatia Trail by the Forest Department – The Khatia trail walk takes place in the Khatia buffer zone of the park, for a duration of approximately two hours. A permit needs to be obtained from the forest department for this walk. Pugdundee Safari vehicles drop you at Khatia gate.
Accompanied by a local guide from the forest department, this walk can lead to chance encounters with spotted deers, sambhars and some other wildlife. Soak in the surreal sights of the flora and fauna that embrace you during this walk. Enjoy the perks of birdwatching, butterflies flitting from bush to bush or even sighting some unique reptiles.
2. Historical Journey to the Kanha Museum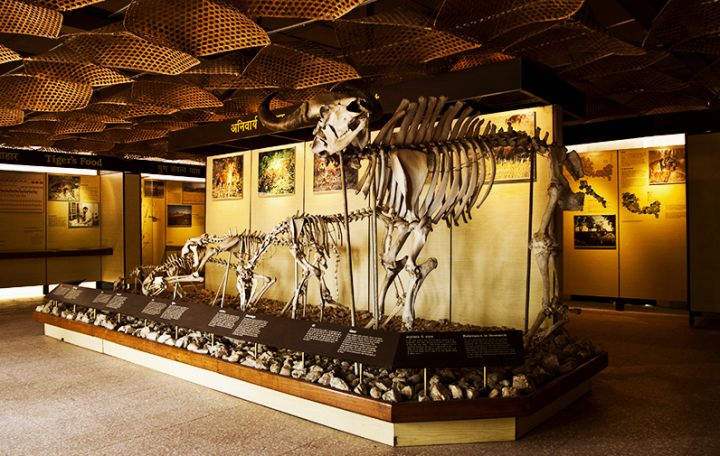 Kanha museum is located inside the Kanha National Park and is set in a colonial building housing a few halls. It showcases the splendour and history of the park with fascinating exhibits of various wildlife.
The Kanha museum, managed impeccably by the Forest Department, is also a befitting example of environmentally sustainable initiative that preserves the local art and culture.
Guests having valid tickets to the Kanha core zone can visit the museum during the breakfast break of their safari.
3. Sunset Walk to a Scenic Hilltop
Walk through the natural forests of our buffer zone, close to Kanha Earth Lodge, traversing through the villages and mud settlements; to reach a scenic hilltop, with a flat, expansive plateau and stunning views. Get floored by the birds eye view of the sprawling Kanha National Park, and the forests connecting Pench.
Unwind amidst nature's offerings, as you savour every moment of this immersive experience.
4. The Vibrant Tribal Bazaars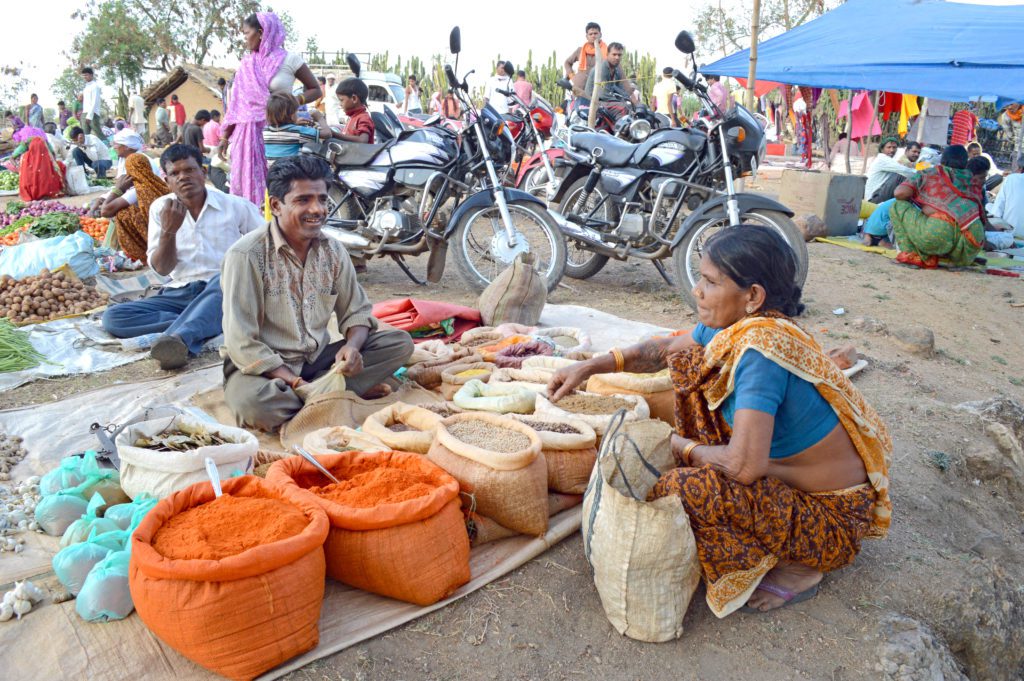 A tribal market or haat (as it is locally called) is a perfect way to soak in the local flavours.
Bustling with activity and bursting with a riot of colours, these bazars showcase a fascinating array of products. These may include local artefacts, pottery, tribal jewellery, fresh organic greens or the catch of the day.
These bazaars can be accessed on a bicycle ride, or you may request for a lodge jeep to ferry you back and forth.
Village Haat Days – Distance from Kanha Earth Lodge
| | | |
| --- | --- | --- |
| Mocha | Wednesday | 7 kms |
| Kumadehi | Tuesday | 10 kms |
| Sarekha | Friday | 5 kms |
5. A Visit to the Picturesque Villages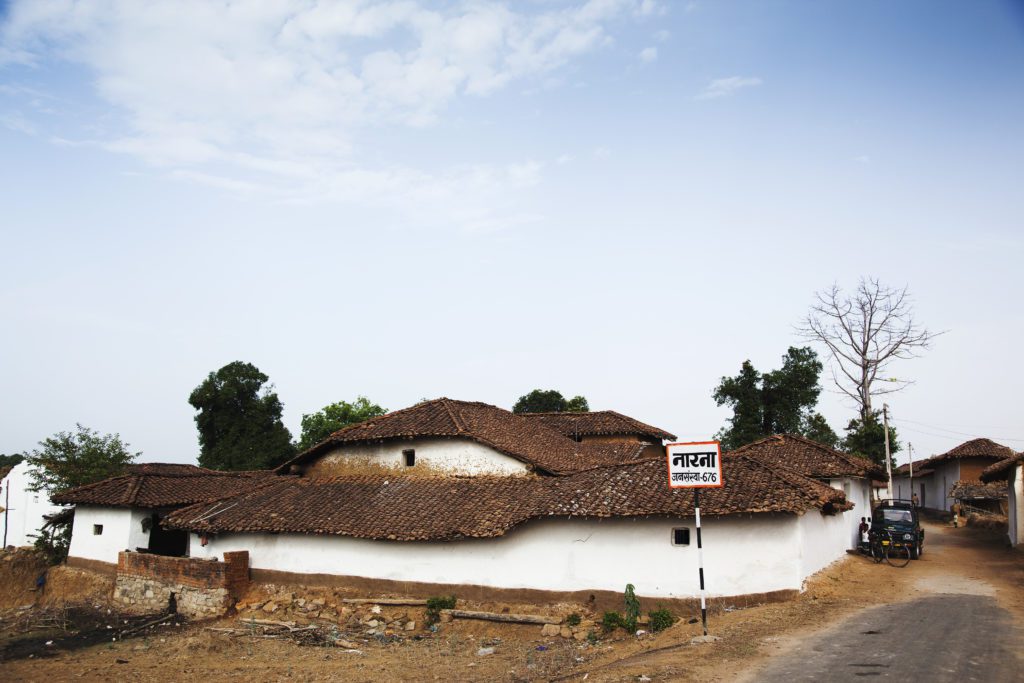 A visit to the adjoining Gond tribal villages can be a fascinating experience. The mud settlements are adorned with tribal paintings and are every photographer's delight. You can experience the rustic flavours of the countryside life. A chat with the locals can give you deep insights into their lives and livelihood.
If you wish to hone your artistic and crafty skills, there are a few pottery and bamboo craft villages. You can also take painting lessons from Gond painters. Try your hand at a new skill set with the local artisans, nurture your inner child, and take home tangible memories.
A visit to the local Narna village school, is also organised on prior request. Pugdundee Safaris conducts educative workshops and also support the school with a teacher. You can offer the gift of your time by volunteering, or simply spending some precious moments, interacting with the wonderful bunch of local children.

These can be organised on prior request.
6. Awe-inspiring Alfresco Meals and Bush Dinners
Enjoy an alfresco meal while watching the morning sun render its serene glow upon the forests, or as the ochre sun disappears behind an inky blue sky.
Our personal staff make the experience eclectic, while serving a local Gond meal or our gourmet dishes, and rustling up a sumptuous meal straight from the grill. The very exquisite Gond Thali is served during our Bush dinners.
Experience the perks of unwinding with your loved ones, under the star spangled sky, and savour the exquisite affair of a Bush dinner, amidst the mysterious forests sounds.
Bush dinners and alfresco meals can be organised on prior request and bookings.
A prior booking is favoured with at least four pax.
Booking can be made at: Email- enquiry@pugdundeesafaris.com
or Call us at: +91-11-40136322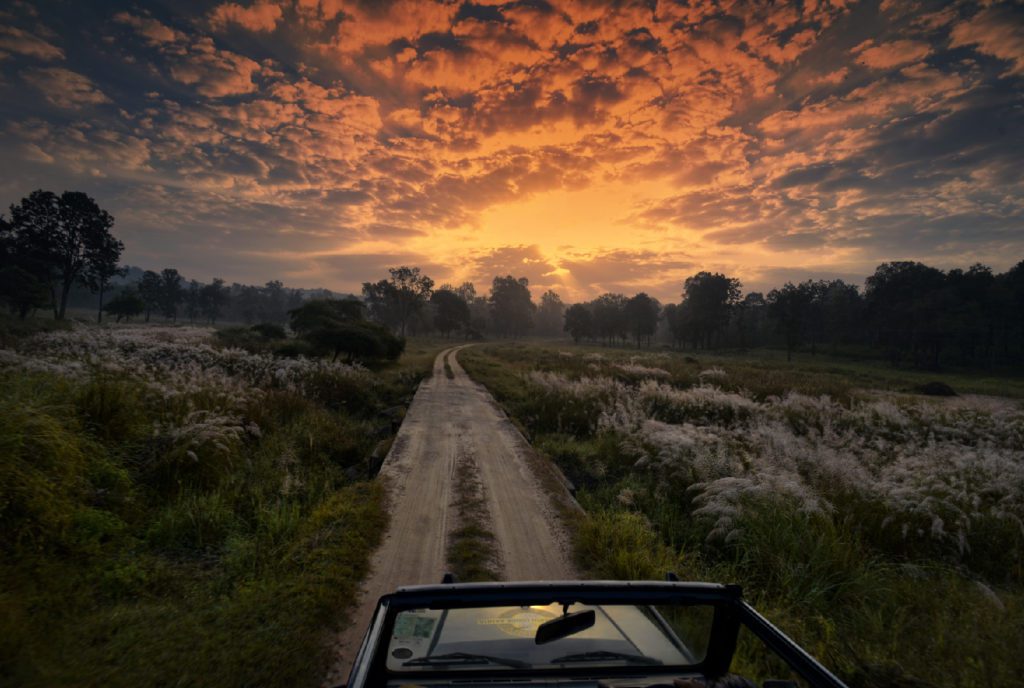 Come explore the beautiful meadows and fascinating landscapes of Kanha. Have close encounters with the flourishing wildlife, experience the flavours of the countryside and engage in an idyllic communion with the enchanting forests; while soaking in these exclusive experiences. We promise to make it an unforgettable one, just for you.
Author: Natasha Sinha