Munna Tiger in Kanha National Park
Kanha National Park the home to the world famous Royal Bengal Tiger and Hard Ground Barasingha magnetically fascinates everyone alike with its landscapes and its enriched flora/fauna. In last 5 years, I have been fortunate enough to see Munna, the dominating male tiger of Kanha on each and every visit. Latest on 1st November 2015 in Sarhi Zone.
Munna Tiger, the most popular resident of Kanha National Park has forehead markings that seem to spell out the word "CAT" and "PM" below, interpreted by tiger enthusiasts as "Prime Male or Prime Minister of Kanha". His 'royal walk on the road' and majestic kingly behaviour has got him love and recognition, globally.
I reckon, he is ruling Kanha National Park for last 13 years. Earlier tourist used to seehim in Kanha Zone, but from last 2 years Munna has moved from Kanha to Kisli Zone and parts of Sarhi zone.
1st November 2015, Sunday, Morning Jeep Safari
I was in Morning safari and was looking for birds and mammals in and around the tourist route of Sarhi zone via Karai, a valley of dense forest. Tigers in expectation, hoofed animals and many beautiful birds in presence were keeping us all busy with binoculars.
I was in search of Tiger that day and had certain instincts that Munna was somewhere around. Being familiarised with the area and Munna's territory, I took a route which cuts through his territory overlapping Kisli and Sarhi zones.
We went through SonfMaidan to reach Sarhi Gate, had breakfast and returned via Digdola. The road ahead of Sulkum Nalah was blocked by a big Sal tree (Shorea Robusta), rerouting us to SaunfMaidan- Ronda camp-Sarhi Gate. By passing guides hinted that Munna walked from Salghat and could have diverted towards nullah near Bandaribahera. It was a sign that now we should stop and wait for the alarm calls. We expected to sight Munna at this junction. No alarm calls came and I returned to the place where we have seen the fallen sal tree and wait there. We spent another 45 minutes in anticipation, testing our patience until few more jeeps joined us in same area. Tigers cannot be dictated but we were all hopeful.
We had already waited for 1 hour 15 minutes, only for Munna to appear. We would have even waited longer and suddenly the environment and mood of the surrounding changed and we heard loud alarm calls of barking deer followed by spotted deer.
Finally the prime male Munna made an appearance from the dense forest and came swiftly to cross the road, looking at all and moved towards the fire line. He looked very healthy, with its stomach full, probably after a heavy meal and seemed to be patrolling his self guarded territory.
We soon left the scene to alarmed monkeys. I and Kanha swear by the saying, "Munna Never Disappoints", and again he proved us all correct. I look forward to see him again in coming months and I hope he will keep roaring and guarding his territory inside Kanha National Park. Long live MUNNA.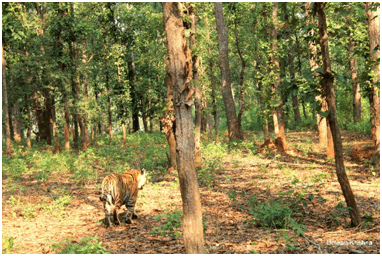 Written by – Umesh Krishna
Photographs – Umesh Krishna/Mahesh Gurung