Tigers of Kanha National Park : From the Diary of a Naturalist
A Sal forest, Kanha is one of the most picturesque parks of Madhya Pradesh and India. With a long history of conservation, Kanha continues to top the list of National Parks in India. While as per government guidelines, only 20% area is open for tourism. Kanha National Park is divided in 4 tourism areas:
Northern zone (Sarhi)
Southern zone (Mukki)
Central zone (Kanha)
Western zone (Kisli)
Since its monsoon, the park is closed for three months and we have no clue of what's happening into the deep woods of Kanha but the last season (October 2016- June 2017) was full of excitement and surprises & some ups and downs as new lives were born while few were lost.
MUKKI
When the park reopened in October last year, we booked our first drive to Kisli zone, to surf through the booming green. Our drive ended with beautiful sightings of the 'gem of Kanha', the Barasingha. Seeing them with new velvet antlers was no less than a treat! As soon as we headed out the park we heard some tourists talking about sightings of Chota Munna (Link 7 male named after his famous father Munna) and Bheema in Mukki zone that raised my curiosity.
The story followed the territorial fight of two dominant males; Bheema and Link 7. Undoubtedly Bheema was one of the most striking males in Mukki but incurred severe injuries in the fight. Few days later he was found dead. Another male, Kingfisher also known as Rajaram died in yet another territorial fight. Tigers often die or incur serious injuries while fighting for dominance which is natural but it becomes very hard for us to accept the loss, as each tiger is precious.
Kingfisher Male
In recent years, Mukki has become a key spot for significant tiger sightings. Dhwajhandi female (T-27) was my first tiger sighting in Mukki. Interestingly, her name comes from an area where she used to be sighted regularly – Dhawajhandi.Years ago tribals use to tie prayer flags (Jhandi) on the Dhawa Tree and commonly the area is still referred to as Dhawajhandi.
Dhawajhandi Female
Before that I had got only one chance to spot her. Since the time she left her mother (Choti Mada) and went away I got no opportunity to see her. She may have given birth to cubs during the monsoon and hopefully I get to see them in the new season.
Link 7 famous as Chota Munna is smart and strong like his father. Since two males had died in territorial fights, Chota Munna was leaving no opportunity to expand his territory and cover larger area. In fact, in winter he was sighted mating with Dhwajhandi female.
Chota Munna's reign had been challenged many times by another huge male, Umarpani. Fortunately, neither of them ever suffered any serious injuries. Umarpani is a strong and sturdy male, and mated with Umarjhola female in this season. Umarpani is also the partner of Mahavir female, though I wasn't lucky enough to see her this time. She has 4 cubs and all are healthy.
Choti Mada had two cubs but lost one of them and we hope the other cub survives. An unpredicted episode happened when we spotted Choti Mada with Link 7 which caused us to think that she might have lost her other cub too. Surprisingly, few days later we saw her with her male cub and we realized that her cub was still alive. She might have faked mating with Link 7 to save her cub. Female tigers often fake mating to protect their cubs from getting killed by other dominant males.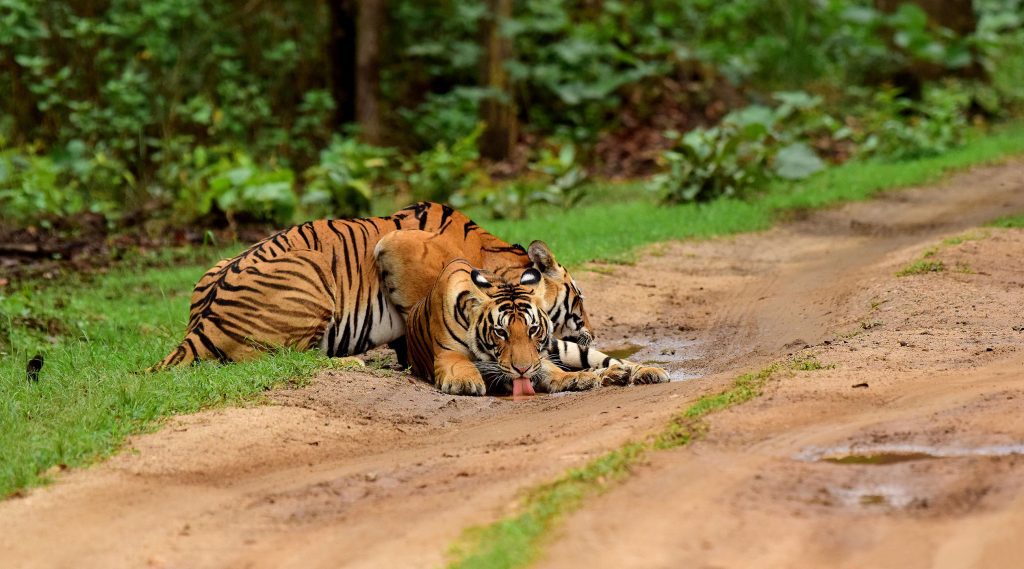 Choti Mada with her cub
KANHA
Kanha zone is considered the heart of the Kanha National Park due to the presence of scenic landscapes and big grasslands. This season Kanha zone had some major tiger sightings and was quite promising. In winters we constantly sighted tigress Neelam but all of a sudden the sightings stopped rendering us a fair idea of her getting prepared for motherhood. This was to be her second litter (her last litter fell prey to other tigers). We waited patiently or rather impatiently to see Neelam with her cubs and prayed for their well-being. At last one fine day we spotted the majestic tigress with her four cubs and the time ceased. I have seen Neelam and the cubs twice and it has become an incredible memory for me.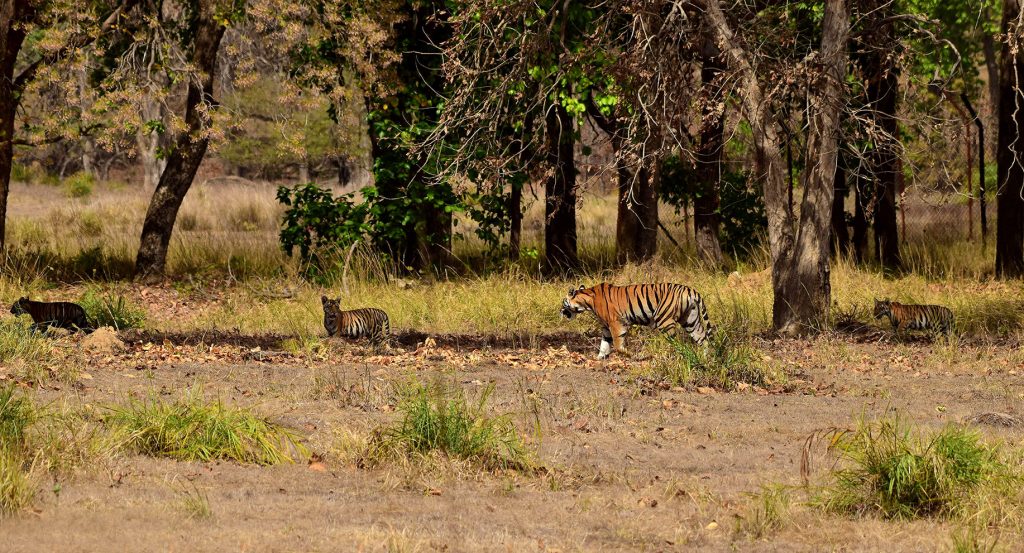 Neelam and her cubs
Link 7 female, famous as Mundidadar female (T-8) and her four male cubs remained the star attractions of the season. It was so great to see the little paws growing day by day under their mother's protection and care. As we counted the remaining days of the last season something terrible happened. In a fight with a male tiger, Mundidadar and one of her cubs got badly injured. However she did manage to save all her cubs, a sheer display of strong motherly affection. The forest department provided all the necessary treatment to the injured tigress and her cub and the elephant patrolling team on the other hand kept an eye on them for few days.
There was yet another tigress who grabbed our attention. We had regular sightings of Link 8 female in Kanha zone and in some of the area of Kisli. Following her courtship with Bajrang (one of the dominant male tigers in Kanha) we had expected to see her with cubs. But unfortunately there was no sign of cubs till the end of the season. We hope to see her with cubs in the coming season. Beside Link 8, Bajrang is Neelam's partner too and father to her cubs.
Link 8 Female
Parsatola female (T-13) shared some limelight with other tigresses in this season. Many times she was spotted with her 3 cubs that were around 6-8 months old. Unlike Link 8 she is a shy female as her territory is more towards non-tourist area in Sarhi. Thin Stripe 2 is another male in Kanha zone. He is known to be an aggressive tiger and wasn't sighted frequently. Jamuntola male was also sighted in Kanha zone. As major part of his territory is more towards Sarhi zone so his sightings in Kanha zone were less.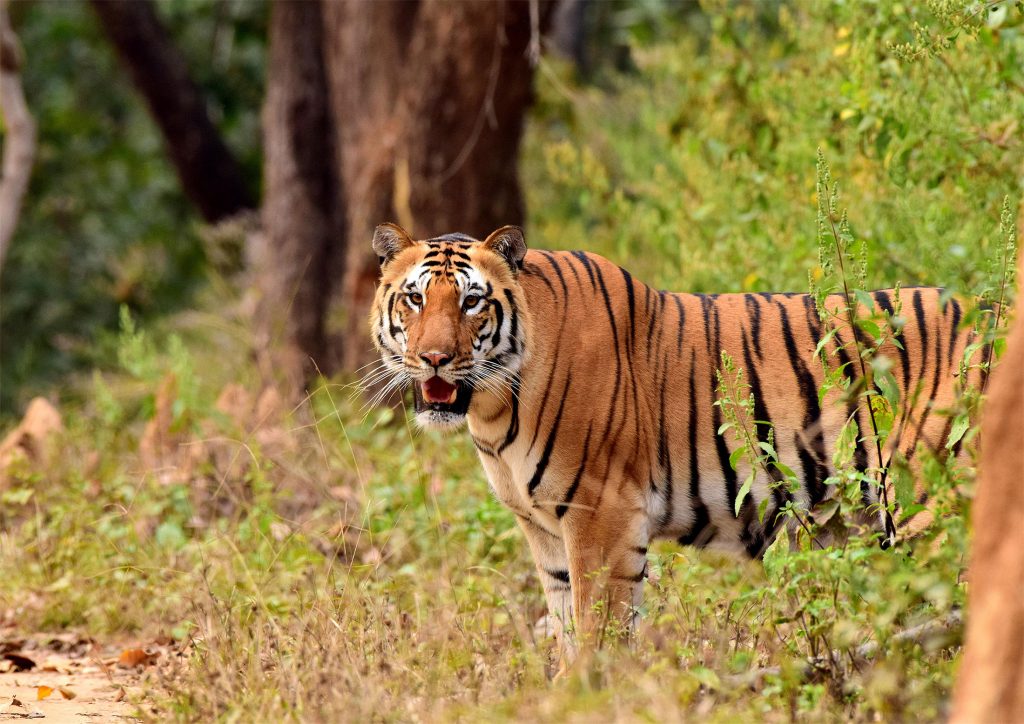 Jamun Tola Male
KISLI
If Kanha zone was full of life then Kisli was no less. Kisli too had a fair share of Tiger sightings. The renowned tiger CAT or Munna stayed mostly in Kisli zone. Munna is quite old, around 14 years. In this season when I had his first sighting, he appeared strong, as strong as he was two years back when I had seen him. Definitely he is an experienced big cat as it is his experience that has kept him alive by far amidst the young and dominant males. I really wish a long life for him and hope to see him in the next season too.
Karai Ghati male, is probably the sturdiest tiger in Kisli. He looks massive in his gait and has covered some major area in Kisli as his territory. To me, Dhamangaon male was an absolute surprise in Kisli. With him I had some unpredictable but pleasant sightings. He had been known to inhabit the buffer area of the park but seemed that he had decided to move in the tourist zone in this season. Dhamangaon male and the Kisli female mated in the later part of the season. Seeing his splendor we all think he would be the new ruler of Kisli.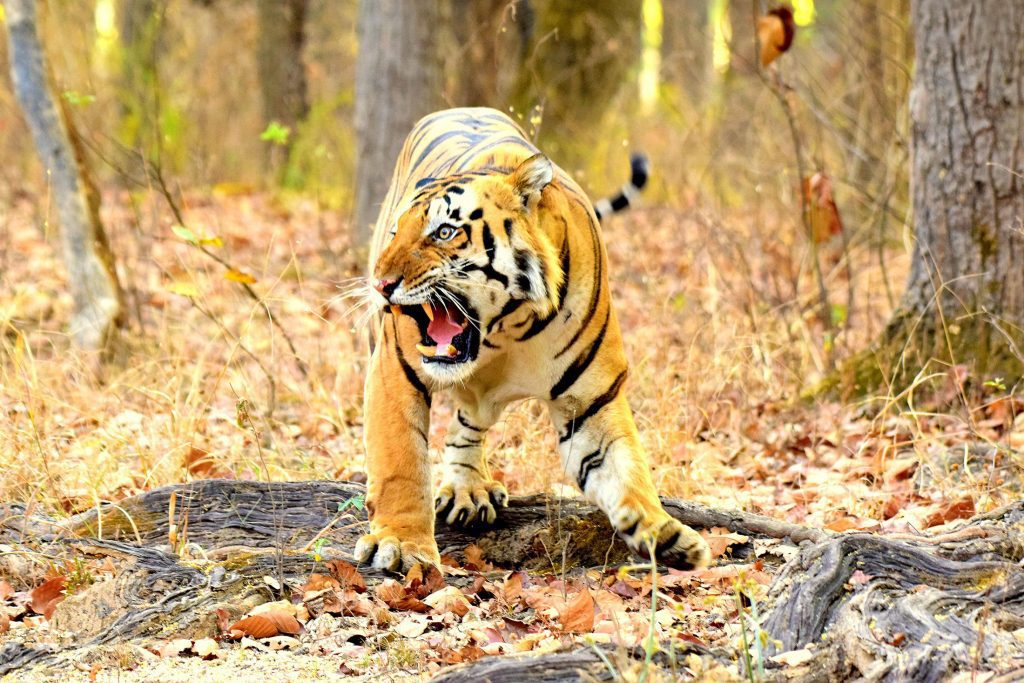 Karai-Ghati Male
That was about the Kisli male tigers. Female tigers were no less in terms of sightings. There were two female tigers that were sighted constantly in Kisli area; Budbudi female and her daughter Sandook Khol female. Budbudi female also known as Kisli female had delivered 4 cubs in last to last season, but sadly two of them were killed by Supkhar male in this season. Assumingly, the rest of the two cubs might be no more as we couldn't spot any of them of lately.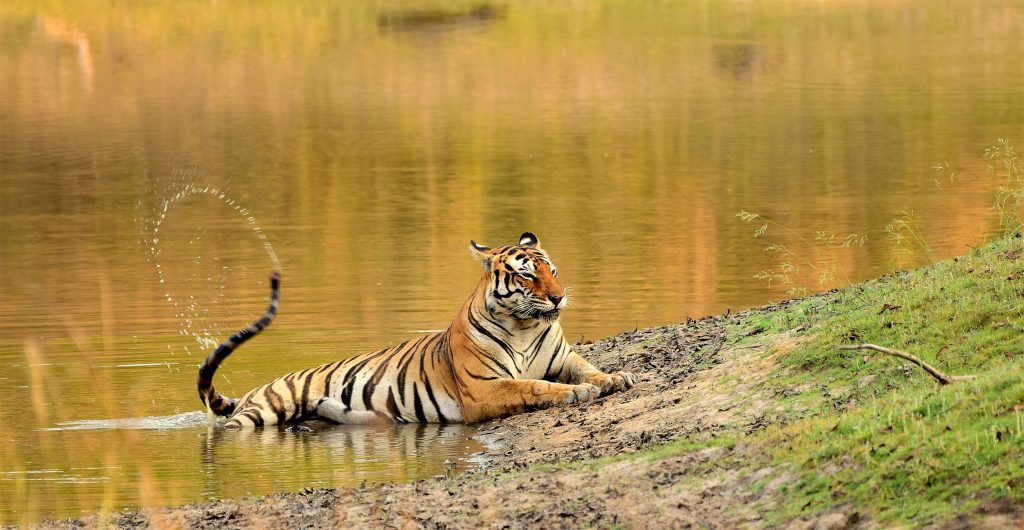 Budbudi Female
But since Budbudi female has partnered with Dhamngaon male in the month of June, we are expecting to see her with another litter in the near future. Although Sandook Khol has tried to take over her mother's territory and might have taken over the entire area in these three months, Budbudi still has enough area in her new territory leaving us less worried. Though we didn't see Sandook Khol with any male tiger, but we hope to see her as an extraordinary mother in the next season.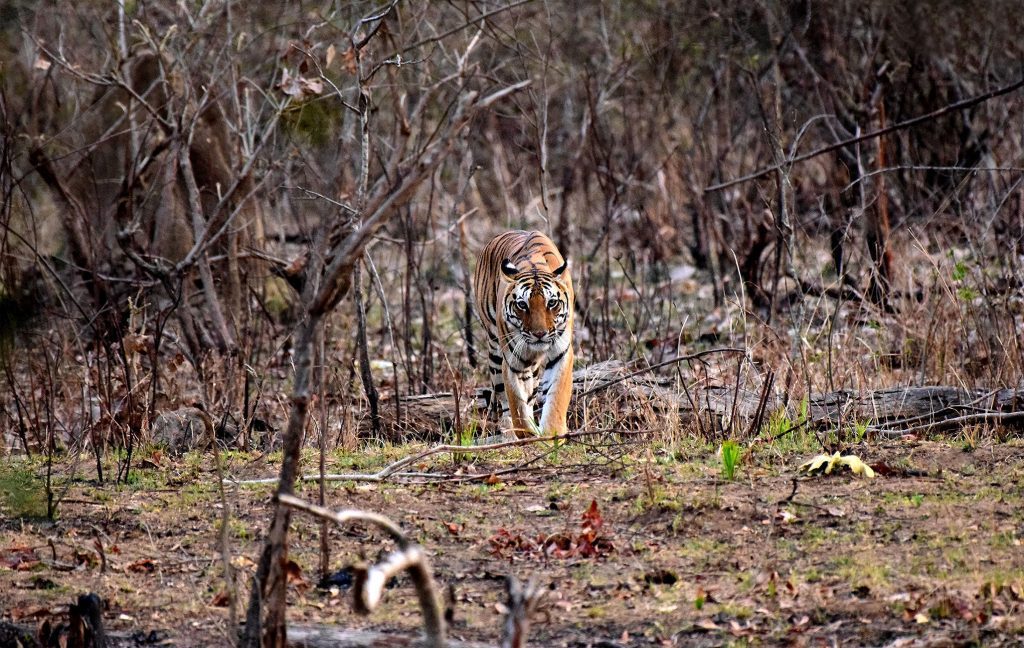 Sandook-Khol Female
SARHI
Sarhi is comparatively a newer gate but had witnessed some heart-warming sightings of Rona male, Sangam male, and Ronda female. Sarhi is considered birders' paradise with numerous bird species to observe, as well as the best area to see the Blue Bull (Neelgai).
This year in January 2017, Black Bucks were released out of their breeding fence in Kanha zone which was a major attraction for us apart from tiger sightings.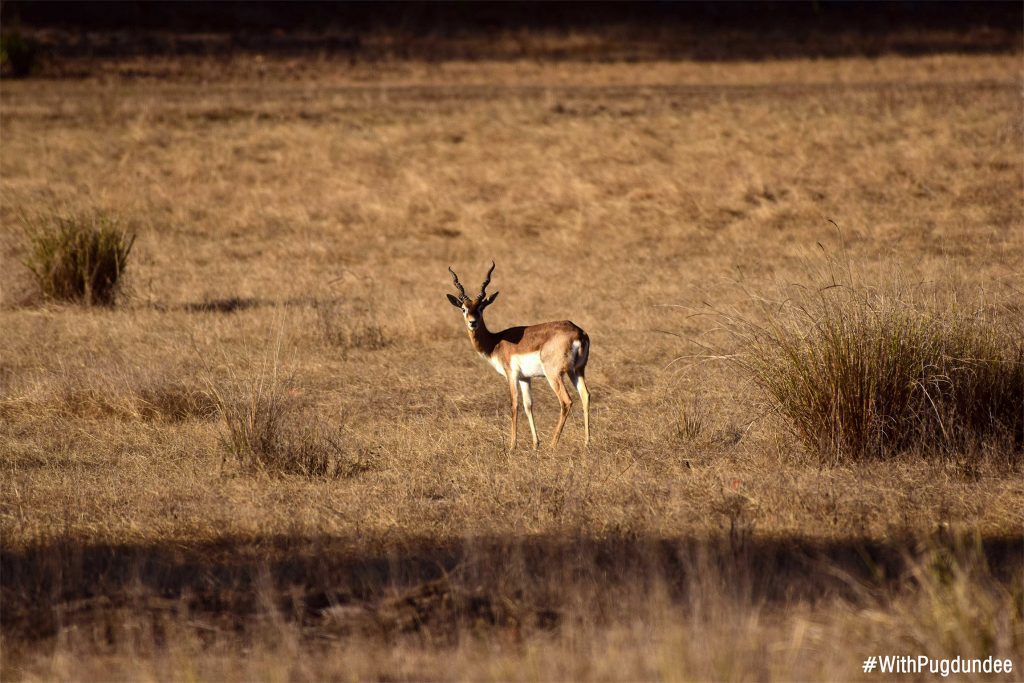 Blackbuck sighted at Kanha National Park
Mukki witnessed a pack of wild dogs that consisted of 8 members. Our last game drive of the season ended on June 27 with some endearing sightings of Choti Mada and her male cub in Mukki zone. In the new season we are expecting some breathtaking and diverse sightings. I hope to be lucky enough to see cubs of Kisli female, Link 8 and Dhwajhandi female. Though we cannot be certain as nature is capricious but we are prepared for the surprises that the Park would offer once it reopens on 1st October, 2017.
Courtesy : Harpreet Dhillon- Naturalist – Kanha Earth Lodge