Season 2019 – 20
Bandhavgarh national park is a much-desired destination among nature lovers for its scenic landscape, inherent historical significance, and wildlife. It accommodates more than 200 species of birds, around 80 species of butterflies, 37 species of mammals and other reptiles. It got worldwide recognition for its profuse tiger sightings. It boasts to have the highest density of wild tigers living in much smaller territories as compared to their counterparts in other national parks of India. Here, a female tiger's territory varies from 10 -20 sq km whereas for males it varies from anywhere between 20 – 50 sq km. There are around 70 – 75 tigers roaming in 1536 sq km area which includes both core (716 sq km) and buffer (820 sq km).
Tigers are elusive by nature and until today quite less is known about their secretive lives. Yet for the past 10 years, tiger sightings have improved by leaps and bounds, where some bold males and females tigers have showcased their true characteristics among tourists. That's how some of our national parks like Kanha, Bandhavgarh, Pench, and Tadoba became famous. It's these immortal souls who have attracted myriad Homo sapiens to its domain and provided a small chance to discover their reclusive lives.
Every season, we come across such audacious felines who have been sighted frequently in their respective territories in the tourism zone. Some female tigers while raising cubs to keep this park alive and chanting because of their regular movements; visiting her cubs, changing their location, making kills and bringing the cubs back to it. All these activities provide ample opportunities for our guides, drivers and naturalists to track them in their sphere. Similarly, male tigers and other non-breeding females are sighted marking territories, near waterholes and strolling the game road.
Let's introduce you to some of these tigers who delighted our guests this season (2019-20) with sheer audacity along with small details of their descent.
SPOTTY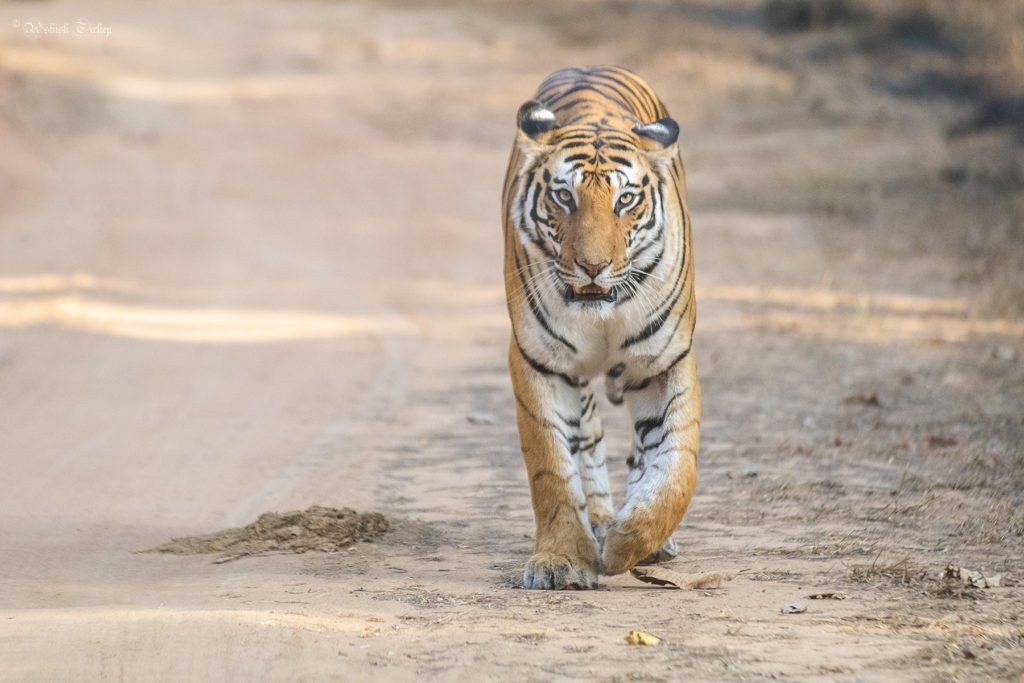 Spotty was born in 2012 at the Magadhi zone to Sukhipatiha female and Blue-eyed male. Her distinctive 'T' marking on the right side of her forehead (above the right eye) gave this name. She became famous from 2015 onwards when she arrived in Mirchaini's territory demolishing her reign and conquering the ravishing grounds of Tala. And rest is history, as she still manages to hold this area since then.
DOTTY
Dotty was born in 2012 at the Magadhi zone to Sukhipatiha female and Blue-eyed male. She is also the sister of Spotty and named such due to 'D' mark on the right side of her forehead (above right eye). This season we had some amazing sightings with her 3 male offsprings in a Magadhi zone. And now the cubs are sub-adult and almost ready to part ways from each other.
KAJRI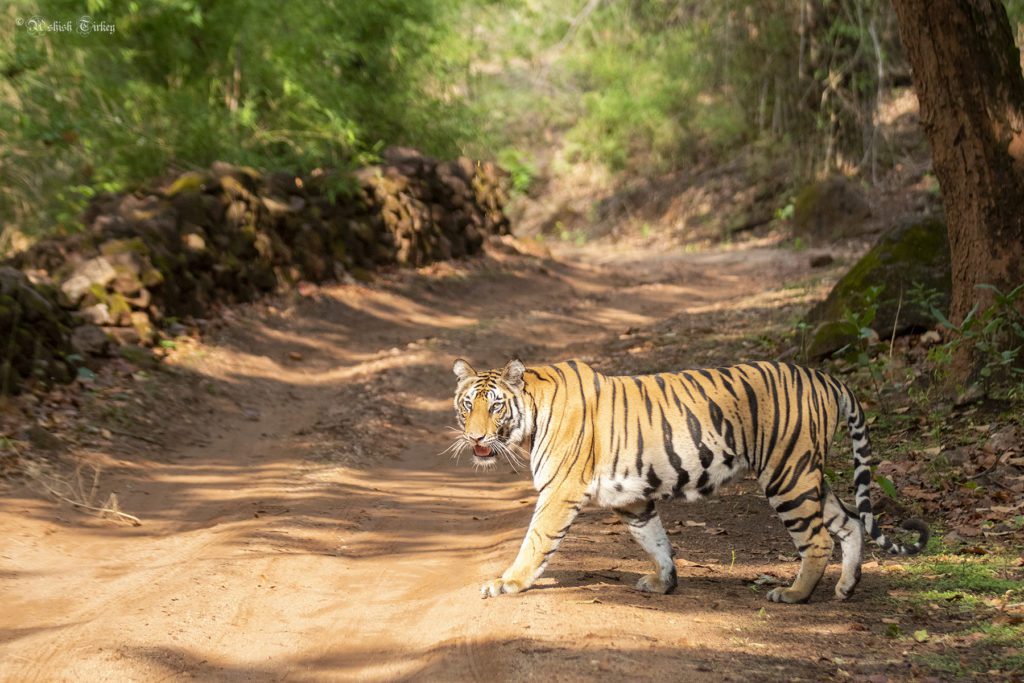 Kajri or Bachchi was born in 2016 to Spotty and Mangu male at the peak of our summers. We first sighted her at mid-June when she was hardly 2 months old, rumbling and tumbling with her 2 other sisters. She has made her territory adjacent to her mother's area and was also responsible to drag and take over Banbehi female's territory. She's been reported to have successfully mated with Chakrdhara male and we look forward to seeing her first litter very soon.
SOLO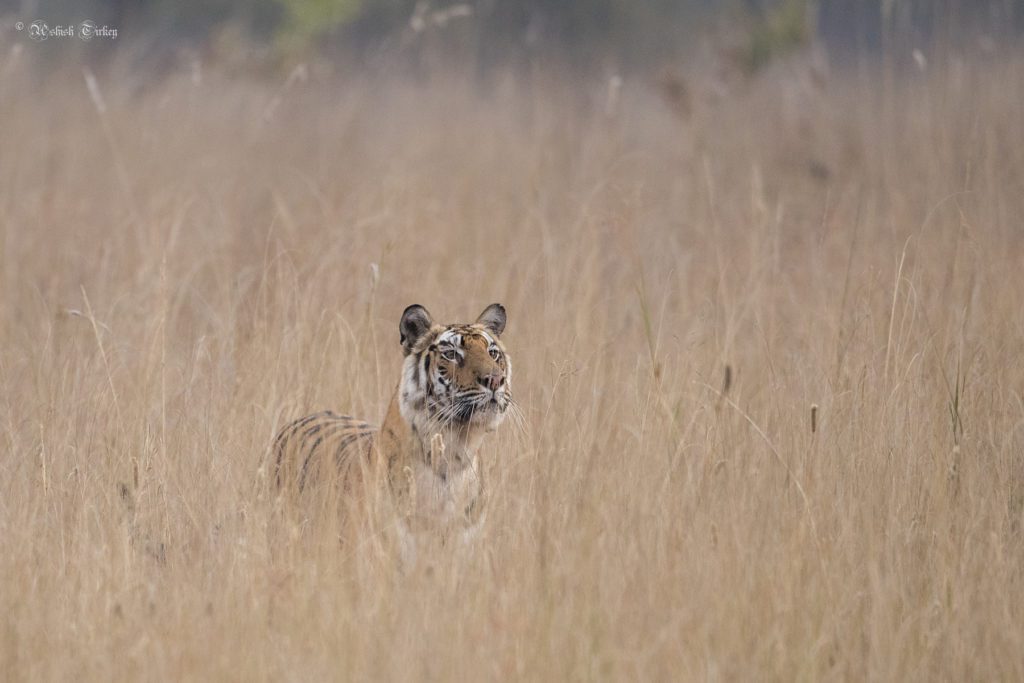 Solo was born to the legendary female Rajbehra and Jobhi male in 2011. It was Rajbehra's first litter of cubs, out of which Solo seemed to dominate amongst the rest of her 3 other siblings. She was named by the BBC team while filming the wildlife documentary 'The Hunt' as she used to move solo/solitary. She dethroned her mother in 2018 and now raised her first litter of 4 with 3 females and 1 male cub.
CHOTA BHEEM
Chota Bheem was born in 2017 to Choti Mahaman and Bheem, the largest male tiger of Bandhavgarh. As the father, so do his son, Chota Bheem exhibited all the charming characteristics of a bold tiger right from his young age. Last summer's he was the show stopper in Khitauli zone when he caught eyes among photographers. And now he has managed to take over one-third of the tourism zone of Khitauli, frequently spotted in this region.
Contributed by – Ashish Tirkey