Best Places to See Tigers in India in 2020
An eclectic nation, India is home to 70% of the Tiger Population in the world. The nation is blessed to have the spectacular striped beast as its National Animal. There was a time when the majestic creature was at the verge of extinction but with the tremendous conservation efforts, today the country has an estimated population of tigers to be 2,226, according to the 'Status of Tigers in India, 2014'.
At present, India has an array of Tiger Reserves and National Parks. Bestowed with the sobriquet 'Heart of India', Madhya Pradesh holds some of the renowned National Parks in the country. For hard core tiger lovers these parks are a must visit which are not only famous for frequent tiger sightings but also holds a reputation for being few of the most beautiful parks in country for natural beauty and varied flora and fauna.
1. Bandhavgarh National Park
The name Bandhavgarh brings something in the minds of almost all the Tiger fans. The senior ones get nostalgic while the younger generation gets enthusiastic when they hear or read the name of Bandhavgarh. That's because this very place was home to Sita and Charger, two of the legendary tigers that were once covered widely in documentaries and put Bandhavgarh on the tourism map. The tigers are no more alive but are remembered hitherto. Bandhavgarh is known to have one of the highest density of tigers in the country and promises some of the best tiger sightings. There are three different zones in the park namely Tala, Magadhi, Khitauli. It remains open from October till June.
Staying in Bandhavgarh
King's Lodge – Situated near Tala gate, a comfortable upscale lodge, perfect for a discerning traveler.
Treehouse Hideaway – Provides a fine combination of rustic yet deluxe accommodation in a thickly forested estate. Perfect place to be up close to nature.
Reaching Bandhavgarh
Umaria is the nearest rail head and Jabalpur is the nearest airport.
Did you know?
'Bandhavgarh' which literally means Brother's Fort, was once known as the land of the white tiger until the last white tiger was captured here by Maharaja Martand Singh of Rewa in 1951.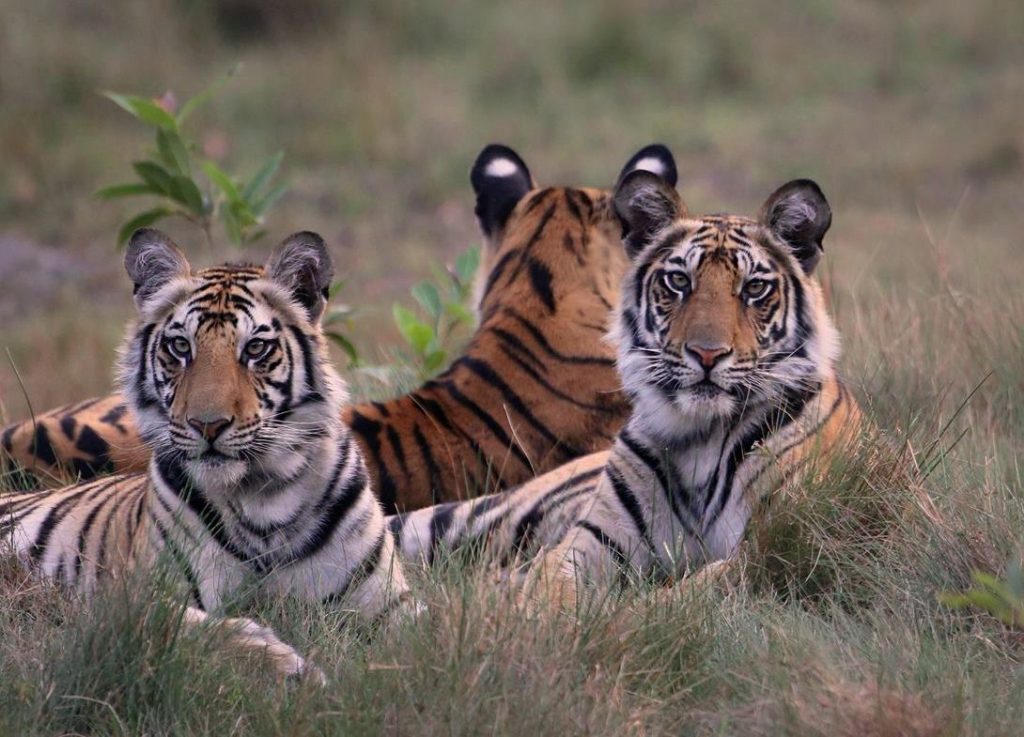 Spotty's Cubs in Bandhavgarh Tiger Reserve
2. Kanha National Park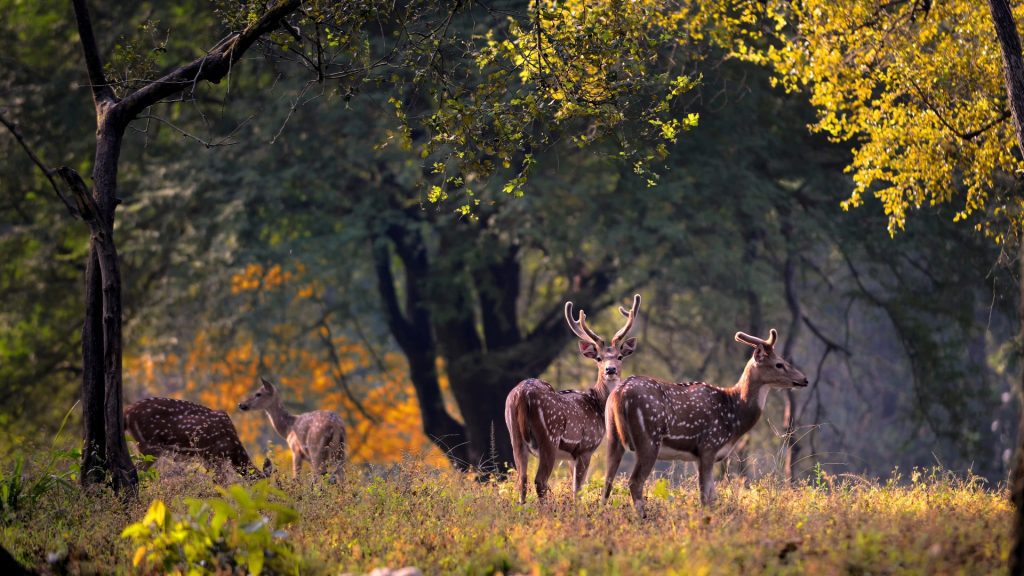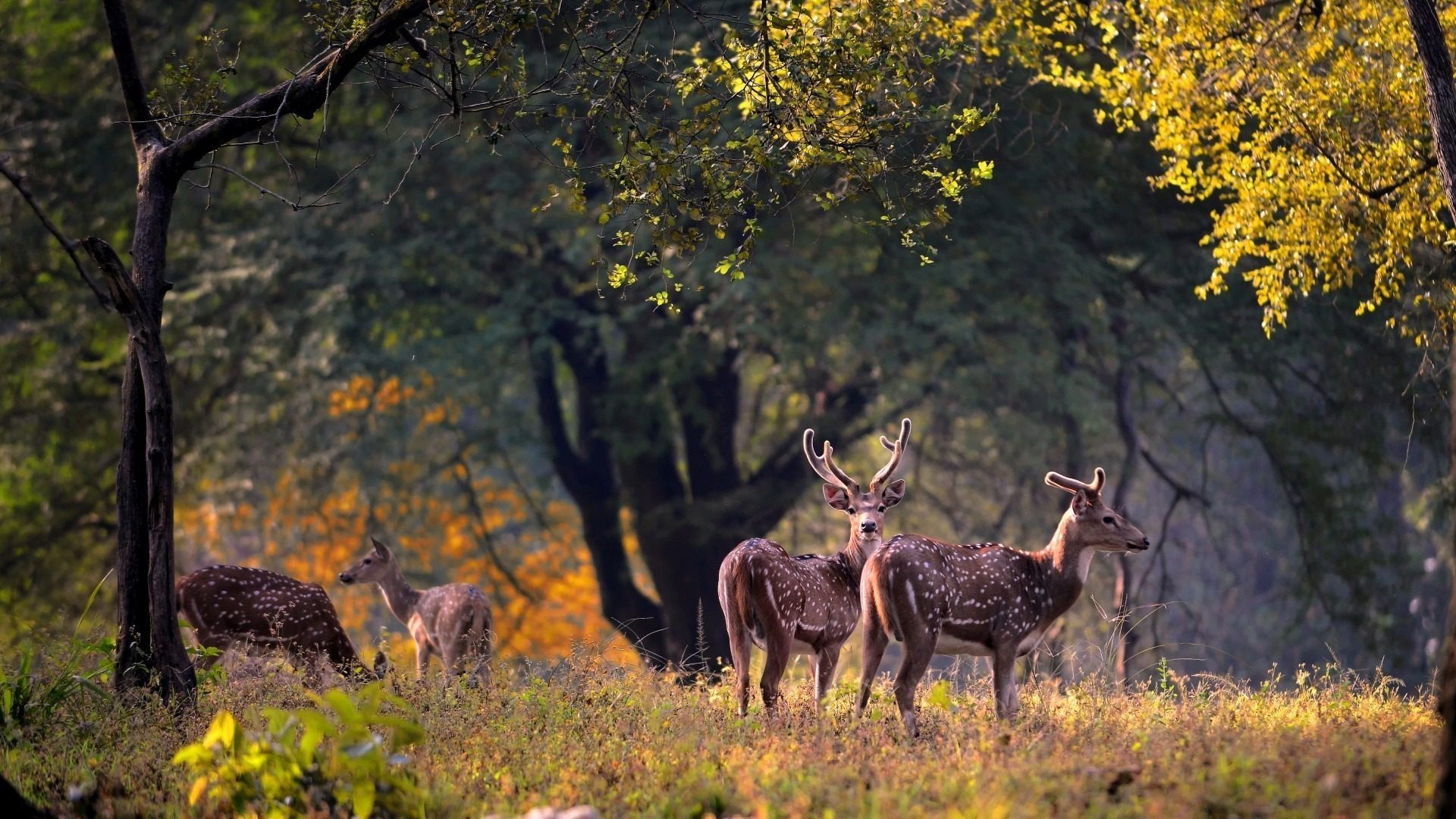 The largest park of Central India, Kanha National Park is spread across an area of 2059.7 sq km. Kanha is bestowed with panoramic  Sal woodlands. The park offers good tiger sightings and is home to one of the most famous tigers named Munna known for its unique CAT marking on forehead. The park is primarily divided into four zones namely, Kisli, Kanha, Mukki and Sarhi and remains open from October till June. Besides the royal tiger, Kanha is also famous for Hard-ground Barasingha which is only found in Kanha in India.
Staying in Kanha
Kanha Earth Lodge – An eco-friendly lodge renowned for its architecture and warm hospitality.
Reaching Kanha
Jabalpur is the nearest rail head as well as the nearest airport.
Did you know?
Kanha National Park was honored as the most tourism friendly National Park in India by the Department of Tourism, Government of India in 1991 and 2001.

Choti Mada with her cubs at Kanha Tiger Reserve
3. Pench National Park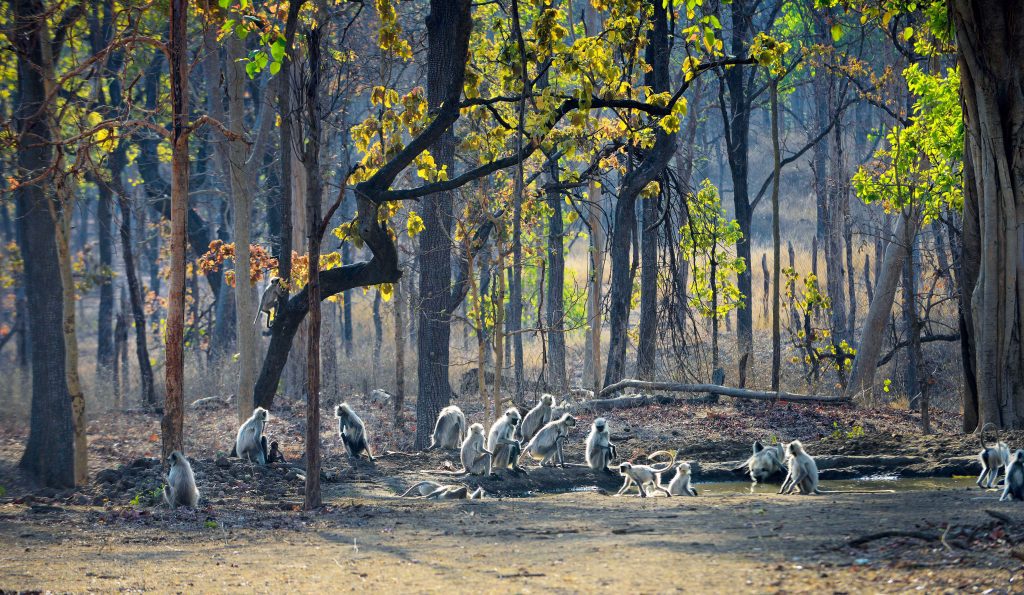 The third of Madhya Pradesh's trio of best-known tiger parks, Pench is Teak dominated forest rather than Sal, rendering it a different flavor from nearby Kanha and Bandhavgarh which are Sal dominated forests. Named after the river Pench, the park is stretched across an area of 757.90 sq km. Comparatively it sees fewer tourists but narration of this park have been found in the 400 years old book of Ain-i-Akbari. Pench is also the original setting of Rudyard Kipling's most acclaimed work The Jungle Book. If it's the land of Sher Khan, then certainly tiger is the prime attraction of the park. The park remains open from October till June.
Staying in Pench
Pench Tree Lodge – Luxury tree houses snuggled under the shade of Mahua trees providing a luxurious wilderness experience
Reaching Pench
Chhindwara and Jabalpur are convenient rail head and Nagpur is the nearest airport.
Did you know?
The supermom Collarwali, is one of the most famous tigresses in Pench. She has been in the news for giving birth to her 7th litter in 2017 which is one of the highest known for any tigress in the wild.
Collarwali with her 7th litter cubs at Pench Tiger Reserve
4. Satpura National Park
Declared as a Tiger Reserve under Project Tiger in 1999-2000, Satpura is relatively new park with less hustle of tourists. It's perhaps one of the best kept secrets of Madhya Pradesh. Sprawled across an area of 1427 sq km, Satpura shines with pristine natural beauty enhanced by the serene Denwa River. Surrounded by mountains, one enters the park through the backwaters of River Denwa which is an experience in itself. Although famous for Leopards and Sloth Bears, Satpura holds a good population of tigers too. There are three routes in the park namely, Keria, Lagda and Churna and the park remains open from October till June.
Staying in Satpura
Denwa Backwater Escape – Overlooking the backwaters of the Denwa River, this is the right place for all those who wish to blend luxury with nature.
Reaching Satpura
Itarsi and Pipariya are convenient rail head and Bhopal is nearest airport.
Did you know?
Satpura is the only National park in Central India, where walking safari is permitted inside the core area.
Tigress in Satpura Tiger Reserve
5. Panna National Park
Spread across an area of 666.40 sq km, Panna National Park was established in 1981. Like Satpura, Panna is a serene park with comparatively lesser flow of tourists. The park had lost all its Tiger population by early 1990 mainly due to poaching but it has now regained its tiger population and the sightings have become good. It's an ideal place for tourists who wish to see tigers but at the same time want to escape the crowd of other tourists. There are two entry gates to the park namely Madla gate and Hinouta gate. The park remains from October till June.
Staying there
Ken River Lodge – Situated near Ken River, which is the lifeline of the park, this beautiful lodge is an amazing place to stay.
Reaching Panna National Park
Khajuraho is the nearest rail head as well as nearest airport.
Did you know?
Now a National Park, Panna was once a hunting reserve of the erstwhile rulers of Panna, Chhatarpur and Bijwar states.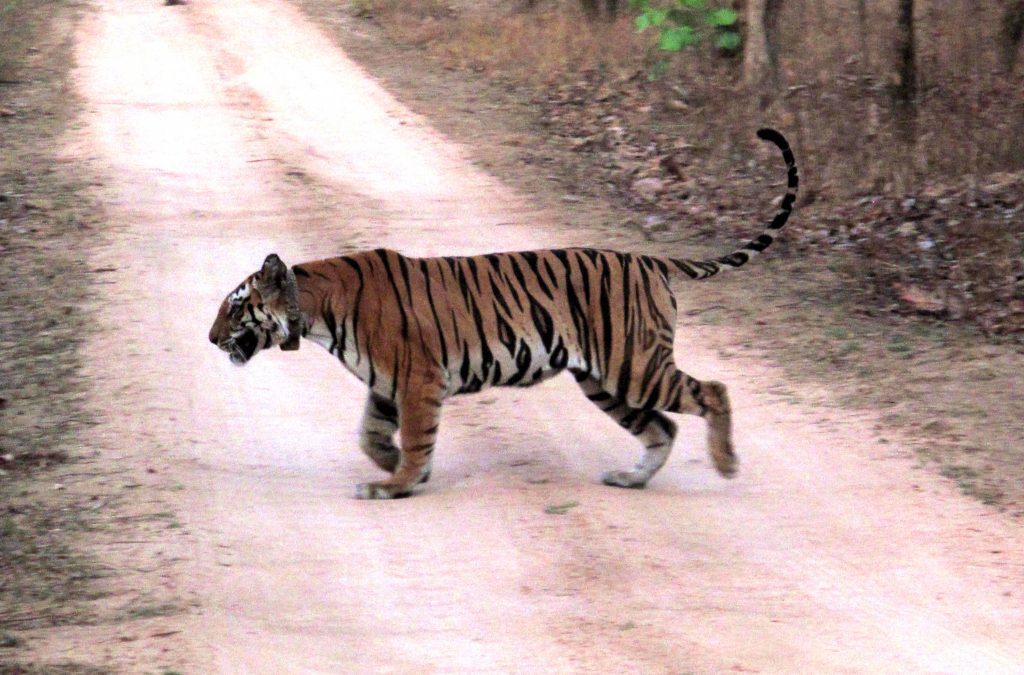 T1 Cub at Panna Tiger Reserve
Content Courtesy : Malvika Verma