Pench is where the literary genius, Sir Rudyard Kipling created the timeless classic, The Jungle Book and its wolf child, immortalised as Mowgli. This masterpiece inspired by the true incident of a human child, reared by wolves in the nineteenth century, in Seonee (now Seoni) district, is located in the charming, lush land of Pench, in Madhya Pradesh.
It isn't a surprise that Sir Kipling was beguiled by the streams and rivulets – most of them springing from the River Pench, the lofty Satpura range, a land mass covered by the towering teak and dry deciduous forests.
Pench is indeed a land of delightful splendour. Myriad flora and fauna inhabit these stunning jungles. Tigers, Indian leopard, sloth bear, several varieties of spotted deers, nilgais, sambhar, chinkara etc, wild dogs, gaurs and not to forget Kipling's adoptive family for Mowgli – the wolves. Pench is an idyllic land for bird watching, boasting of over 210 species of birds, including migratory birds.
The thought of going on a forest vacation , conjures up images of an adrenaline pumping jeep safari that takes one into the dense forests, to spot wild life. But it isn't a surprise that there is more to it, than meets the eye. A forest vacation can offer a varied set of activities, keeping ones thirst for adventure alive. And at the same time endorse one's quest to go exploring nature at it's pristine best.
The Pench Tree Lodge in the bewitching locales of Sarahari village of Pench, offers the enthusiastic traveller a host of activities to engage in.
Here are the top five things to do in Pench, beyond Safari:
1. Runi Jhuni Walking Trail:
Credits: Gaurav Dhotre
Experiencing nature on foot is an extraordinary encounter altogether. Runi Jhuni walking trail inside the Pench National Park, from Karmajhiri gate, is a 3-4 kms nature trail that gives the guests a perfect opportunity to experience nature and wild life from close quarters. Accompanied by experienced naturalists, this walking trail ensures an intimate understanding of nature and the various flora and fauna.
Alarm calls, fresh animal tracks, including tiger pug marks, scats (droppings) can be spotted in this serene jungle walk. Langurs, deers, wild boars, jungle fowls, a variety of birds and flora are the attractions of this nature trail.
Charges: Runi Jhuni walking trail costs about INR 3000/- per person for group of two pax including all taxes, transportation and guide charges for guests staying with Pench Tree Lodge.

2. Rukhad Cycling Excursion:
This cycling excursion from Rukhad sanctuary that is situated in the buffer zone of Pench National reserve, is a wonderful expedition of spotting wildlife amidst scenic beauty.
Historically Rukhad was one of the most popular forests for sighting wild animals. Being a part of the famous Kanha-Pench Tiger Corridor, Rukhad, though not a national park, still supports magnificent teak and bamboo forests and a good population of gaurs, tigers, leopards, bears and associated herbivores. According to the latest census the tiger population in Rukhad is at twelve.
Rukhad sanctuary is a forty-five minute, post breakfast drive from Pench tree lodge The cycling expedition starts at around 8 A.M. and covers a distance of 22 kms finishing at Sakata Forest Rest House. During the course of the ride, cyclists stop to sight various birds and animals.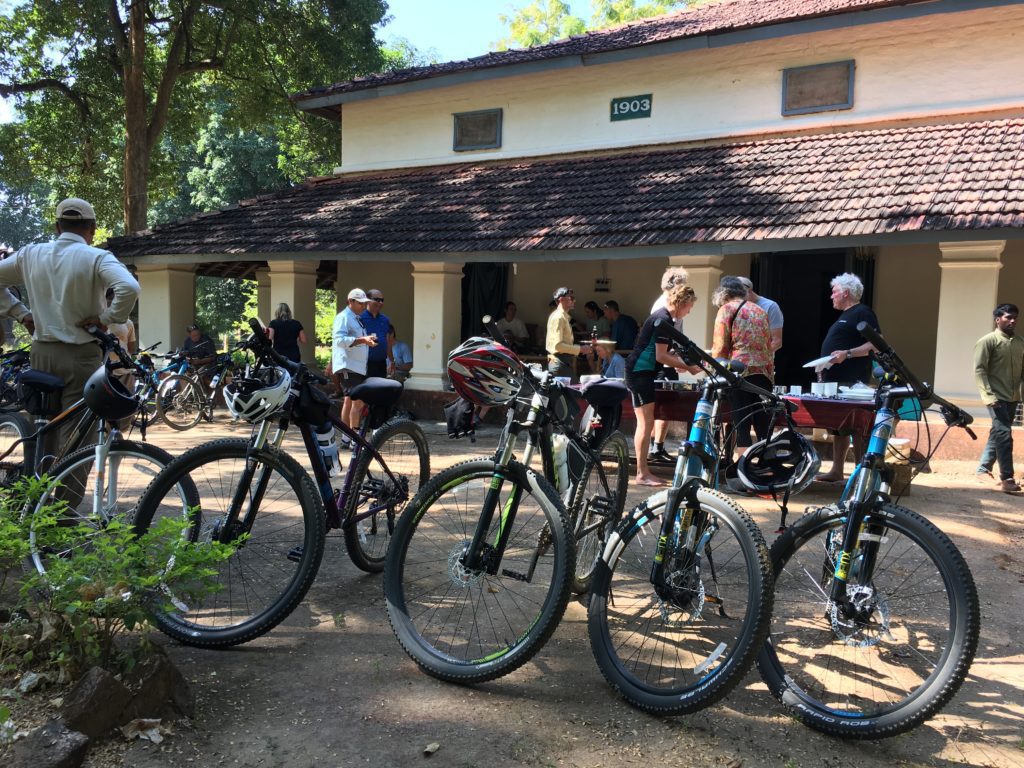 The ride ends at 12 noon with a piping hot lunch at Sakata Forest Rest House, built in 1903; reminiscent of English old world charm.
There is an option of going for a game drive at 3 P.M. in an open jeep safari and returning to the lodge by 6:00 p.m. Or, heading back to the lodge post lunch. A local English-speaking guide cum naturalist accompanies the ride.
Other pointers:
Moderate fitness level
Basic previous experience in cycling comes handy.
BEST TIME: November to March


3. Tribal Bazaar and Haat:
Enjoy a guided tour, or a leisurely walk, or bicycle ride to the local villages and weekly haats (bazaars). You can have your fill of indigenous crafts and products of the area and more likely than not, get invited to visit a villager's home to share a cup of tea.
Village Haat days – Distance from Pench Tree Lodge
| | | |
| --- | --- | --- |
| Vijaypani | Tuesday | 3 Kms |
| Belpath | Sunday | 6 Kms |
| Badalpar | Thursday | 10 Kms |
| Chakkikhamari | Monday | 12 Kms |
4. Night Trail:
Signature Spider at the Night Trail
Credits: Samrat Godambe
We offer in-house nature trails at our lodge, through thickets, old forests and grasslands. Night trail is a unique experience where you can spot nocturnal wildlife such as civets, owls, jungle cats, snakes, spiders, frogs etc.
5. Savour and Learn About Local Food:
Pench Tree lodge offers its guests the authentic local flavours of Madhya Pradesh. Be it Desi aloo (local potatoes), Daal Barbati (Yard Long Bean in lentil form) , Dobri Mahua Kheer (Mahua flowers made in rice pudding) and a varied variety of other local cuisine.
The lodge also offers a Farm dinner experience, under the star-studded night sky, next to the sprawling organic garden. The chef lights up a clay oven and roasts potatoes, cottage cheese and kebabs. The guests are given a live demo of some of the recipes like Desi Alu, Angari Alu, Ajwaini Paneer Tikka, etc.
A prior booking is favoured with atleast four pax. Booking can be made at:
Email- enquiry@pugdundeesafaris.com or Call us at- +91-11-40136322
So, next time you are in Pench, you know how to expand your horizon, and make the best of your trip by indulging in some of these interesting, must-do activities that entail adventure and learning.
We can see you nodding. After all the land of Mowgli beckons!