"Realizing that I – A human is not the only creation nature created with all her heart"
A Walk in Chitwan National Park with Vineeta Yadav.
Nature lover doesnot really need a 'wake-up call' to kick start a walking safari. I am in Chitwan National Park now. Chitwan is magical they say, I am collecting all possible evidence to believe. Today was the day to find out- on foot. No wake-up call, I was up at six to start the first ever nature walk of life.
With careful steps, we braced our self for a 35 minute boatride. The nature was at its peaceful best and the morning activity had already started with birds perching and flying. Honestly I was in anticipation of seeing the crocodiles, but that comes later. Swiftly moving towards the check post, we did not really talk, everything was so close then! Often the boatmen would break the healing monotony by words that we did not understand. We saw the storks and lovers of lifetime – The Ruddy Shelduck and I was so lost, in my findings.
Head on, a long stick in the hand with a naturalist in front and guide in last we start walking in a file. I prayed to God, that we should at least see a sloth bear (did not have the courage to make a wish to see a Rhino or Tiger). Fingers crossed, tight lipped and a little stressed with my overpowering brain we proceed into the secret world. As we walk, the instructions against leeches and the reactions for animal encounters were still lingering. I was a bit scared, but with each step the tension released. It is then, when I saw what forest is. In nature everything was so preserved, the animal kingdom is a world of utopia. The wet soil, the dewed leaves, the struggle of termites or the markings for territories. For each question, the answer would have the same effect on me – Appreciation for the creator. No connections to internet or phones, this was a real vacation. First time ever I walked over 9kms stopping over nuggets of nature, just gasping at the beauty of the wild. The antiques of creepers that don't catch fire, who have seen the forest burning, shedding and blooming.
The desire of sneakily capturing a sloth bear was still there, belittled. We saw some freely grazing chital, who checked our presence and dared not to ignore the slightest movement of bush. Crossing the Sal forest and by passing meadows and small lakes and rivers we entered savannahs- the perfect habitat for Rhinos. We saw one grazing too far for the camera. The harshness of Sun turned my attention towards the watch- it was exactly 43 past 11. With the sun, the Ghariyals and Muggars had also come out now, the banks were queued up with egrets.
I was never so close to myself and had never trusted anyone like I trusted the naturalists! Their confident steps guided me to a way where I wished to be. They ensured it was not just a nature walk, but a walking experience to know the why and how of everything we stumbled upon. Medicinal plants, animal behavior, cause and effect of even a single disturbance. No, we did not encounter a sloth bear. I met someone else, my stable side which had never visited me before. Unaware of whose existence, I always believed it comes only when you have a nicely paying job or a handsome husband to flaunt!
I got some leeches back home, and wondered how tactfully they suck up the blood without me getting to know. Needles do hurt. Sitting at a point, which shows me the quiet canopies I smile and yearn for one more nature walk. From here, it all seems green and quiet. Inside there is a wonder resting, gaping, eyeing or jetting alone!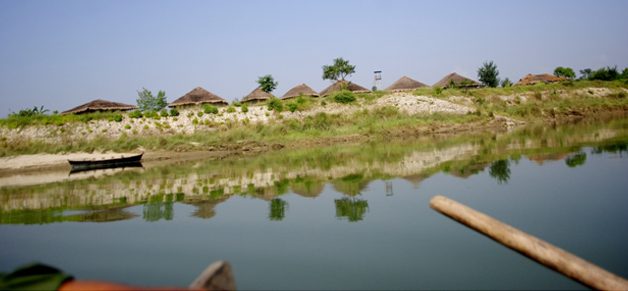 Courtesy : Vineeta Yadav