Located in Maharashtra, Central India, Tadoba Andhari Tiger Reserve or Tadoba National Park is one of the most preferred tiger destinations in India and the largest in the state. Tadoba has gained immense popularity in recent years as the top park for tiger sightings, and is one of India's forty-seven project tiger reserves.
Landscape:
This pristine, wild habitat is located in Chandrapur district of Maharashtra, also referred to as Vidarbha region. Connectivity to Tadoba is excellent as it is just 2-1/2 hours from Nagpur International airport. A quaint, beautiful jungle with a hilly terrain and undulating landscape, Tadoba guarantees tiger and wildlife sightings galore.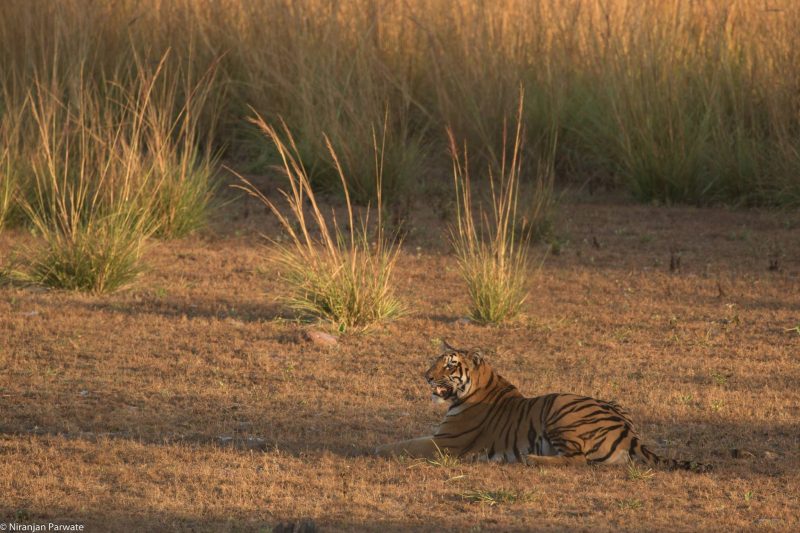 Spread across an expansive landscape of 625.4 Sq.km, Tadoba includes the Tadoba National Park, created in the year 1955. The Andhari Wildlife Sanctuary was formed in the year 1986 and was integrated with the park in 1995 to establish the present Tadoba Andhari Tiger Reserve.
History:
Tadoba Andhari National Park derives its name from God "Tadoba" or "Taru" worshipped by the local tribes. Taru was the brave village chieftain and was killed in a fierce encounter with a tiger. Therefore, a shrine was established in his name.
The name Andhari originates from the Andhari River.
The region was predominately inhabited by Gond tribals whose descendants continue to live in the local villages.
Flora:
A dry deciduous forest with mostly teak and bamboo trees, Tadoba has a mix of grasslands and dry forests. This type of vegetation allows better visibility throughout the forest and good sightings. The otherwise dry forest, boasts of a few lakes and rivers ensuring abundant water sources for the park.
Tigers can be spotted on the tarmac road and even lying languorously in the man-made water sources.
The perennial Irai lake is a major tourist attraction offering a residential territory for wild array of birds and fresh water crocodiles. The Tadoba lake also sustains a major part of the park's wildlife.
The Tadoba Tiger Reserve is rich in flora and fauna. The flora includes: Teak, Ain, Bija, Dhauda, Hald, Salai, Semal, Tendu, Beheda, Hirda, Karaya gum, Mahua Madhuca, Arjun, Bamboo, Black Plum, and many others.
Here are a list of top 6 things to do in Tadoba National Park:
1. Jeep Safari for Tiger and wildlife sighting:
A jeep safari is the most impressive way to experience nature and wildlife at its natural best. It offers ideal opportunities to sight the elusive tigers, leopards, wild dogs, sloth bears and plenty of other fauna that abound in this forest.
Tadoba Tiger Reserve offers jeep safaris and can be accessed via: Moharli gate, Khutwanda gate, and Kolara gate.
The other gates are NaveGoan, Pangdi and Zari.
The timings for jeep safari vary from summer to winter and are mentioned below.
Period
Morning
Afternoon
Entry
Exit
Entry
Exit
1st Oct to
30th Nov
6 AM – 8 AM
10 AM
2.30 PM – 4 PM
6.30 PM
1st Dec to
28th / 29th Feb
6.30 AM – 8.30 AM
11:00 AM
2 PM – 3.30 PM
6:00 PM
1st March to
30th April
5.30 AM – 7.30 AM
10:00 AM
3 PM – 4.30 PM
6.30 PM
1st May to
30th June
5 AM – 7 AM
9.30 AM
3.30 PM – 5 PM
7:00 PM
Safaris booking can be made at Maharashtra Tourism site.
2. Boat ride in Irai lake: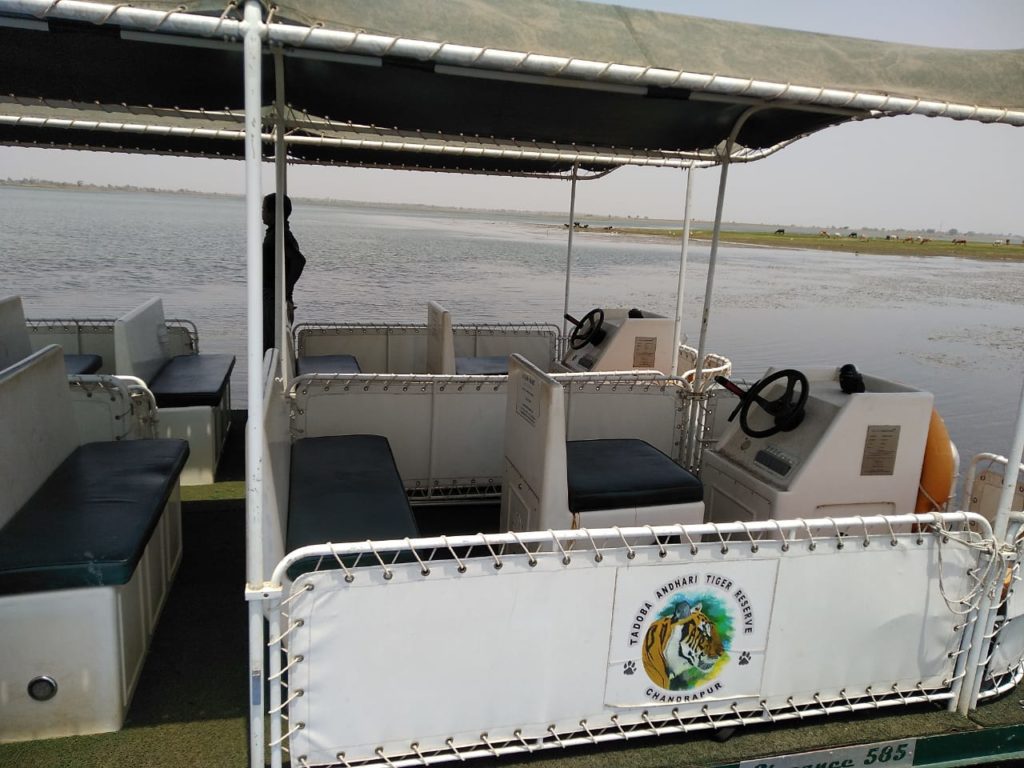 The boating facility on the backwaters of Irai lake is offered by the forest department. This is an ideal activity for birders and photographers. Some of the birds that can be seen are Crested Poachard, Grey Heron, Stork Billed Kingfisher, and Cotton Goose, etc.
There are many migratory birds that also arrive at this lake.
Boat ride Timing: 7:00 AM – 5:00 PM.
Boating is closed in the monsoons (July – October end)
3. Bird Around the Lakes
Tadoba Lake and River and the Kolsa River wind their ways through the reserve. The rivers and lakes of Tadoba are the hot spots for bird watching.
You could find a wide array of birds by the water bodies. Tadoba Lake is a favorite haunt for raptors like White-eyed buzzards, Oriental honey buzzards and also paradise flycatchers, Indian rollers, Indian pitta etc. Don't be surprised if you spot a crocodile or two, while the deers gambol on the fringes of the river with langurs and wild dogs for company.
Tadoba lake can be accessed from the core gates and Irai can be done from buffer zone safari. Irai lake can also be reached from outside the park and one can enjoy walks and
4. Visit to Ramdegi – Temple
Ramdegi is a charming rural set up in the Chimur Taluk of Chandrapur. An idyllic countryside drive through lush, verdant fields on either side, transports you to the peaceful haven of Ramdegi. A temple dedicated to Lord Rama stands serenely, near the Ramdegi forest. It is also believed to be one of the spots where Rama stayed during his 14 years of exile. Thereby making it a popular spot for tourists and pilgrims alike.
There is also a fascinating Buddha sculpture by a banyan tree, some 400 steps away, at Ramdegi.
It is believed that tigers too can be seen boldly walking into the temple complex in the under cover of a dark night.
Ramdegi is also a great habitat for sloth bears and a good population lcan be found around the area.
The temple pujari (priests) have many tales to share about the bears.
Ramdegi is a day drive well spent with friends and family, and an ideal outing with a picnic basket in tow.
5. Visit to Sevagram, Gandhiji's Ashram: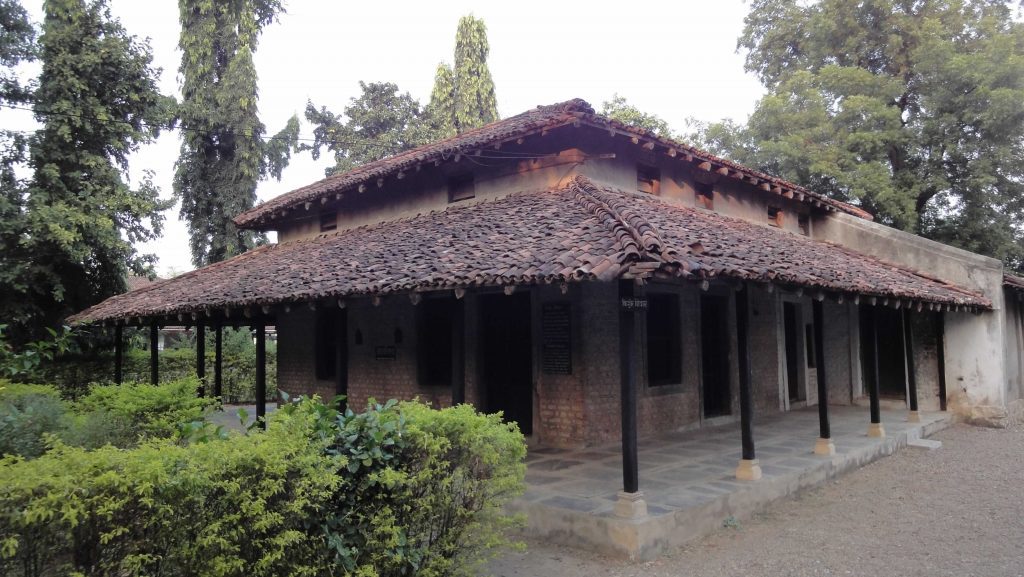 Sevagram is a township, located 8 kms from Wardha. The ashram was set up by Mohandas Karamchand Gandhi, in the outskirts of the village. This became his home and residence from 1938, till his death in 1948.
There is a museum here that preserves artifacts from India's freedom struggle. A disciple of Gandhiji, Seth Jamnalal Bajaj donated about 300 acres of land to the ashram. A picturesque location that brings forth memories from India's freedom struggle, Sevagram is a fascinating day trip that is a must do.
It is about 2 hours drive from Tadoba, depending on which gate you are staying at. This visit can be also made when traveling back and forth from Nagpur, as it's a small detour from the highway.
6. Saoji Cuisine
A niche cuisine from the Vidarbha region in Maharashtra has gained popularity called the Saoji cuisine.
Primarily known for its non-vegetarian dishes, Saoji style of food is from a community of weavers known as Halba Koshtis, who had migrated to Nagpur from Madhya Pradesh. These people set up small eateries around Nagpur to showcase their fiercely spicy food. Though with its popularity the spice levels have been tempered down.
The masala used is an amalgamation of wet and dry, with over twenty-four ingredients. The proportion in which they are used provides the balance to the dish. Each family running a Saoji eatery brings in their own twist to the recipe.
There are a number of outlets selling Soaji cuisine lined across the way to the park. Though guests who are not fond of spicy food should avoid this fiery cuisine.
Next time you are planning a trip to the incredible tiger country of Tadoba, do get in touch with our trip curators at Pugdundee Safaris.
Call us at: +91-9718637711, +91-8800637711
Email: enquiry@pugdundeesafaris.com
This will be a wilderness holiday you are sure to treasure for times to come.
Written By: Natasha Sinha