A Travel Guide to Pench National Park the Land of Mowgli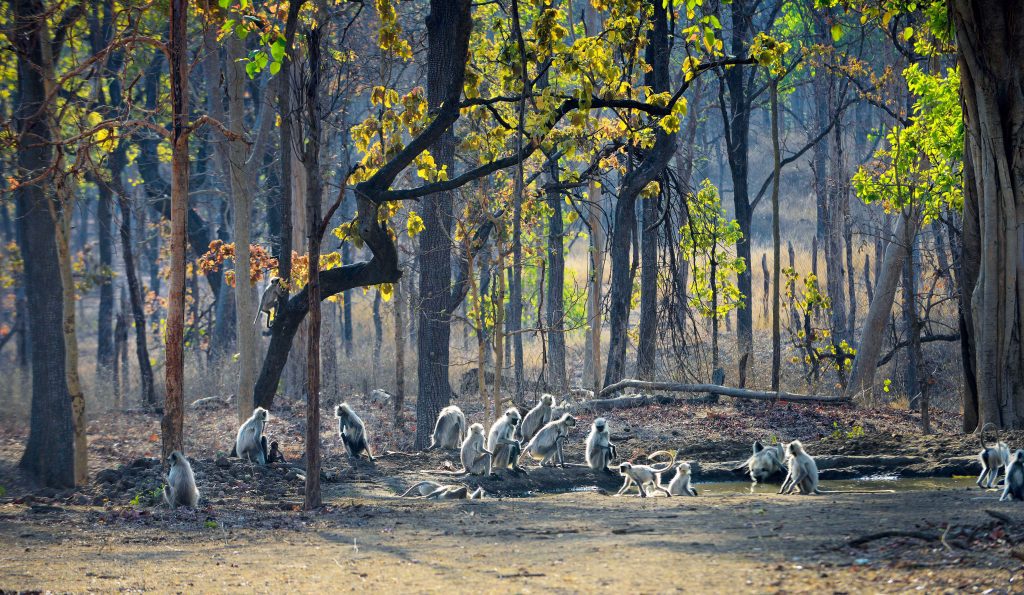 Forests are endowed with inexplicable beauty and enriched with flora and fauna. This natural beauty perpetuates in panoramic Pench, a beautiful National Park situated in Central India, in southern Madhya Pradesh bordering Maharashtra. Pench Tiger Reserve is spread over Seoni and Chhindwara districts of Madhya Pradesh and Nagpur district of Maharashtra. The need to protect the tigers in the terrain, led to the division of 449.39 sq. km of area as the Pench Wildlife Sanctuary and finally in 1983, it was declared a National Park and then a Tiger Reserve in 1992.
Pench Tiger Reserve, Madhya Pradesh comprises of core area of 411.33 sq. km. with buffer zone of 768.30 sq. km. Total protected area is 1179.63 sq. km. Core area also includes Mowgli Pench Wildlife Sanctuary. (118.30 sq. km.) This reserve is famously known as 'Mowgli's Land' as it is the original setting of Rudyard Kipling's most acclaimed work, The Jungle Book.
How to reach Pench
Rail: Board the train till Chhindwara or Jabalpur. From there you can hire a cab till Pench, which is an approximate distance of 190km from Chhindwara and Jabalpur. Another option is to board the train till Nagpur and hire a taxi ahead. Pench Tree Lodge provides with reliable cab services from the railway station till the lodge. Nagpur has better connectivity of trains and the road journey takes about 3 hours (145 km).
Air: Nagpur is the nearest airport connected to all metros by regular flights. It's approximately 145 km from Pench that can be covered in a three/four hour drive. Great flights are offered by Indigo airlines to Nagpur. Another way to reach the park is via Jabalpur airport, which is about 215 km from Pench and takes about 4-5 hours by road. Most of the lodges provide reliable pick and drop services from the airport. Pench Tree Lodge offers a responsible and reasonable taxi service for the convenience of their guests.
Road: Pench Tiger Reserve is located on the Nagpur-Jabalpur Highway. You can go by road from Jabalpur or Nagpur and reach Pench in three to four hours. Another option is to go via Bhopal which is approximately 500 km from Pench or Kanha. Nearest bus stand to Pench is Khawasa or Seoni and hourly buses are available from Nagpur. Khawasa is 12 km from Pench and you can avail the pick and drop service organized by the resorts. Khawasa gives access to Turia gate side of Pench. For Karmhjiri side, its best to get dropped at Suktara and Pench Tree Lodge is 20 km from there.
Best Way to Reach Pench
Although there are many ways to reach Pench but the best and the most suitable way is to travel by air and reach Nagpur. It is an international airport compared to Jabalpur which is a smaller one and has lesser flight connectivity. Nagpur has well connected flights from all the major cities like Delhi, Mumbai, Hyderabad, Bangalore and Dubai etc.
Midways for the Road Travel
You can stop at these places for a quick bite and a washroom break.
MHKS Highway Plaza, NH 7, Nagpur Jabalpur Road, Village Tekadi, Tahsil Parseoni, Nagpur. +91-9850851105
Bison Highway Retreat (Madhya Pradesh Tourism), Rukhad. Ph: 07695-290130/246429
Best Season to Visit Pench
This serene park named after the Pench River, is such a place which deserves to be visited in all the seasons as each season has its own charm.
Pench National Park like all the other parks of Madhya Pradesh, remains open for visitors from the month of October till the month of June. If you wish to visit in the month of October, you get the treat of watching and enjoying nature at its best, since post monsoon, the park becomes more beautiful and dense with lush greenery.
Furthermore, if you visit Pench in winters you can enjoy some of the best moments of wildlife and safari. Feel the tickling breeze on safari inside the jungle and if you are a wildlife or photography enthusiast then it is one of the best times to visit the park. It is also the best time for bird watching and bird photography. Myriads of resident and migratory birds fill the park with their twittering at this time.
Summer has its own charm of visiting the park. Although summers are quite hot in Central India, but for wildlifers and especially people who come for tiger sighting, it is an amazing time to visit since tiger sighting becomes frequent at this time. Tigers, various birds and lots of other animals visit the ponds and small pools to drink water and to rest near ponds and are usually sighted there. All in all, Pench is a delight to visit irrespective of seasons.
Where to stay
Pench has plenty of resorts and hotels for all budgets. If you desire to live close to nature and enjoy luxury at the same time, than Pench Tree Lodge is the place for you.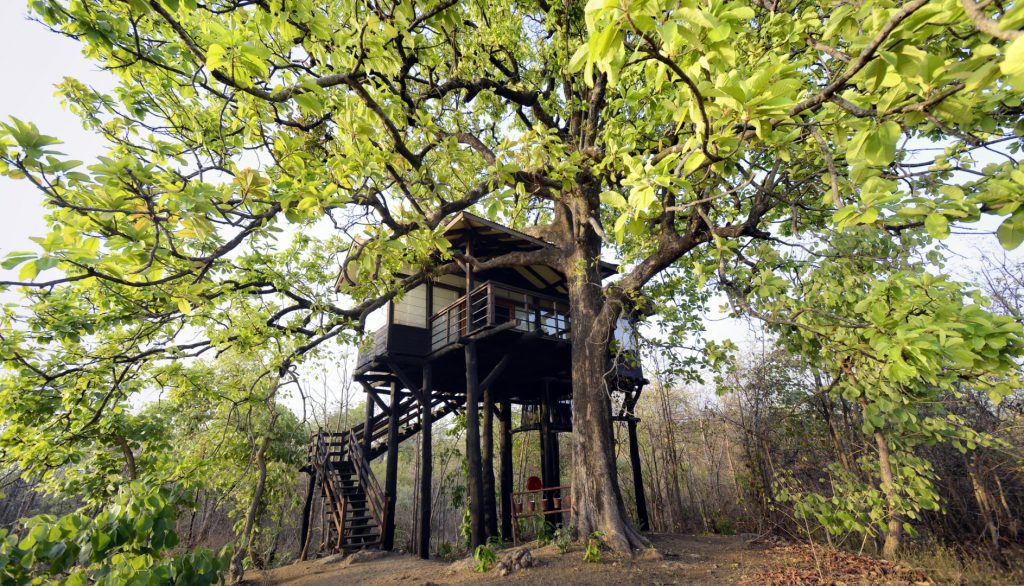 Pench Tree Lodge, located in the Sarra Hirri Village of Karmajhiri area of Pench, is a large forested estate with six deluxe tree houses. The lodge provides you the charm of tree houses, relaxation under the shade of Mahua trees and all the luxury of a resort. Pench Tree Lodge is a unique experience in itself that offers the thrill and joy of staying in tree houses and romancing with nature.
Wildlife Safari
Jungle Safari has its own pleasure. The safari tickets can be booked online through the website: mponline.gov.in. You can also book the tickets through the resort in which you have decided to stay.
Morning jeep safari starts at sunrise and ends at 11.00 hrs, whereas evening safari begins at 2.30 pm and ends at sunset and the timings may vary slightly depending on the season. There are three gates to the park, namely the Turia Gate, the Karmajhiri Gate and the Jamtara Gate out of which Turia Gate is the most popular. Turia gate has got congested due to innumerable resorts and hotels. Karmajhiri and Jamtara gate are quiet, closer to nature but have limited jeep entry.
Trespassing different routes is not allowed. Booking charges, park rates and other details all are available on the website mponline.gov.in.
Like all the other parks of M.P., Pench too allows a total number of eight people in a jeep, out of which six are tourists and the other two are the guide and the driver.
Jungle Attractions
Pench is abundant in natural beauty brimming with flora and fauna. Myriads of birds such as Grey-headed Fishing Eagle, White-eyed Buzzard, Malabar Pied Hornbill, Osprey, Black-Hooded Oriole, Sirkeer Malkoha, Grey Nightjar, Indian Scimitar Babbler, Scaly-Breasted Munia, Jungle Owlet, Common Hawk Cuckoo, Brown Fish Owl, Short Toed Snake Eagle, Yellow Footed Green Pigeon, Racket Tailed Drongo, Crested Treeswift, Jungle Babbler, varieties of Parakeet.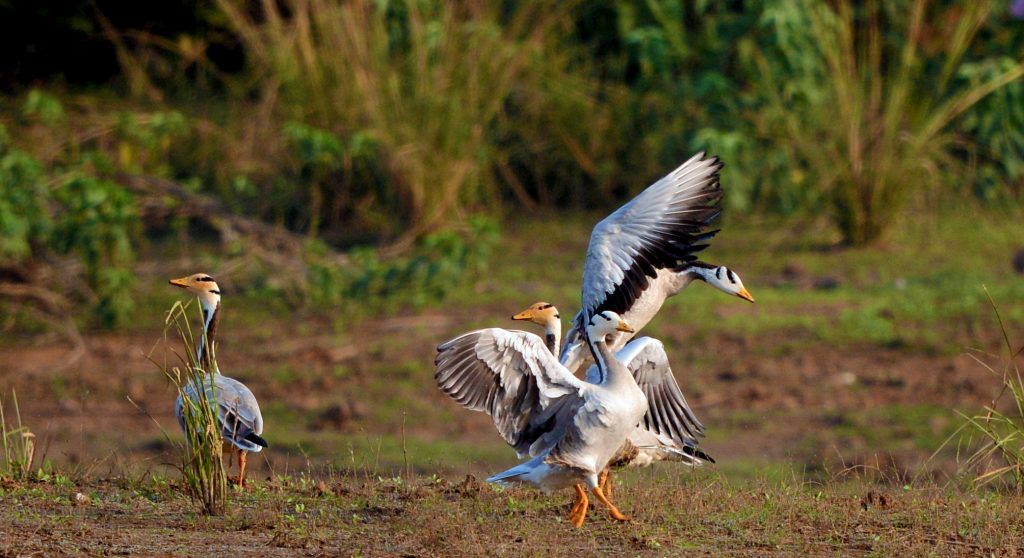 A variety of other migratory birds such as Brahmini duck, Pochard, Bar headed Geese, Common Coot etc visit the lake, filling the atmosphere with their flights and chitterings. In addition to these other migratory birds are Indian Pitta, Red Throated Fly Catcher, Orange Headed Ground Thrush, Jacobin Cuckoo, Grey Headed Canary Fly Catcher.
Pench is also enriched with vibrant butterflies such as Blue Pansy, Common Leopard, Common Pierrot, Common Jezebel, Striped Tiger, Common Evening Brown and many more.
Animals such as the Tiger, Leopards, Common Giant Flying Squirrel, Dhole, Gaur, Barking Deer, Monitor Lizard, Indian Rock Python, Rusty-spotted Cat, Jungle Cat, Small Indian Civet, Asian Palm Civet, Ruddy Mongoose, Porcupine, Bengal Fox, Indian Jackal, Sambhar Deer, Striped Hyena, Sloth Bear are the treasure of Pench National Park.
Other Attractions:
Pachdhar Potter's Village is 18km from Turia Gate (60 km from Pench Tree Lodge) and a small village famous for its pots. You can visit there and even try your hand at making pots besides buying.
Totlah Doh Dam is a gravity dam on Pench River near Ramtek in Nagpur District in the state of Maharashtra and adjoining to Madhya Pradesh. It is a good day picnic spot.
Kohka Lake (78 km from Pench Tree Lodge): A beautiful lake loved for its alluring sunsets where you can sit for hours forgetting everything and become one with the picturesque scenery simultaneously watch different birds that visit the lake.
Ramtek or the Ram temple, Khindsi Lake, Mansar archaeological site, Pachmarhi hill station, Kanha National Park are some other nearby attractions that can be added in your itinerary while visiting Pench to enhance your travelling experience.
If you would like to experience a local village visits or attend the village markets that happen on a weekly basis, you can contact Pugdundee Safaris. From fresh vegetables to silver jewellery, one can find a variety of items and other knick knacks that are sold in these markets.
Sunday : Belpeth (5 km)
Monday : Suktara (20 km)
Thursday : Badalpar (12 km)
Timings : 3 pm till sunset.
Travel Tips
Bookings should be done 120 days in advance since the park tickets are limited.
It is mandatory to carry ID cards for safaris. The ID needs to be the same as the one with which you booked your safari.
Carry binoculars, camera and a bird book to identify birds to make your trip more fruitful.
Wear comfortable walking shoes. Do check your shoes every time before wearing them to avoid scorpions and other creatures.
Carry proper woolens in winters and an effective sunscreen in summers.
Carry Hats/Caps and personal medicines (if any)
Wear muted forest colours like earthy greens or beiges and avoid perfumes and deodorants. Whites & any bright colours should be avoided.
You can visit travel sites like IRCTC and Cleartrip for all railway and flight related information. To check information regarding bus schedules visit mptransport.org
Contact Pugdundee Safaris, if you wish to visit nearby destinations to Pench National Park.
Size: 758 sq km
Forest Type: Dry deciduous forest with prominent Teak vegetation
Mammal Focus: Tiger, Leopard, Wild Dogs, Spotted Deer, Jackal, Gaur, Blue Bull and Sambhar Deer
Star Birds: Golden Oriole, Wooly Necked Stork, Crested Serpent Eagle, Indian Scops Owl, Yellow Wattled Lapwing.
Altitude/Elevation: Ranges from 425 – 620 meters
Climate: Tropical. Hot in summers and pleasant in winters
STD Code: 07692
Mobile Connectivity: Idea, Airtel & BSNL (Only 2G)
Courtesy : Malvika Verma
Suggested Tours